General Information
Tour Code:
Duration: 11 Days/ 10 Nights
Start/End: Hanoi/ Ho Chi Minh City
Tour Route: Hanoi – Halong Bay – Hoi An – Ho Chi Minh City – Cu Chi Tunnels – Mekong Delta – Ho Chi Minh City
Tour Customizable: Absolutely! (Tell us your specific requirements in the inquiry form)
Brief Itinerary
Day 1: Hanoi arrival (D)
Day 2: Dong Ngac Cultural Village with bikes (B, L, D)
Day 3: Hanoi – Halong Kayaking (B, L, D)
Day 4: Halong – Hanoi (B, L, D)
Day 5: Hanoi – Danang – Hoi An Walking Tour (B, L, D)
Day 6: Hoi An Farming & Fishing & Cooking Class in the afternoon (B, L, D)
Day 7: Hoi An – Danang – Ho Chi Minh City (B, D)
Day 8: Cu Chi Tunnels & Ho Chi Minh City Tour (B, L, D)
Day 9: Ho Chi Minh City – Mekong Delta – Community work (B, L, D)
Day 10: Mekong Delta – Community work – Ho Chi Minh City (B, L, D)
Day 11: Ho Chi Minh City Departure
Full Itinerary
Day 1: Hanoi arrival (D)
Upon arrival in Hanoi, teachers and students will be greeted then transferred to the hotel. After a short rest, we enjoy a 1-hour cyclo tour of the French-inspired "old quarter" passing through boutique stores and amazing contemporary art galleries. In the evening, we will have a welcome dinner at a local restaurant and then we spend the night in Hanoi.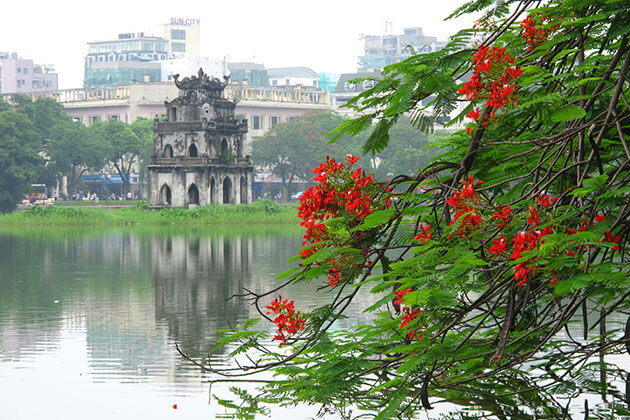 Day 2: Dong Ngac Cultural Village with bikes (B, L, D)
This morning, we travel to Dong Ngac Culture Village where is located about 15km from Hanoi center. This is an ancient village and a Cultural Heritage Site in honor of its educated and heroic people recognized by the kings of Vietnam.
Arriving at the village, we will embark on an interesting market tour. At the local market, we will have the chance to experience the bustling market and local life; our tour guide will show us and help us to purchase some offering for families we visit. After that, we take a short walk from the Dong Ngac market to the hosting family's house for a welcome drink and get ready for the biking around the Village. We start biking and venture deeper into the village: Visit Dong Ngac Communal House, the grounds and architecture of which are built in the shape of a dragon, the oldest house in the village belongs to the Do family and is more than 300 years old or the Nguyen family with a house given by the King; Passing by the oldest school in the Village built-in 1921.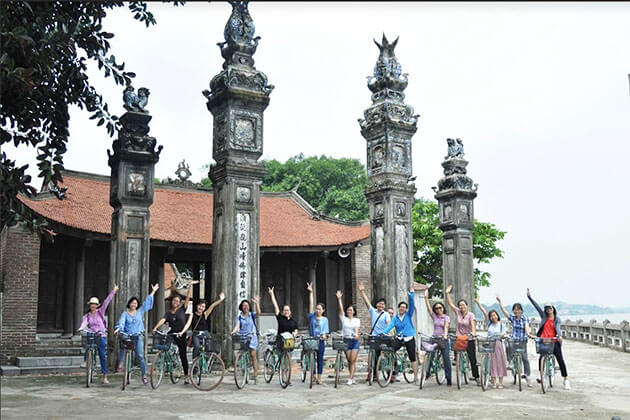 Later, we are back to the hosting family, it is time for our private cooking demonstration. After watching our host then practice ourselves and then the best part of all, try our dishes! After all our efforts we can reward ourselves and rest back into some reclining chairs in the fragrant retreat of our host's village garden. All too soon it is mid-afternoon and time to say goodbye to our new friends. We are leisure for the rest of the day. The diversity of ancient, cultural sites to visit for the day in Vietnam is immense, and often best explored on foot or bike. Spend a day cycling around the stunning villages and chatting with local people is your incredible day. Dong Ngac culture village is worth a visit to discover the well-preserved traces of its past that separate it from the hustle and bustle of daily life. In the late afternoon, we will drive back to Hanoi for overnight accommodation.
Day 3: Hanoi – Halong Kayaking (B, L, D)
Today we set off to the 'Jewel in the Crown of Vietnam' – Halong Bay. Arriving before lunch we will board our boat and then set sail, cruising amongst thousands of extraordinary limestone karst formations. Halong Bay was voted one of 'The New 7 Wonders of Nature' in 2011, and once here you will know why it was included in this group.
On arrival in Halong, we will embark on V'Spirit Classic Cruise followed by a short cruise briefing. We will then savor a delectable lunch while V'Spirit Classic cruises among the limestone islands. In the mid-afternoon, we will kayak among the hidden areas of the bay, around the Bo Nau Cave area before going back to the V'Spirit Classic and continue cruising to Soi Sim Island. Go swimming and relaxing at the beach of Soi Sim or climb up to the top of the island for a panorama view of Halong Bay.
In the evening, we will cruise back to the main boat for a shower before having dinner and spend the night on board.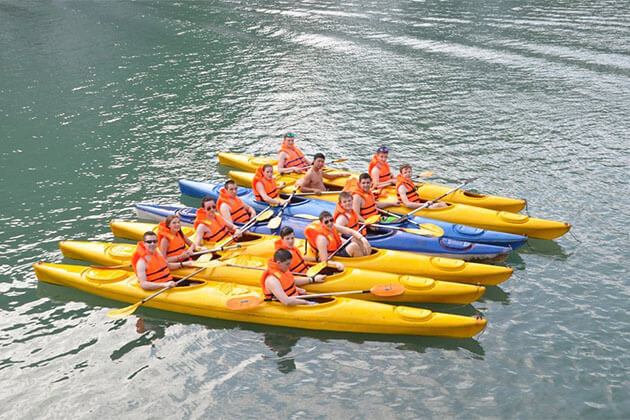 Day 4: Halong – Hanoi (B, L, D)
Wake up early in the morning and start your day with Tai Chi exercises or a photo hunt before having breakfast. After that, we will explore the amazing Sung Sot Cave – the nicest cave in Halong Bay.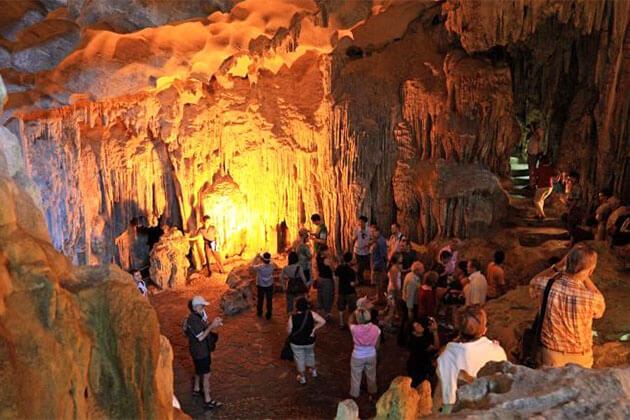 After that, we will return to the boat, freshen up and check out of your cabin. Continue your cruise exploring the Bay, passing Ba Hang fishing village, Dog Islet, and more. While heading back to the harbor, watch the cooking demonstration before enjoying a traditional Vietnamese lunch. We will disembark at around noon and find your car is waiting and take you back to Hanoi.
Day 5: Hanoi – Danang – Hoi An Walking Tour (B, L, D)
Time will be free until our car arrives to take us to the airport to board a noon flight to Danang. On arrival, students and teachers will be greeted and driven to the hotel in Hoi An.
After check-in, we will start our walking tour around the ancient town to visit the Japanese Covered Bridge, the Pottery Museum, Tan Ky old house, the Cantonese congregation, the silk street of Hoi An, the temples and pagodas of Chinese appearance. Then we are back to our hotel.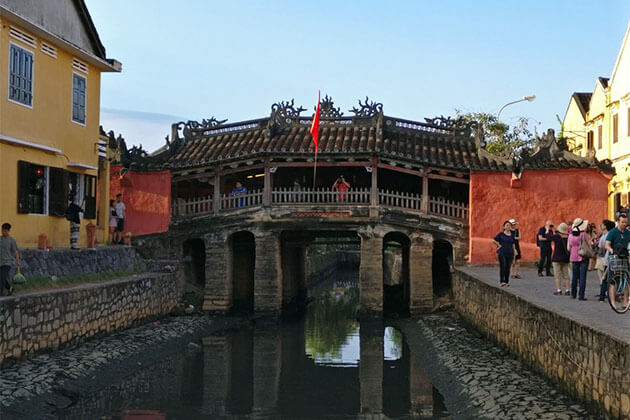 Day 6: Hoi An Farming & Fishing & Cooking Class in the afternoon (B, L, D)
This morning, we cycle to a local farming village to join the daily work life of local farmers – hoeing and a soil, watering veggie at an organic herb garden, riding water buffalo in the field and enjoy the freshest air of the countryside beauty. After that, board the Hoi An Eco-tour boat and cruise to the mouth of the river where it meets the Cua Dai Sea.
We also learn and try our hand at local traditional fishing techniques using round and cast nets, learn to paddle the strange and unique Vietnamese bamboo basket boats. Explore the now tranquil coconut-palm flanked waterways of a past war and hear of the extreme conditions endured by soldiers on both sides. Have a relaxed fun with catching beautiful purple crabs on bamboo basket boat. After visiting a local water coconut palm village, we take a walk around the village, have some tea, and snack with locals.
Back on-board our Hoi An Eco-tour boat, enjoy our lunch and cold soft drink on the boat, then back to the town center.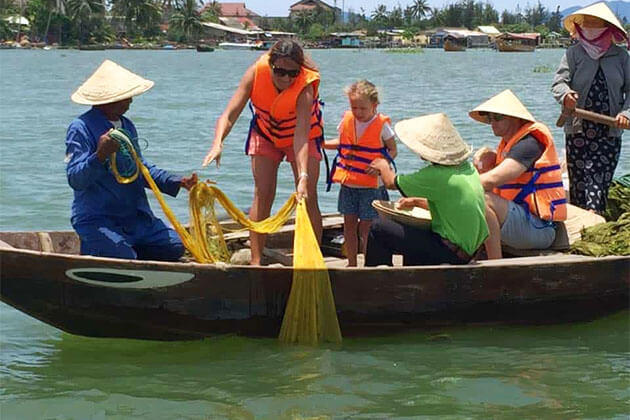 In the afternoon, we join the fantastic Cooking class at Red Bridge restaurant with the first activity to visit Hoi An colorful market to experience the amazing sights, sounds and aromas of this busy market; and purchase some of the ingredients to be used in the cooking lesson later.
Later, we board the Red Bridge boat for a leisurely cruise (25 minutes) along the Hoi An River to the Red Bridge Cooking School; explore the cooking school's herb and vegetable garden before learning about some of Hoi An's and Vietnam's well-known dishes. The cooking lesson runs for about 2 hours – each dish is first demonstrated by the Red Bridge chefs before we prepare the same dish ourselves. Included in the class is a brief introduction to Vietnamese food carving (plate decoration).
After the lesson, we sit down and eat exactly what we have cooked.
Day 7: Hoi An – Danang – Ho Chi Minh City (B, D)
Time will be free until our car arrives to take students and teachers to the airport to board the afternoon flight to Ho Chi Minh City. On arrival, we will be greeted and driven to our hotel in the city center. After check-in, we will be free to wander around the hustle and bustle city and spend the night in Ho Chi Minh City.
Day 8: Cu Chi Tunnels & Ho Chi Minh City Tour (B, L, D)
This morning, we head to the Cu Chi tunnels, otherwise known as the "Iron Triangle" or "Iron Land". On our way there, we will drive through pleasant countryside; rubber plantations and rice paddies. Before entering the tunnels, we will see a short introductory video showing how they were constructed, followed by an exploration of the maze of tunnels, some of which have been widened to allow tourist access. Also on display are various mantraps and the remains of an American tank, as well as numerous bomb craters made by 500lb bombs, dropped by B52 bombers. After that, we transfer back to Ho Chi Minh City for lunch.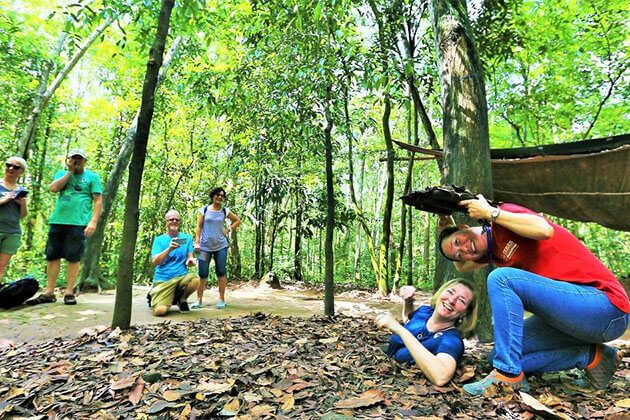 After lunch, we will visit the Reunification Palace, which is one of the most important buildings in the city. Here on April 30, 1975, what the Vietnamese refer to as the 'American War' officially ended when tank number 843 of the North Vietnamese Army crashed through the gates of what was, at the time, the residence of the President of the Republic of Vietnam. You will then visit Notre Dame Cathedral and Old Post Office. Built between 1877 and 1883 this is one of the best examples of classical French colonial architecture. Remarkably, every stone used in its creation was shipped from France to Vietnam. Her two 40m towers, topped with iron spires dominate the city's skyline. The Old Post Office is another example of French colonial architecture and is also the country's largest post office.
We will finish our day with free time for shopping at Ben Thanh Market, this bustling and well-organized market is very popular with tourists, primarily due to its central location. It has a wide selection of goods ranging from fake Nike shoes to beautiful silk Ao Dai. We will end the tour in the afternoon and spend the night at the hotel.
Day 9: Ho Chi Minh City – Mekong Delta – Community work (B, L, D)
The program will start with a visit of Cai Be colorful floating market cruising among local barges full of fruits and vegetables by the luxury boat of Mekong Travel. Then, an optional stop can be made at local workshops where you can see how to make rice paper, coconut candy, and pop-rice, popcorn. It is so interesting to visit the handicraft village where you can see how they make some special products: making rice-net for spring-rolls, fish sauce & Soya sauce, cooking salt, sewing coconut-leaves for cottage roof.
On arrival at the homestay, we will have lunch in the family. After that, we will divide into small groups to start our project. This will take the form of practical building and some laboring tasks as we construct a house for an impoverished family in this remote region. Breaking into groups, there will be a variety of tasks to undertake each day of the project from layering bricks, mixing cement, assembling frames, hammering, sawing and transporting of materials. Local tradesmen and tour leaders will be supervising and assisting throughout the project, often identifying students with particular skills to perform the more difficult or skill orientated tasks. Groups will be rotated throughout the project.
The days will be long and the results rewarding as we see our project come to fruition and as curious villagers from all around come to watch and assist us. In the late afternoon, we will be back to our homestay to have a shower, relax. During our time in this region, we will be expected to assist with the preparation and cooking of meals for our group and local family.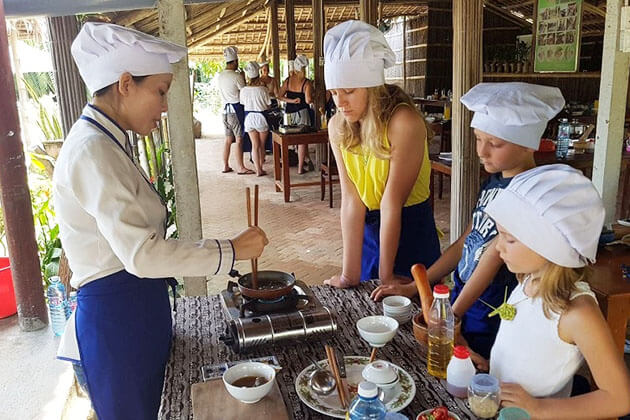 Note:
• The overnight homestay is a private home in Mekong Delta. Accommodation is very basic featuring basic bedding, pillows, blankets, mosquito nets, ceiling fans, electric lights and western toilets. Main luggage may be left in our city hotel storage room while on the community project but after a day with community service, it will be a Rex.
Day 10: Mekong Delta – Community work – Ho Chi Minh City (B, L, D)
We will be waked up by local sounds of birds, dogs, roosters… Breakfast awaits us. Then, we continue our project from layering bricks, mixing cement, assembling frames, hammering, sawing and transporting of materials. Local tradesmen and tour leaders will be supervising and assisting throughout the project. We will then visit one of the local schools and have some activities together with the local students before going back to the homestay, check out, say goodbye to our friendly host and get in our car to drive back to Ho Chi Minh City for overnight accommodation.
Day 11: Ho Chi Minh City Departure
Time will be free until our car arrives at the hotel to take students and teacher to the airport in good time to board our departure flight. Educational school trip ends.