General Vietnam School Trip Information
Duration: 7 Days/ 6 Nights
Start/End: Ho Chi Minh City/Ho Chi Minh City
Tour Route: Ho Chi Minh City – Cu Chi – Mekong Delta – Mui Ne Beach – Ho Chi Minh City
Tour Customizable: Absolutely! (Tell us your specific requirements in the inquiry form)
Brief Itinerary
Day 1: Ho Chi Minh City Arrival (D)
Day 2: Ho Chi Minh City & Cu Chi Tunnels (B, L, D)
Day 3: Ho Chi Minh City – Mekong Delta Community works (B, L, D)
Day 4: Mekong Delta – Eco-Farming – Ho Chi Minh City (B, L, D)
Day 5: Ho Chi Minh City – Mui Ne White Sand Dunes & Quad Bike (B, L, D)
Day 6: Mui Ne Beach – Team Building & Bon Fire (B, L, D)
Day 7: Mui Ne Beach – Ho Chi Minh City departure (B)
Full Vietnam School Tour Itinerary
Day 1: Ho Chi Minh City Arrival (D)
On arrival at Tan Son Nhat Airport, teachers and students will be greeted and driven to our hotel in the city center. After a short rest, we have an hour cyclo ride around the lively streets of Saigon. After that, teachers and students will enjoy a Water puppet show in the Golden Theater. We finish our day with a Welcome dinner in a nice local restaurant. Overnight in Saigon.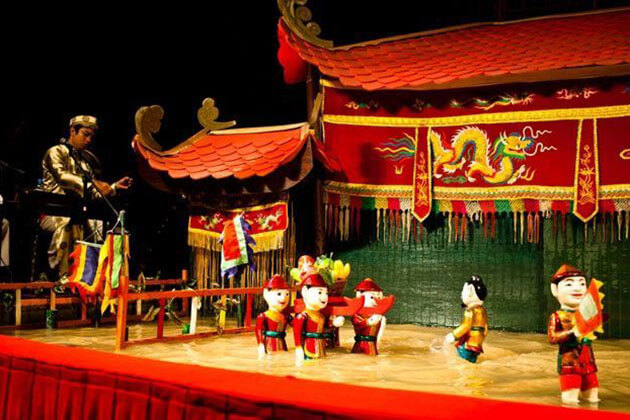 Day 2: Ho Chi Minh City & Cu Chi Tunnels (B, L, D)
After breakfast at the hotel, we head to the Cu Chi Tunnels, otherwise known as the "Iron Triangle" or "Iron Land". On our way there, we will drive through pleasant countryside; rubber plantations and rice paddies. Before entering the tunnels, we will see a short introductory video showing how they were constructed, followed by an exploration of the maze of tunnels, some of which have been widened to allow tourist access. Also on display are various mantraps and the remains of an American tank, as well as numerous bomb craters made by 500lb bombs, dropped by B52 bombers.
After that, we transfer back to Ho Chi Minh City for lunch. In the afternoon, we visit the Reunification Palace, the former Presidential Palace for the president of the South of Vietnam. Then, we will visit the Notre Dame Cathedral and Old Post Office to get good shots for our memory of the big, modern city of Vietnam. We finish our day with a visit to the lively Ben Thanh Market, this bustling and well-organized market is very popular with tourists, primarily due to its central location. It has a wide selection of goods ranging from fake Nike shoes to beautiful silk Ao Dai. Dinner and overnight in Ho Chi Minh City.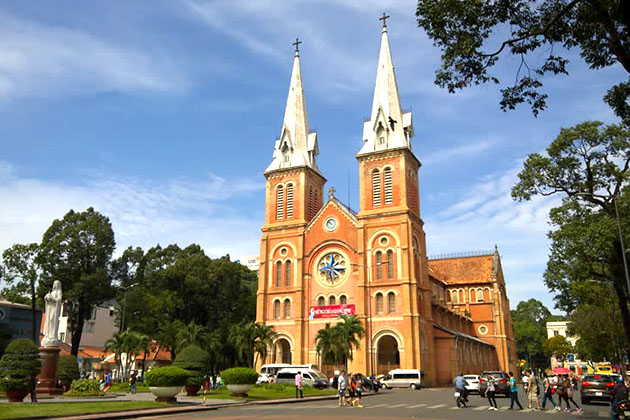 Day 3: Ho Chi Minh City – Mekong Delta Community works (B, L, D)
After breakfast, our guide and driver will take us to the Mekong Delta. The program will start with a boat cruise along the small canals in the Mekong Delta. We then visit some cottage industries where we can see how to make rice paper, coconut candy and pop-rice, popcorn…It is so interesting to visit the handicraft village where you can see how they make some special products: making rice-net for spring rolls, fish sauce & soya sauce, cooking salt, sewing coconut-leaves for cottage roof… Lunch will be served at a local house.
After lunch, we will ride the bike to the project site (house building/school). Leaders will divide into small groups. We start our project. This will take the form of practical building and some laboring tasks as we construct a house for an impoverished family in this remote region. Breaking into groups, there will be a variety of tasks to undertake each day of the project from layering bricks, mixing cement, assembling frames, hammering, sawing and transporting of materials.

Local tradesmen and tour leaders will be supervising and assisting throughout the project, often identifying students with particular skills to perform the more difficult or skill orientated tasks. Groups will be rotated throughout the project.
The days will be long and the results rewarding as we see our project come to fruition and as curious villages from all around come to watch and assist us. In the late afternoon, we will return to our homestay, roll in the kitchen and cook dinner with our host. Dinner an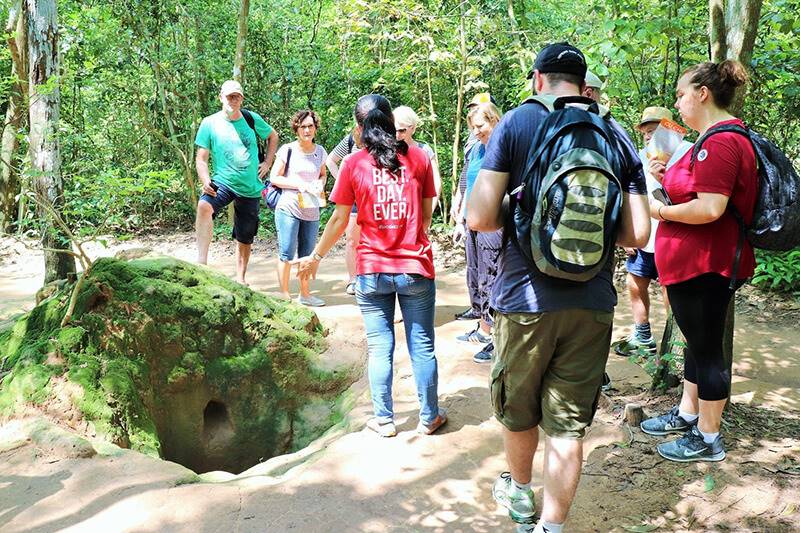 d spend the night in a homestay in Vinh Long.
Day 4: Mekong Delta – Eco-Farming – Ho Chi Minh City (B, L, D)
Wake up early in the morning, we will enjoy morning fresh air with local sounds o birds, dogs, rosters and explore the bustling Mekong Delta. After breakfast, we will have time to do some gardening with the local farmers: raking soil, harrowing soil, planting and watering the vegetable, scooping water with different scoopers, help the farmers to pick up fruits (if seasonal permits).
After that, we will visit a local school and have some cultural exchange with local students like: giving a gift, drawing postcard, sing and dance performance. We will then have some fun games with the local students like: badminton, play football, cat and mouse game.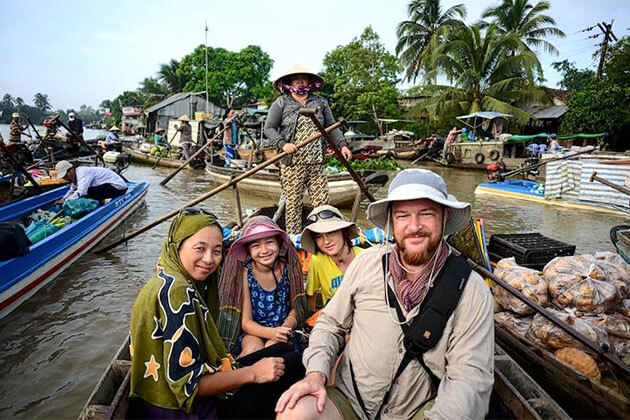 We then return to our local family to refresh and lunch. After lunch, we will have a short rest before getting back to our car and drive to Ho Chi Minh City. Dinner and overnight in Ho Chi Minh City.
Day 5: Ho Chi Minh City – Mui Ne White Sand Dunes & Quad Bike (B, L, D)
After breakfast at the hotel, we will drive to Mui Ne Beach, one of the best beaches in Vietnam. After 4-hour driving, we will arrive at Mui Ne beach where we start our adventure Mui Ne White Sand Dune with Quad bike (ATV) for a 20-minute ride around the vast dunes from the foot to the top of the dunes. It's a great fun and exciting way to explore the dunes in a significantly easy-to-use ATV.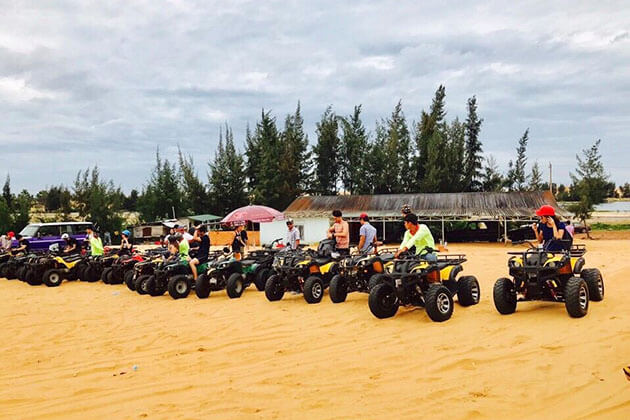 In the mid-afternoon, we will drive back to our hotel and have free time at the beach for swimming. Dinner in a nice restaurant and spend the night in Mui Ne Beach.
Day 6: Mui Ne Beach – Team Building & Bon Fire (B, L, D)
After breakfast at the hotel, we will visit the nearby fishing village and see the local fishermen and their boats going back from the ocean with various kinds of fish. We will meet and talk with the local fishermen to under more about their daily life.
We then back to the beach and have a fun time with some team building activities such as Blind man's buff, Cat & mouse game, Tug of war, Bamboo Dance….After the prize ceremony, we will have lunch in a local restaurant.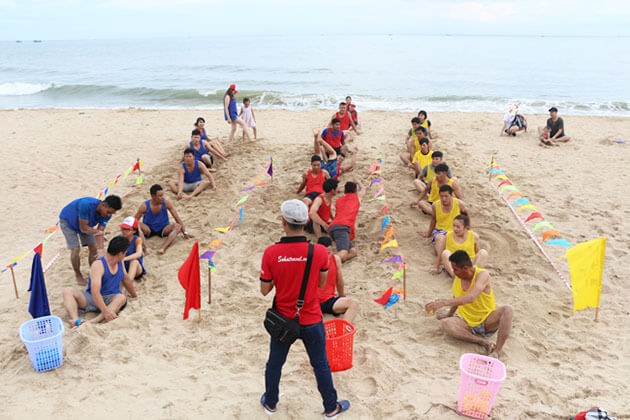 This evening, we will have a special BBQ dinner around the pool and bonfire on the beach. This will be a highlight of the trip and last a fondest memory with students and teachers. We spend the night in Mui Ne.
Day 7: Mui Ne Beach – Ho Chi Minh City departure (B)
After breakfast at the hotel, we will enjoy free time at the beach, swimming, lazing on the beach or whatever takes your fancy. At around noon, our car arrives at the hotel to take us back to Ho Chi Minh City then to the airport in good time to board our departure. The student tour ends.