General Vietnam North to South Student Tour Information
Tour Code:
Duration: 10 Days/ 9 Nights
Start/End: Hanoi/ Ho Chi Minh City
Tour Route: Hanoi – Ninh Binh – Halong Bay – Hoi An – Ho Chi Minh City – Cu Chi Tunnels – Mekong Delta
Tour Customizable: Absolutely! (Tell us your specific requirements in the inquiry form)
Brief Itinerary
Day 1: Hanoi Arrival (D)
Day 2: Hanoi Food Tour & Orientation (B, L, D)
Day 3: Hanoi – Ninh Binh – Trang An Eco-tourism Site – Hoa Lu Ancient Capital (B, L, D)
Day 4: Bear Sanctuary Full-Day Exploration ( B, L, D)
Day 5: Hanoi – Halong Cruise – Fun Time at the Sea (B, L, D)
Day 6: Halong – Hanoi – Fly to Danang – Transfer to Hoi An (B, L, D)
Day 7: Hoi An Farming and Fishing Eco Tour (B, L, D)
Day 8: Hoi An – Danang – Fly to Ho Chi Minh City – Cu Chi Tunnels (B, L, D)
Day 9: Ho Chi Minh City – Mekong Delta-Ho Chi Minh City (B, L, D)
Day 10: Ho Chi Minh City Tour – Departure (B, L)
Note: Late afternoon departure flight is advised
Full Vietnam School Trip Itinerary
Day 1: Hanoi arrival (D)
On arrival at Noi Bai airport in Hanoi, students and teachers will be welcomed by our guide and transferred to our hotel. After a short rest, we enjoy a 1-hour cyclo tour of the French-inspired "old quarter". We will then sit down to enjoy the performance of the city's famous Water Puppets. After the show, we will have a welcome dinner at a fine local restaurant in town. Overnight in Hanoi.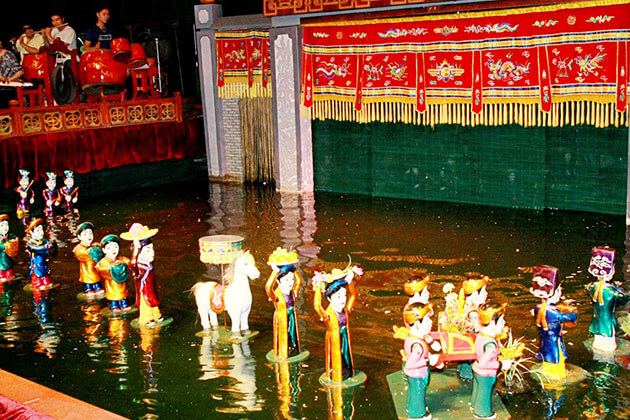 Day 2: Hanoi Food Tour & Orientation (B, L, D)
Today we will venture out to explore Hanoi and enjoy the local food. Firstly, our guide will meet us at the hotel and we then walk down to Pho restaurant for our light breakfast. Walking down to the Hang Be street for visiting the local market, we are guided by all the ingredients as well as inhabit of local people here. After the street market, we continue our trip along different streets, try to taste many kinds of local food such as oil-fried pastry, tofu, egg coffee, rice pancake, pillow cake, sweet soup, stuff pancake with pork, draught beer… and one of our best surprised is a stop at Dong Xuan wholesales market where we know many kinds of ingredients being sold.
Last but not least is our happy ending at the Rue Lamblot restaurant. From here, we enjoy our light lunch with spring rolls, grilled pork with noodles, fried rice cake, banana flower salad.
In the afternoon, we will drive to visit the excellent Museum of Ethnology, which is widely acknowledged as the best in the country and has an extensive display dedicated to Vietnam's 54 Ethnic minority peoples.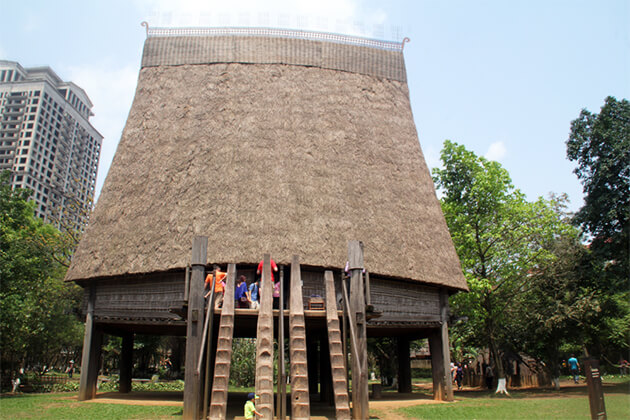 After that, we will visit the Temple of Literature, which originally built as a temple to Confucius and the infamous Hoa Loa Prison Museum. Dinner in a local restaurant and overnight in Hanoi.
Note: For this day, you should skip or have light breakfast at the hotel, as we will try many different dishes.
Day 3: Hanoi – Ninh Binh – Trang An Eco-tourism Site – Hoa Lu Ancient Capital 
(B/ L/ D)
Our local tour guide will meet students and teachers at the hotel lobby to start our day tour to Trang An and Hoa Lu. From Hanoi, you are transferred to Ninh Binh by a one hour drive. On arrival, we take a small sampan wooden boat trip slowly rowing through serpentine streams, between the blooming mountains and valleys.
The 3-hour rowing boat takes students to sacred sites and through 12 mysterious water caves. Along the way, there are stunning transitions as you get into a dark cave and a whole new picture appears right in front of our eyes at the exit. Follow the boat's schedule, you can drop off the sampan boat to visit some on-land attractions. We can enjoy the fresh air, clean and clear water with underwater grass. Experience ourselves the feeling and emotion when we are in the water caves. After the discovery in Trang An, we are transferred to a local restaurant to enjoy a tasty lunch which features specialties of Ninh Binh.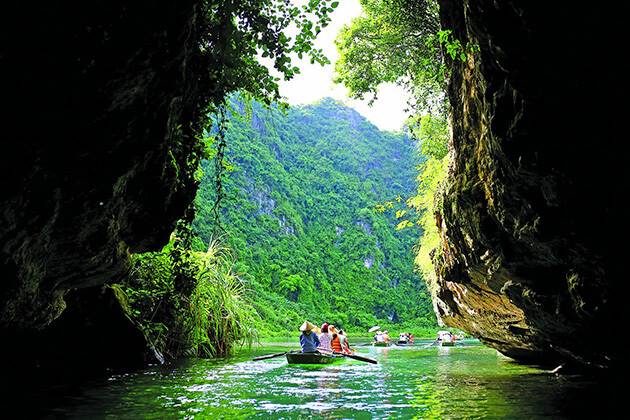 After our lunch and taking some rest, we move to Hoa Lu Ancient capital situated 7km from Trang An to continue our day tour in Ninh Binh. Upon arrival, ornate temples that worship the Emperors will catch your eyes at first sight. These temples were constructed to honor King Dinh Tien Hoang, King Le Dai Hanh, and King Ly Thai To. On the site, students are told about the story of the first three centralized feudal states of Vietnam: the Ding dynasty, the Le dynasty, and the Ly dynasty.
Next, students have ample chance to see the ancient fortress built more than 1000 years ago and was a very interesting place to visit. Inside the fortress is marvelous scenery for photo-taking and sight-seeing.
In the late afternoon, drive back to your hotel for delicious dinner and accommodation.
Day 4: Bear Sanctuary Full-Day Exploration – Hanoi (B/ L/ D)
Wake up early in the morning and then enjoy refreshing breakfast before exploring Bear Sanctuary. This base is being operated by an international wildlife welfare organization Four Paws was opened to the public in the northern province of Ninh Binh, marking a milestone for efforts to enforce laws on banning the abuse of bears for bile extraction farming.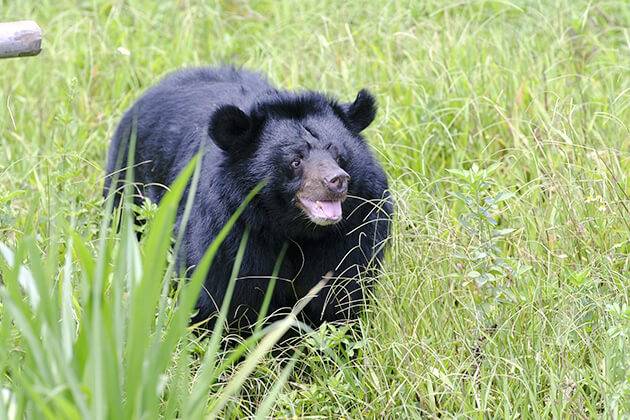 In the lunchtime, vegetarian lunch will be served before exploring sanctuary with a wide range of practical activities including trees planting , cooking class, cleaning the sanctuary, play with other bears, forage for food or hide away in their dens when they want to relax as well as workshop activities such as picture coloring, drawing bear pictures, bear storytelling. All of the meaningful activities will boost the creative ability of children and build their love with bears and nature. Furthermore, traveling here students will have ample chance to join the staff in the journey of rescuing bears toward the aim of ending bear farming in Vietnam, understand nature, wildlife and find the way to live in harmony.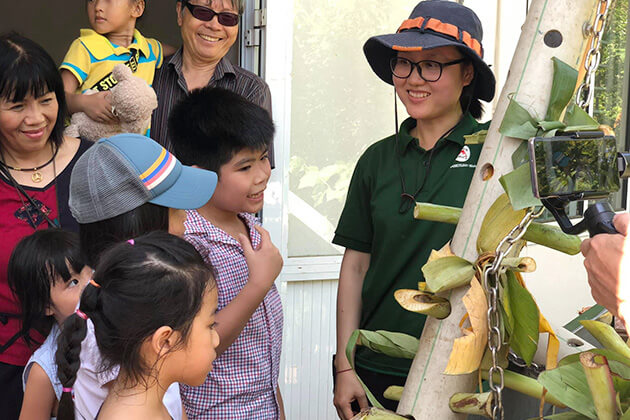 When the sun begins to set, our drivers will transfer you back to Hanoi for dinner and good sleep. Finish off our meaningful day trip of Bear Sanctuary at Ninh Binh.
Day 5: Hanoi – Halong Cruise – Fun time at the sea (B, L, D)
Pick up at our hotel after breakfast, we will take a 4-hour drive to the World Heritage Site Halong Bay, also, one of 'The New 7 Wonders of Nature' voted in 2011. On arrival in Halong, we will embark on our cruise followed by a short cruise briefing. We will then savor a delectable lunch while our cruises among the limestone islands.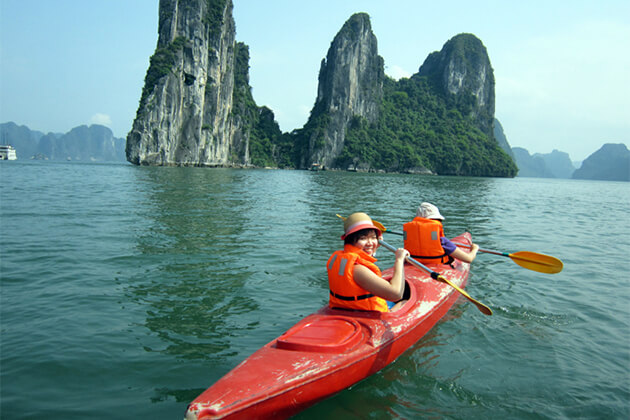 In the mid-afternoon, we will kayak among the hidden areas of the bay, around the Bo Nau Cave area before going back to our cruise and continue cruising to Soi Sim Island. Go swimming and relaxing at the beach of Soi Sim or climb up to the top of the island for a panorama view of Halong Bay. In the evening, we will cruise back to the main boat for a shower before having dinner and spend the night on board.
Day 6: Halong – Fly to Danang – Transfer to Hoi An (B, L, D)
Wake up early in the morning and start your day with Tai Chi exercises or a photo hunt before having breakfast. After that, we will explore the amazing Sung Sot Cave – the nicest cave in Halong Bay. After that, we will return to the boat, freshen up and check out of your cabin. Continue your cruise exploring the Bay, passing Ba Hang fishing village, Dog Islet, and more. While heading back to the harbor, watch the cooking demonstration before enjoying a traditional Vietnamese lunch.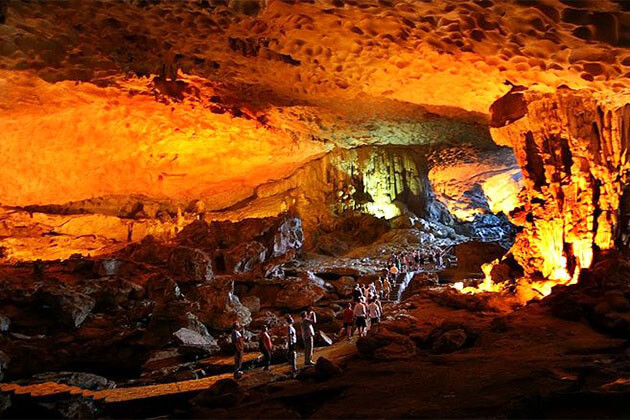 We will disembark at around noon and find your car is waiting and take you to Noi Bai airport in Hanoi for an evening flight to Danang. On arrival, we will be welcomed by our local guides and transfer to your hotel in Hoi An. Dinner in a local restaurant and overnight in Hoi An.
Day 7: Hoi An Farming and Fishing Eco Tour (B, L, D)
After breakfast at the hotel, we will start our Farming & Fishing Life Eco Tour. Starting at Tra Que Village, we will get a personal insight into the local farming communities. We will join the farmers in preparing their land for sowing, helping to fertilize the garden using seaweed from the local river and watering it in using huge tin cans strapped to our backs. Following this, we will begin our leisurely cycling tour through the countryside witnessing local Vietnamese rural life first hand. Late morning we will board our Hoi An Eco-tour boat for a river cruise. Here we will meet and witness local fishermen working their craft, before enjoying a hands-on experience of traditional net fishing. We then transfer to a Vietnamese bamboo basket boat for a quick race and ride down a coconut palm-lined waterway. Lunch today is on board our boat, which is prepared using vegetables picked earlier at Tra Que Village.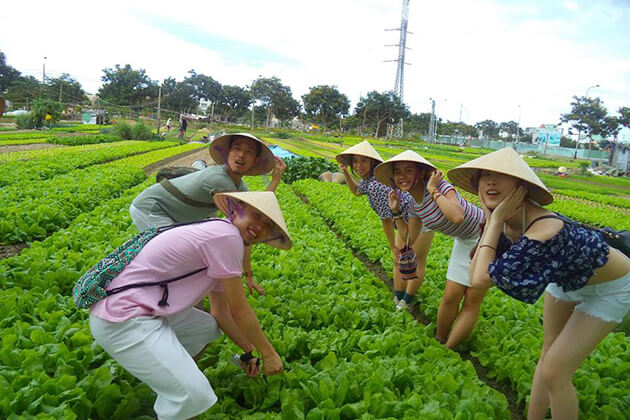 After lunch, we will start our walking tour around the ancient town to visit the Japanese Covered Bridge, the Pottery Museum, Tan Ky old house, the Cantonese congregation, the silk street of Hoi An, the temples and pagodas of Chinese appearance. Dinner and overnight in Hoi An.
Day 8: Hoi An – Danang – Fly to Ho Chi Minh City – Cu Chi Tunnels (B, L, D)
Today, we will take a morning flight to Ho Chi Minh City. On arrival, we will be met and driven to visit the famous Cu Chi Tunnels. At its height, the tunnel system stretched over 250km. from Saigon to the Cambodian border and was three levels deep. The network included innumerable trap doors, specially constructed living areas, storage facilities, weapons factories, field hospitals, command centers, and kitchens. Today the remaining tunnels have become a major tourist attraction giving the visitor a unique experience and a feel of what underground life during the U.S.-Vietnam American must have been like.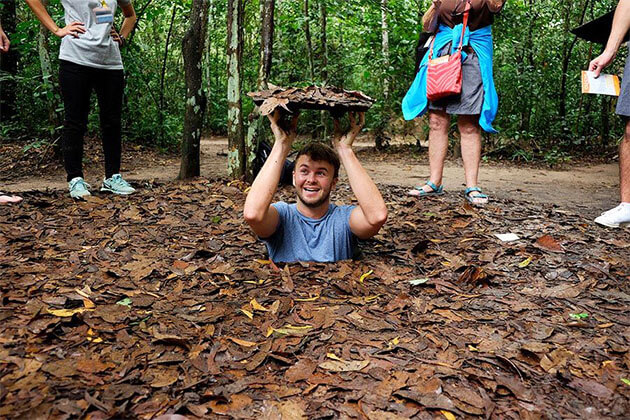 Returning to the city center in the afternoon, we will check in our hotel, we will have the rest of the day free to wander around the lively streets or Ben Thanh night market. Dinner and overnight in Ho Chi Minh City.
Day 9: Ho Chi Minh City – Mekong Delta-Ho Chi Minh City (B, L, D)
After breakfast at the hotel, we will transfer to Vinh Long in the Mekong Delta. The program will start with a visit to Vinh Long market in the town. This is the best choice for us to take pictures of fish, shrimps, prawns, crabs, snakes, rice-field rats, tropical fruits, vegetables…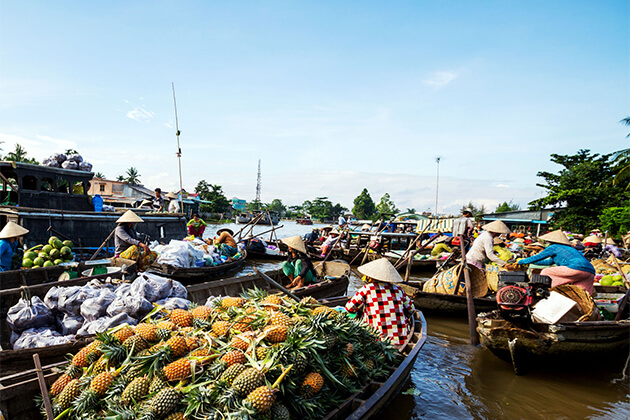 After that, we will travel by boat to visit the brick kilns where we can see how the local people create beautiful potteries from clay. Then, come to visit the orchard & traditional house. We will enjoy some kinds of fruits and tea when listening to traditional music at a local home. The rowing boat takes us deeper into the countryside on smaller canals so we can enjoy the peaceful time. It is so interesting to see traditional houses made of wood and palm tree leaves and see some activities of the local farmers with an opportunity to make contacts with them and see how they catch fish or pick up fruits by ancestral ways in Mekong Delta. We will also explore the village roads in a bike and ride through local farms, houses, passing some 'monkey bridge', meet and talk with the local people. In the mid-afternoon, we will return to Ho Chi Minh City where we will spend the night.
Day 10: Ho Chi Minh City Tour – Departure (B, L)
This morning, we visit all the highlights in Ho Chi Minh City such as the Reunification Palace, a palace of the old President in South of Vietnam during the American war; the War Remnants Museum where is poignant display of the futility of war; Notre Dame Cathedral and Old Post Office, the two sites that we can ignore when we visit the city. We then finish our morning with a visit to the lively Ben Thanh Market, this bustling and well-organized market is very popular with tourists, primarily due to its central location. It has a wide selection of goods ranging from fake Nike shoes to beautiful silk Ao Dai. After lunch in a local restaurant, we will transfer to the airport for departure flight. The Student tour ends. We hope students had meaningful lessons and unforgettable experiences from an amazing trip.
Note: Late afternoon departure flight is advised