Vietnam School Trips & Student Tours
Vietnam – the Southeastern country possessing a thousand-year history, distinct culture, and customs of 54 ethnic minority groups, smiling locals and stunning landscapes. Being home to both majestic natural beauty and tumultuous history, Vietnam is an ideal destination to implement various kinds of vacation for international visitors, especially for overseas student groups who love discovery and gain valuable knowledge by traveling around prominent attractions in Vietnam. From Northern Vietnam with numerous museums, interesting local lifestyle, the Central with impressive and historical sites to the newly independent Southern provinces, all are spectacular to carry out any school tours to Vietnam.
Educational School Trip designing many successful school trips for international students traveling to discover the S-shaped country. Students taking Vietnam school trips also have great chances to make friends, immersed in the traditional culture with local people and experience their old-age lifestyle besides gaining educational knowledge. An educational tour in Vietnam also lets foreign students have incredible opportunities to actively join stimulating activities and useful field trips, visits to local enterprises and do some charities. For sure, educational trips to Vietnam will be one of the most amazing school trips to Asia that widen students' horizons and their attitude to their surrounding world.

Unique features of Vietnam School Trips
VIETNAM
Community service, rural and urban adventure, cross-cultural exchange
Challenge Your Cultural Comfort Zone through Community Service
Participate in community services projects is such a stimulating idea for students, they are giving help and sympathy for those people most in need. Face up to poverty problems at schools for underprivileged children and offer them hands-on support. Assist young people to study English and maths, and learn how social organizations can support the youth to thrive.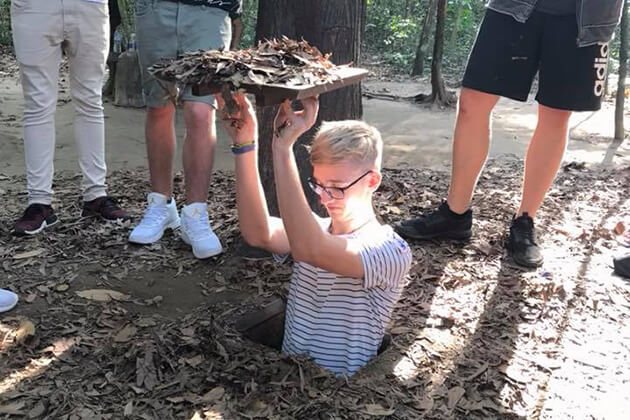 Explore Urban Life in Vietnam's Sprawling Cities
Astounding motorbikes exploration in Ho Chi Minh City and a step back to history with Hanoi's Old Quarter. Cycling tours to the imperial monuments of Hue, or incredible adventures to the underground systems of Cu Chi tunnels. Take a peaceful stroll around Vietnam's famous war prisons, museums and mausoleums and admire the rewarding past of dedicated Vietnamese people.
Design your own unique curriculum

We've launched long-term partnership programs with local communities, schools and educational organisations. Our relationships are based on trust to give you unrestricted access to the diverse Vietnamese communities; besides, the community service projects are available and flexibly designed to bring the best values to school students.
During the tour, we offer limitless cross-cultural exchange activities equally for all. Students can encounter with war veterans, ethnic minority groups, exchange with primary, high school students, and disabled children. Preinteract can make you feel familiar and more confident, our briefing before departing teaches you some of the important Vietnamese etiquette, such as you should remove your shoes and why should not touch people's heads.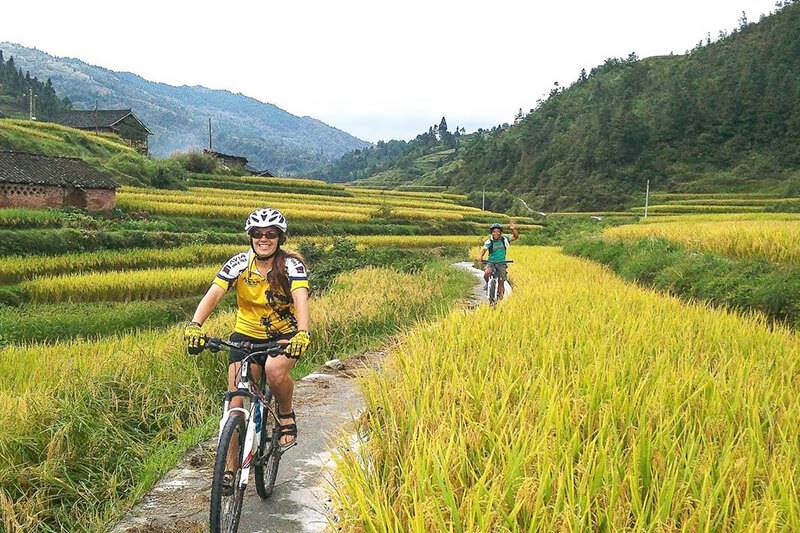 Build Courage and Independence with Off-road Adventures
Go hiking through highland valleys in the humid weather, experience to sleep in a traditional Hmong ethnicity longhouse and immerse with the rural life in Vietnam's villages. Take longboat trips through the Mekong Delta's flourishing mangrove ecosystems. Learn to dive and contemplate the stunning coral reefs structures ranging along the coast side of Vietnam, or swim in the charming limestone peaks scene in the wonder of Halong Bay.
Get Ready to Plan Your School Tour Itineraries with Us
---
Best Destinations for Vietnam School Trip
Home to marvelous natural sceneries as well as an amazing number of the cultural and historical sites, Vietnam has become a wonderful destination for a school trip. The country provides students with both fascinating learning opportunities and memorable experiences as well. If you are looking for a trip for students in Vietnam, take a glance at the following top destinations which are highly recommended by the local experts.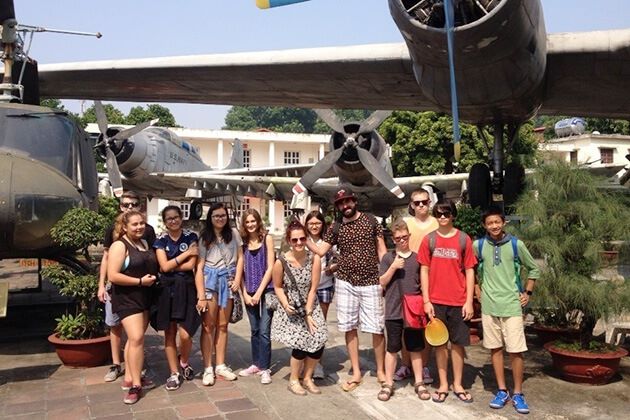 Hanoi
As setting your foot in Vietnam, the capital city of Hanoi where houses well-preserved colonial buildings influenced by Chinese and French style, museums, and ancient pagodas is a must-visit destination. Students are offered a myriad of meaningful experience by visiting the body of Ho Chi Minh President – Vietnamese revolutionary leader to learn about his remarkable life, soaking up in the tranquil atmosphere of the Temple of Literature as well as taking a bicycle ride around the Dong Ngac Village – a Cultural Heritage Site and much more. Besides, it is impossible to miss the chance to indulge in excellent cuisine, take in the lively streets and vibrant markets within the city center.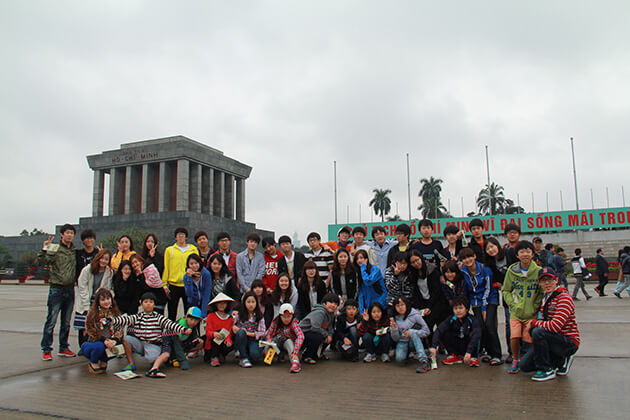 Ho Chi Minh City
Ho Chi Minh City or also known as Saigon is the biggest commercial city of Vietnam. Home to French architectures dotting along the Saigon River as well as numerous luxury shopping centers, restaurants, and skyscrapers, the city is a perfect fusion of the old and new where Vietnam's colonial past meets the urban thriving atmosphere. Located in the tranquil countryside of the city is the Cu Chi Tunnels- the highlight of a Vietnam school trip. Students will have a once-of-a-lifetime experience exploring this extensive labyrinth underground tunnels stretching to the Cambodian border and learning about its incredible construction. Within the city, Reunification Palace- the most reputable building of the city, the bustling Ben Thanh Market and Dam Sen Theme Park are top visiting destinations.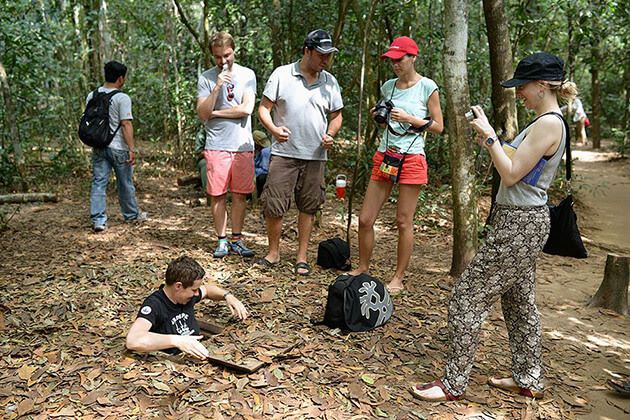 Hue
Unlike the hustle and bustle of Hanoi and Ho Chi Minh City, Hue appears as a land of stillness, slowness and the deposition of time. Retaining both tangible and intangible heritages symbolizing the wisdom and soul of Vietnamese people, Hue is one of the best destinations for students to dig into the rich culture and history of Vietnam. This charming city features more tourist attractions than any other city in Vietnam, gaining the fame for its citadel, golden palace, spectacular temples, ancient tombs as well as wonderful landscapes. If choosing Hue as the destination for your Vietnam student travel, you must not skip a cruise along the romantic Perfume River while enjoying Hue folk song combined with a visit to magnificent Thien Mu Pagoda and majestic Tu Duc Tomb.
Hoi An
Sitting in central Vietnam, the beautiful ancient town Hoi An once served as one of the most important trading posts in Asia for centuries accepting both cultural and architectural influences from Japan, France and Chinese. Arriving in this quintessential small-town, students will have meaningful experience touring around the photogenic Old Town and exploring its attractions such as Japanese Covered Bridge, the Pottery Museum, Tan Ky old house, the Cantonese congregation, as well as many temples and pagodas. Also, Hoi An's famous stunning night view with numerous lanterns illuminating the waterfront, exclusive delicacy, custom clothing and various kind of souvenirs should be no doubt listed on the itinerary of your school trip.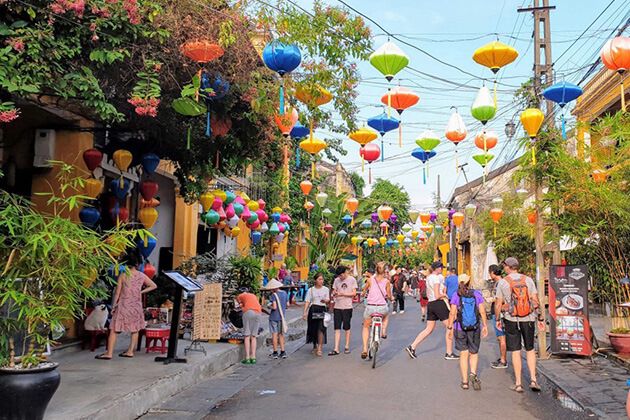 Ha Long Bay
It does not need to say much about Ha Long Bay, it is not a strange destination for nature lovers all over the world. Having been recognized as the World Natural Heritage Area twice, Ha Long Bay attracts tourists to visit all-year-round by its extraordinary scenic karst seascapes and is among the top highlights of Vietnam travel. Accordingly, it is also a wonderful destination for students to discover during their learning adventure in Vietnam. The tour provides your students a once-of–a-lifetime experience as slowly sailing amongst thousands of marvelous rock formations and islands rising from the emerald water followed by an exploration into one of the most significant caves of the bay – Surprising Cave and a visit to the Vietnamese fishing village.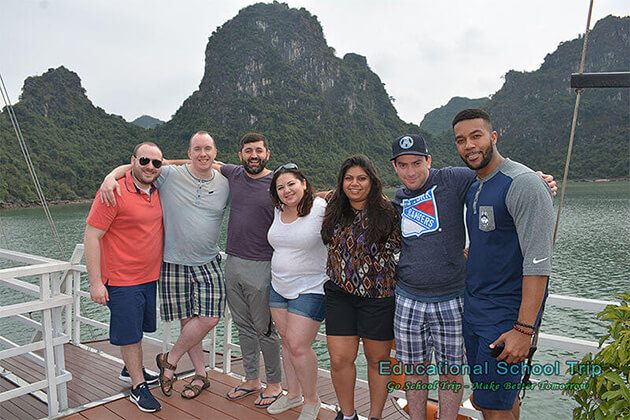 Is Vietnam School Trip Safe for Student to Travel?
As safety is no doubt an essential factor to take into consideration in the process of planning a school trip and if you are wondering whether Vietnam is safe for your students to travel or not, here might be the answer for you. In general, then yes. Vietnam is one of the safest countries in the world to visit with political stability and very low crime, violence rate recorded. In this S-shaped country, everything from catching a long-distance bus, going on a tour or walking around the tourist areas seems to be so easy and safe. The locals, especially young people are very friendly and hospitable and always available to help.
Safety Guide for Student Travel in Vietnam
However, wherever you are in the world, it is always necessary to bear in mind to practice common sense and cautions. For a better experience during a Vietnam school trip, follow some safety travel tips. Despite its low crime rate, petty theft can be an issue in big cities in Vietnam. Thus, be cautious of pickpocketing on the street, always keep an eye on your bag, and leave the valuables in the safes at the hotel.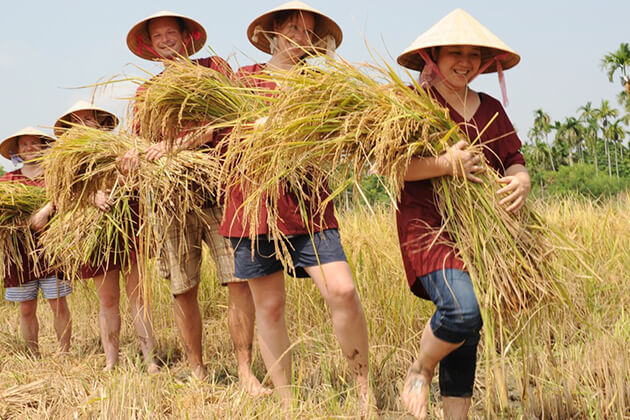 Vietnam is infamous for its crazy traffic. The image of motorbike riders skillfully maneuvering in the narrow lanes and among the other vehicles on the roads can be amazing to look yet a bit scared when taking part in. Yet do not worry too much, you and the students will be fine. Traveling by cars and buses is normally safer and if it comes to motorbikes, always remember to wear a helmet. Follow your tour guide closely and cross the road confidently but carefully. Besides, students should show respect to religious sites, stay away from rural areas especially at nights, never travel alone and always tell someone where you go.