General Information of Vietnam School Trip 
Tour Code:
Duration: 12 Days/ 11 Nights
Start/End: Hanoi/ Ho Chi Minh City
Tour Route: Hanoi – Dong Ngac Village – Halong – Hue – Danang – Hoi An – Cu Chi – Ho Chi Minh City – Vung Tau – Long An – Ho Chi Minh City
Tour Customizable: Absolutely! (Tell us your specific requirements in the inquiry form)
Brief Itinerary 
of Vietnam School Trip 
Day 1: Hanoi Arrival (D)
Day 2: Explore Dong Ngac Cultural Village & City Tour (B, L, D)
Day 3: Hanoi – Halong Kayaking (B, L, D)
Day 4: Halong – Hanoi – Fly to Hue (B, L, D)
Day 5: Hue's Riverboat and Royal Tombs (B, L, D)
Day 6: Hue – Danang – Hoi An – Walking Tour (B, L, D)
Day 7: Hoi An Farming & Fishing – Cooking Class in the afternoon (B, L, D)
Day 8: Hoi An – Danang – Fly to Ho Chi Minh City – Dam Sen Theme Park (B, D)
Day 9: Cu Chi Tunnels & Ho Chi Minh City Tour (B, L, D)
Day 10: Ho Chi Minh – Vung Tau City Tour (B, L, D)
Day 11: Long Tan & Nui Dat Vung Tau City Tour – Ho Chi Minh City (B, L, D)
Day 12: Ho Chi Minh City Departure (B)
Full Itinerary
Day 1: Hanoi arrival (D)
Say hello to Hanoi- the capital city of Vietnam. Upon arrival, students and teachers will be warmly welcomed by our tour guide, then we will transfer them to the hotel for check-in.
After a short break, we will take students to the Hanoi Old Quarter to experience a 1- hour cyclo tour. More interestingly, students will have ample opportunity to immerse themselves in the performance of the city's famous Water Puppets.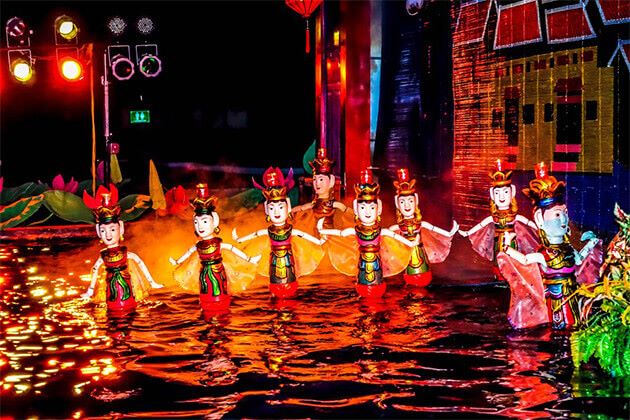 At the end of the day, we transfer students back to the hotel for a scrumptious dinner and overnight accommodation.
Day 2: Explore Dong Ngac Cultural Village & City Tour (B, L, D)
Weak up early this morning, we will serve students a refreshing breakfast before traveling to Dong Ngac Culture Village, where is located about 15km from downtown Hanoi. This village is an ancient village and it acquires a reputation for its communal house, ancestral worshipping houses, and many old houses. Moreover, it is also a Cultural Heritage Site in honor of its educated and heroic people recognized by the Kings of Vietnam.
Upon arrival, we will participate in an interesting market tour, which offers students a great chance to experience the bustling market and local life of local people. Our tour guide will show and help students to purchase some products and handicrafts.
After that, we take a short walk from the Dong Ngac market to the hosting family's house for a welcome drink and get ready for the biking around the Village. We start biking along the village: Visit Dong Ngac Communal House, the oldest house in the village belongs to the Do family. Passing by the oldest school in the Village built-in 1921. Then, we transfer back to the hosting family, it is time for our private cooking demonstration. It is an interesting opportunity for students to practice cooking and enjoying special dishes.
After all our efforts we can reward ourselves and rest back into some reclining chairs in the fragrant retreat of our host's village garden.
After that, we will transfer back to the city center. On the way back, we will visit Tran Quoc Pagoda – the oldest pagoda in Hanoi located by West Lake. Next, we visit the Temple of Literature, which originally built as a temple to Confucius and it is a place to honor Vietnam's finest scholars.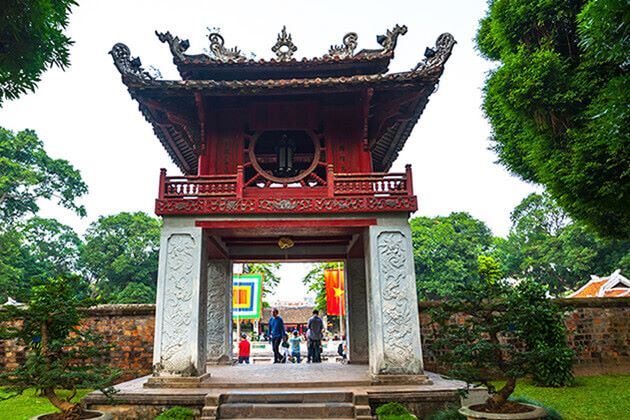 Day 3: Hanoi – Halong Kayaking (B, L, D)
After having a refreshing breakfast, we will set off to the 'Jewel in the Crown of Vietnam'- Halong Bay, which was voted one of 'The New 7 Wonders of Nature'. Upon arrival, we board our boat and then set sail, cruising amongst thousands of extraordinary limestone karst formations. After that, we will embark on V'Spirit Classic Cruise followed by a short cruise briefing. Then, we will enjoy a scrumptious lunch before kayaking among the hidden areas of the bay around the Bo Nau Cave area. Interestingly, we also have a great chance to go swimming and relaxing at the beach of Soi Sim or climb up to the top of the island for a panorama view of Halong Bay. Let's enjoy this magical moment!
At the end of the day, we cruise back to the main boat for a shower before having dinner. Spending the night on board.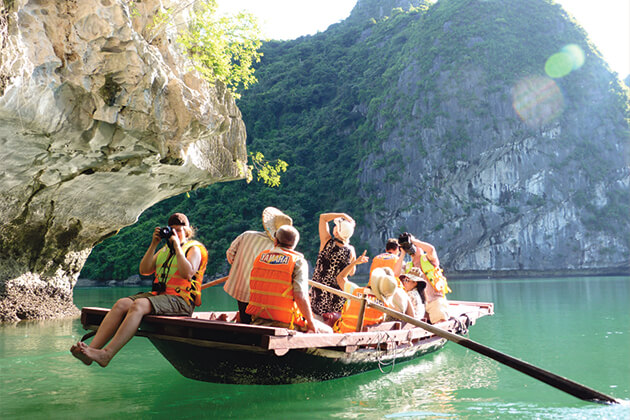 Day 4: Halong – Hanoi – Fly to Hue (B, L, D)
Wake up early in the morning and kick off our day with Tai Chi exercises or a photo hunt before having breakfast. Then, we will take students to the majestic Sung Sot Cave to explore stunning views and find out amazing things in this cave. We will spend the whole morning on discovering Halong Bay, passing Ba Hang fishing village, Dog Islet, and various destinations. More interestingly, while heading back to the harbor, students will have a great chance to witness the cooking demonstration before enjoying a traditional Vietnamese lunch.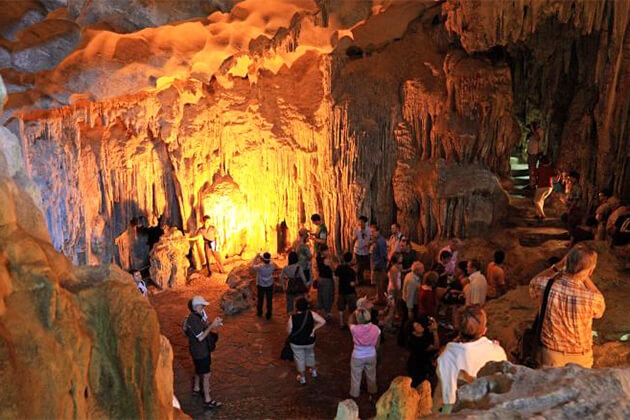 After that, we will transfer students to Noi Bai airport in Hanoi for a late afternoon flight to Hue. Arriving Hue, students will be served dinner and then spending the night in Hue.
Day 5: Hue's Riverboat and Royal Tombs (B, L, D)
The first day in Hue we will take students to the Dragon Boat on the romantic Perfume River. There are a lot of things to see and do in this charming city mostly because Hue is an ancient capital and surrounded by ancient tombs of emperors past. We head to the most reputable tombs and enjoy stunning views of the Perfume River this morning. The first stop is the majestic Thien Mu Pagoda( Lady Pagoda), which is considered the symbol of Hue, and of Buddhism in Vietnam. Then, students will pay a visit to King Tu Duc's Tomb.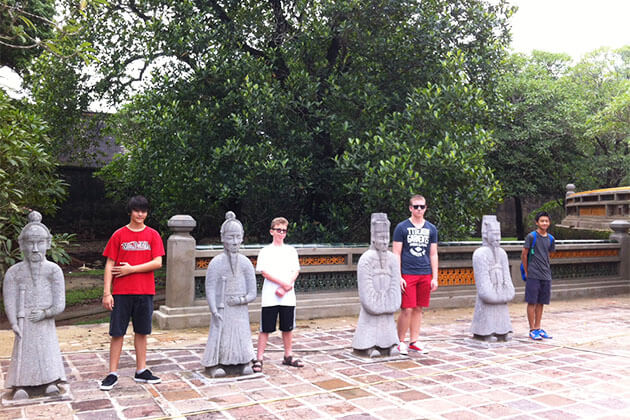 In the lunchtime, students will enjoy a delicious lunch and have a short break before discovering the ruins of wonderful monuments and visiting the Imperial Citadel where the Nguyen Dynasty ruled between1802 and 1945. Afterward, we will then depart to the Hue Royal Fine Art Museum, which is housed within the former Dien Long An Royal Palace.
We will finish our day with a visit to bustling Dong Ba Market to see the daily life of local people. Dinner and overnight in Hue.
Day 6: Hue – Danang – Hoi An – Walking Tour (B, L, D)
After breakfast at the hotel, we travel to Hoi An along scenic highway 1A. Along the way, we will stop to contemplate the stunning views of Lang Co Beach and Danang city. Upon arrival in Danang, we will have a brief visit to the Cham Museum, which is the house of the largest exhibition of Cham sculpture in the world. Students will have a great chance to see a myriad of terracotta and stone works of art ranging from the 7th to the 15th centuries.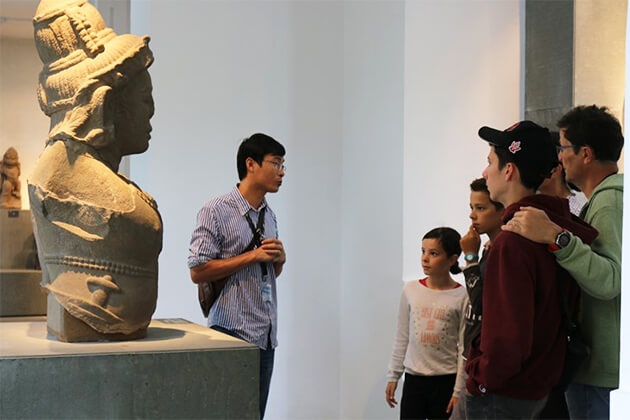 After lunch, we will transfer students to the Hoi An and start our walking tour around the ancient town to visit the Japanese Covered Bridge, the Pottery Museum, Tan Ky old house, the Cantonese congregation, the silk street of Hoi An, the temples and pagodas of Chinese.
As the sun begins to set, we are back to our hotel for dinner and overnight accommodation.
Day 7: Hoi An Farming & Fishing – Cooking Class in the afternoon (B, L, D)
Today will be a great day simply because students will have immeasurable opportunities to do, see and experience amazing things in Hoi An. After having breakfast, students will cycle to a local farming village to get a deeper understanding of the daily life of local farmers and try to do some practical tasks with local people including hoeing soil, watering veggie at an organic herb garden, riding water buffalo in the field. Then students will have a chance to interact with friendly farmers before transferring to Hoi An Eco-tour boat and cruise to the mouth of the river where it meets the Cua Dai Sea. Let's enjoy the freshest air and enjoy the natural beauty around the river. Most importantly, students also learn and try our hand at local traditional fishing techniques using round and cast nets, learn to paddle the strange and unique Vietnamese bamboo basket boats. Moreover, Hoi An offers students tranquil coconut-palm flanked waterways of a past war and hear of the extreme conditions endured by soldiers on both sides. Absolutely, students will develop a sense of enjoyment with catching beautiful purple crabs on bamboo basket boat and enjoying special tea, snack with locals people.
In the afternoon, we transfer students back to Hoi An Eco-tour boat for lunch and a short break.
Afterward, students will have a fantastic chance to witness or take part in the cooking class at Red Bridge. They will be immersed in a bustling market to witness amazing sights, sounds, and purchase some of the ingredients to be used in the cooking lesson. Included in the class is a brief introduction to Vietnamese food carving (plate decoration) and the cooking class runs for about 2 hours – each dish is first demonstrated by the Red Bridge chef 's before we prepare dishes.
At the end of the day, we transfer to the hotel for dinner and stay overnight here.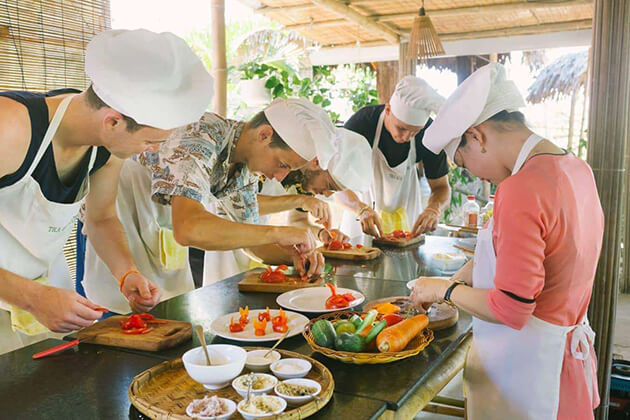 Day 8: Hoi An – Danang – Fly to Ho Chi Minh City – Dam Sen Theme Park (B, D)
Wake up early in the morning and enjoy a refreshing breakfast before taking a short flight to Ho Chi Minh City. Upon arrival, students will be greeted and driven to Dam Sen Water Theme Park for a fun time at the Water Park. After check-in in the hotel, students have dinner and overnight accommodation.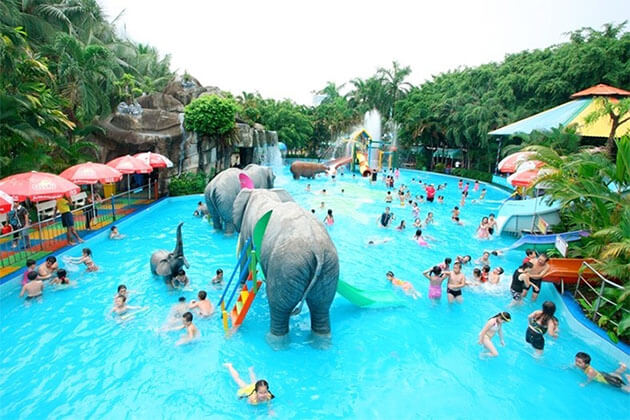 Day 9: Cu Chi Tunnels &Ho Chi Minh City Tour (B, L, D)
After breakfast, we head to the Cu Chi tunnels, which is an extensive labyrinth of underground tunnels stretching all the way to the Cambodian border. On our way, we will drive through tranquil countryside, rice paddies, and rubber plantations. Before entering the tunnels, students will see a short introductory video showing how they were constructed, followed by an exploration of the maze of tunnels, some of which have been widened to allow tourist access. Moreover, on display are various mantraps and the remains of an American tan, as well as numerous bomb craters made by 500 bombs, dropped by B52 bombers.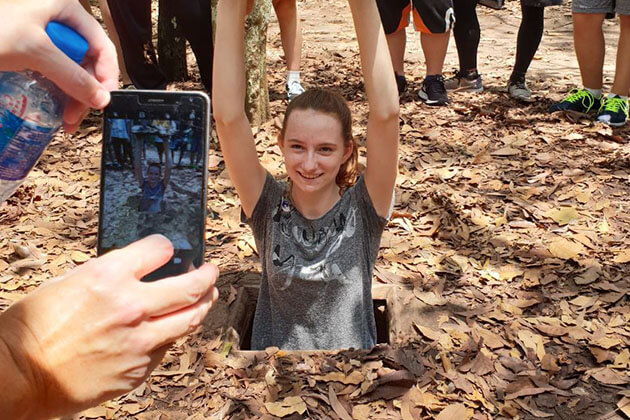 After enjoying lunch, students will pay a visit to the Reunification Palace, which is one of the most reputable buildings in the city. Then, we will take students to Notre Dame Cathedral and Old Post Office, which were built between 1877 and 1883 and this is one of the best examples of classical French colonial architecture.
We will finish our dynamic day with free time for shopping at Ben Thanh Market. This bustling and well-organized market is the most popular destination with tourists, primarily due to its central location. It has a wide selection of goods ranging from fake Nike shoes to traditional silk Ao Dai.
At the end of the day, we transfer students back to the hotel for a special dinner and overnight accommodation.
Day 10: Ho Chi Minh –– Vung Tau City Tour (B, L, D)
Wake up early in the morning and enjoy a refreshing breakfast to get ready for a whole day of exploration. We will pick up students at the hotel in Ho Chi Minh City, then we drive to Vung Tau and have a morning exploring this small exciting sea-town. The first destination for students is the spectacular Jesus Statue for a morning panoramic view of the city. This statue was built in 1972 with 32 meters high and 18.3 meters long arms. Take nearly 900 steps to the top, students will enjoy a breathtaking view of Vung Tau City. More interestingly, when we go down, get ourselves relaxed by a cool drink offered by our tour guide before transferring to our next visit – Niet Ban Tinh Xa (Nirvana Pagoda), which was built in 1969 and is one of the biggest pagodas in the city.
After having lunch, we will visit the Lighthouse, which offers a panoramic view of the whole city. The peak where the Lighthouse is located is around 170 meters above sea level and usually praised as the most interesting site in Vung Tau with shades of high trees on both sides. If students don't want to walk, our guide will arrange a motorbike and we can get to the top within 10 minutes.
The rest of the day will be free at the beach, dinner at restaurant and overnight in Vung Tau City.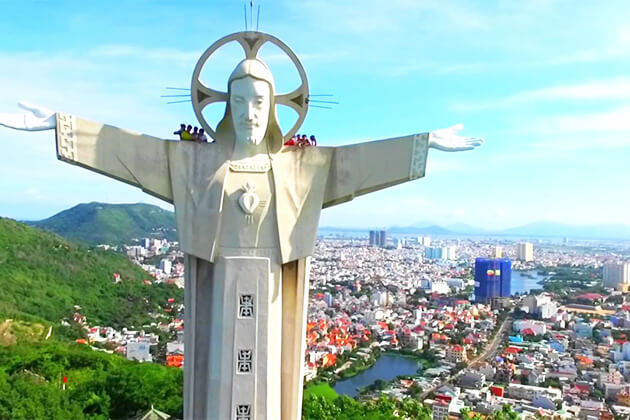 Day 11: Long Tan & Nui Dat Vung Tau City Tour – Ho Chi Minh City (B, L, D)
Dawn Service is not available on this day, we will serve students a refreshing breakfast at the hotel as usual before transferring to the former Nui Dat Task Force Base. After that, we drive passing through the location of the Horseshoe (access not permitted these days due to mining activity) to the Discourtesy Rubber Plantation. Students will pay a visit to the Long Tan Cross Memorial, before continuing to the Long Phuoc Tunnels and visit Ming Dam (no longer the "Secret Zone") and Long Hai. We keep driving to Vung Tau City via to visit the massive War Memorial at Back Beach (the previous site of the Australian Logistics Group and the Peter Badcoe Club). Afterward, we visit Front Beach, Bao Dai Summer House, the airport area, (previous home of "Wallaby Airlines"), the town center and market area. We continue to make our way to Vung Tau. On the way, we stop to visit Ba Ria Markets to have an overview of Radar Hill.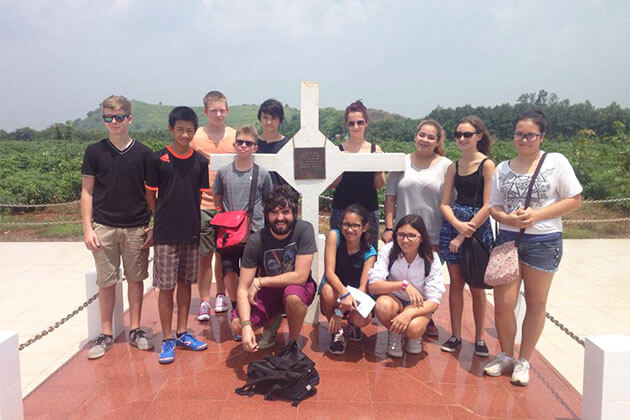 Note: Dawn Service and Private Ceremony are NOT available on Anzac Day (25 Apr) and Long Tan Day (18 – 19 Aug) since 2016. We are just able to visit Long Tan Nui Dat and the surrounding as normal visit without ceremony and service.
After lunch in a nice local restaurant with the seafood we will drive back to Saigon. Check-in our hotel and have a refreshment before a Farewell dinner in a Dinner Cruise in Saigon River. Relax and stay overnight in the hotel.
Day 12: Ho Chi Minh City Departure (B)
The last day of this trip, scrumptious breakfast and soft drink will be the best choice for us in the early morning. Afterward, students and teachers can enjoy the flexibility to spend more time in places that interest them most. Complete our tour with return transport to Ho Chi Minh for our departure. The student tour ends. We wish students to have an unforgettable time with our itinerary.