Japan School Trips & Student Tours
Japan – the land of the rising sun plays host to home spectacular landscapes and stunning destinations ranging from rolling hills, flat farmlands, towering mountains to majestic grand temples, serene shrines and Japan's Edo-period buildings. Interestingly, there is a limitless number of things to do, see and experience in sprawling megacenter Tokyo, which is a truly inspirational experience for students of all subject backgrounds.
Educational School Trip is proud of as a reputable tour company developing wonderful student tours to Japan. We specially tailor-made Japan student tours to serve all your student's needs and your learning objectives. Coming to Japan, students will have ample opportunity to encounter a myriad of custom, deep history, ancient culture in Japan, explore amazing things in the bustling streets of Tokyo, join in state-of-the-art bullet trains and cherish the hospitality of Japanese people. These educational tours definitely will leave students with once-in-a-lifetime experience and meaningful lessons. Let's Japan school trip awake your student's travel sense.
---
Reasons to Choose Japan School Trip for students
Japan is a wonderful country with a rich culture developed through a long history, the magnificent views of natural landscapes and the dynamic atmosphere in the urban cities. The land of the rising sun is also a popular destination for a field trip. Be ready to uncover amazing things in an educational school trip to Japan simple because this trip offers students countless learning opportunities and the activities improving personal skills.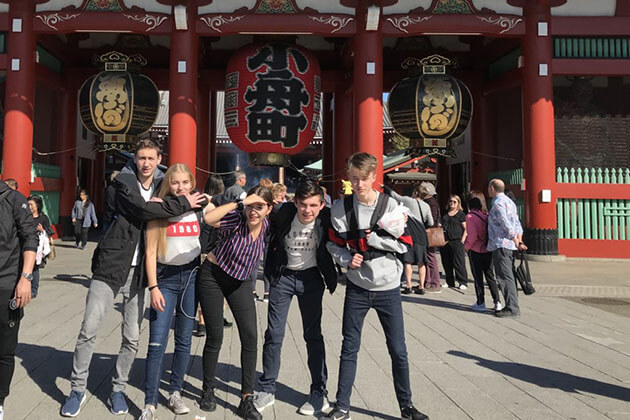 Cultural and historical immersion
Global-renowned for the unique culture and the long history of development, Japan is an ideal destination for a learning adventure. Mindfully receiving elements from other cultures and integrating them into its culture, Japan has reached a perfect balance between the eastern and western values while still preserving its own distinctive identity. The country offers students an ample opportunity to walk into world history rather than read about it in the textbooks. Experience the powerful perspective of standing in front of the Atomic Bomb Dome then pay a visit to the Hiroshima Memorial Peace Museum to gain the insights into the history of the World War II and learn what it means for the future of our world.
Marvelous natural sights
Not only known for its perfect blend of traditional culture and the modern dynamic cities, but Japan also attracts tourists all over the world for the spectacular natural beauty. As an island nation consisting of 4 main islands, stretching across different climate zones, the country is endowed with distinct seasons and varied breathtaking landscapes. For instance, join a Japan field trip in early spring to enjoy the hanami gatherings (flower viewing) under the beautiful cherry trees in the breeze.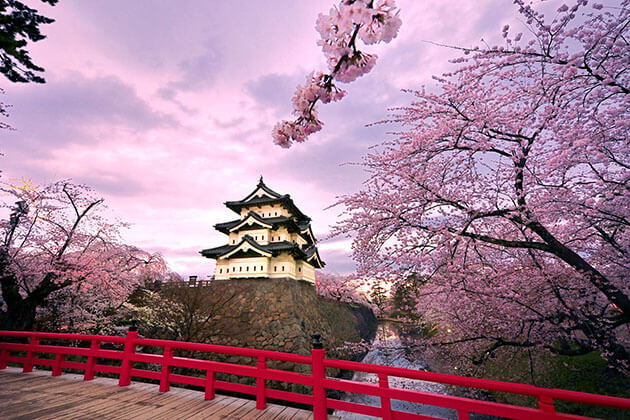 High- tech World experience
Besides the impressive ancient sites, Japan is also famous for its highly-advanced industries and the cutting- edge technology. The country well displays to the students –the leaders of the future world what tomorrow will look like. In the school trip to Japan, take the exciting opportunity to experience the futurist bullet trains, discover the electronics district of Akihabara, order meals using vending machines. Moreover, a visit to factories to observe their rigorous manufacturing process or even have a chance to take part in hands-on activities will be memorable lessons.
Safe and Secure Destination
Japan is one of the safest countries in the world, boasting very low crime rates and a stable political environment. It is the destinations parents trust to send their children to a field trip. Moreover, as a developed country, Japan offers top-notch healthcare whose quality has been recognized by many prestigious organizations, This island nation is often praised as one of the world's cleanest countries and many cities in Japan have been ranked amongst the most livable cities in the world. Thanks to the highly- advanced public transit infrastructure, it is easy to get around Japan. Besides, as a popular travel destination, Japan offers different kinds of accommodation at a wide range of prices.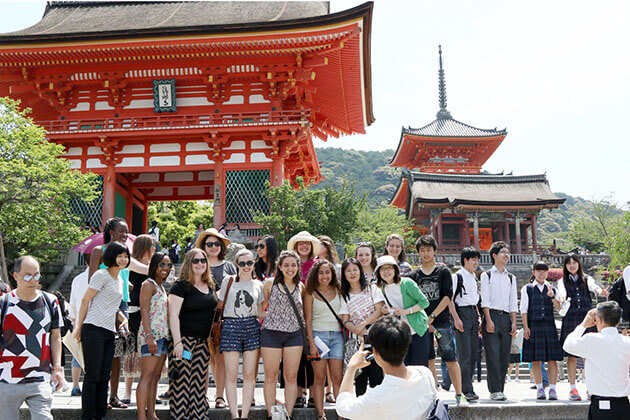 Best Places to Visit in Japan School Trips
The capital city of Tokyo
Why should you visit Tokyo? Well, the basic answer would be that Tokyo is often the first and the last destination for your traveling because of two international airports. However, the capital city is much more valuable than just a quick jet stopover, and you will need no convincing to visit it. The city is also the center of hectic business, Japanese food, fashion, art, sports, architecture. The highlight attraction to see in Tokyo is the world's most terrific public transportation system. It is a down-to-earth experience to witness lightning-fast train (or bullet train) as what you have ever heard or known via media. Then, you should not miss visiting Electric Town (Akihabara) in which the whole town is illuminated by thousands of neons even in small alleys. Besides, a new sense of eating in a robot restaurant will certainly impress you during your school trips to Japan. There are a wide variety of activities for you in Tokyo like seeing the most luxurious places, discovering Japan's newest trends or simply enjoying nightlife shopping.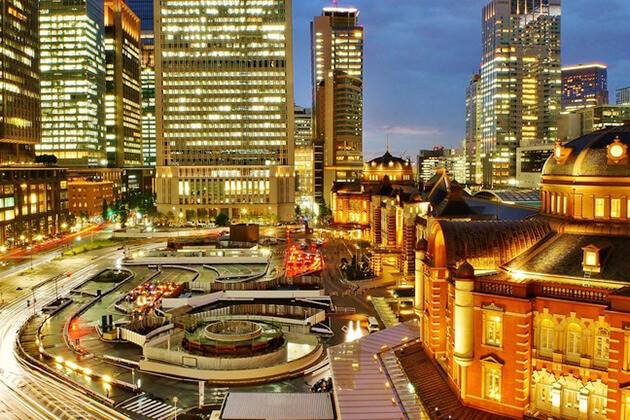 Marvellous Okinawa
Would you and your families love to enjoy the setting of the famous movie Finding Nemo with the Japanese version? If so, let's take an educational school trip to Okinawa. Okinawa floating island paradise is rated as the best place for magnificent beaches and the fantastic marine system in Japan. The world of Okinawa is surrounded by bright blue waters, it has up to 400 varieties of coral reefs, which contributes to a dream-like island. If you are a lifelong fan of diving and snorkeling, this captivating island will be the most suitable for you. By snorkeling, you can find out the perfect gemlike floristic composition of fish and colorful coral reefs. Also, numerous activities are waiting for your exploration such as walking along white-sand beaches and viewing the gorgeous sunset; enjoying onshore activities. Particularly, there are several attractions could make your family tour perfect: they are the museum and the Okinawa Churaumi Aquarium, which are headed to children entertainment. Another highlight is Okinawa soba, this dish is worth tasting when travel here to feel the soul of Okinawans food.
The ancient Kyoto
The ancient capital of Kyoto is honorably inscribed as the world's cultural heritage by UNESCO. People often say that Kyoto is the heart of Japan in terms of traditional values. While other cities in Japan are influenced by foreign culture, Kyoto tries it hard to preserve history and unique characteristics. Traveling here is a good chance for you to discover the stunning ability to maintain traditional Japanese culture while still have an open-mindedness for everything new. The setting of wooden buildings next to modern towers or wooden teahouses with intriguing markets is a particular example of the harmony of ancient culture and modern one. There is a lot of fun activities for you from seeing Geisha's traditional performance, take a walk through the valley to the beautiful Kurama-Dera temple, head out toward nature and find out ancient wooden houses.
Charming Nara
If Japan is the homeland to cherry blossoms so Nara is the metropolis of this flower in Japan. If you are looking for elegant cherry blossoms contemplating, especially in the setting of Buddhist temples, Nara is the unmissable place for you. This land is fully studded with cherry blossoms trees, the flowers often burst into bloom at the same time, which creates marvelous scene than ever. The ecosystem in this city is amazing and charming with the complex of ancient shrines; the system of well-kept canals that are compared as the ribbon tieing around the city. The whole natural picture of Nara is dotted with ponds and beautiful deer and other down-to-earth elements. However, don't misjudge that this is a quiet city and have nothing to do. One of the top destinations is Nara Park due to a large amount of adorable deer roaming freely and peacefully. Besides, you can visit Todai-ji to see a famous bronze statue of Buddha.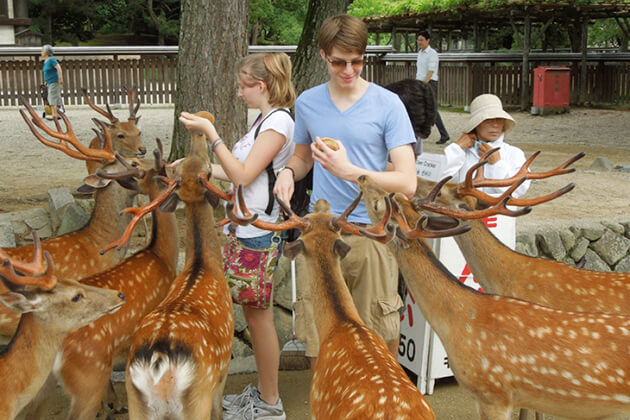 Best seasons for Japan students tours
Spring
Spring in Japan with the presentation of iconic sakura (cherry blossoms) is undeniably the best season for traveling. In the mild weather, walking under the pinky coverage of cherry blossoms will definitely impress you. This season lasts about 3 months from about mid-March to May, enough time for tourists sightseeing the alluring beauty of blooming cherry blossoms. You can refer the following places for the best contemplating: Mount Yoshino (Yoshinoyama) in Nara, which has up to 30000 cherry trees covering slopes of the mountain. Coming here, besides viewing sakura, you can enjoy other activities like hiking trails, wandering temples & shrines, trying local spring food. Also, you could travel to the largest park in Tokyo Shinjuku Gyoen and walking in the captivating scene of cherry blossoms scattering. Moreover, this season is good time for family vacations or educational trips to Japan because of the Children's Day Festival. On this occasion, families always hang colourful "koinobori" banners (carp-shaped banners) for each child in their house, then they wish for the health and the happiness of children. This will make a wonderful experience for your kids when they exchange culture with Japanese children. However, something is noteworthy for you is to avoid the "Golden week" because this is the worst peak traveling season in Japan.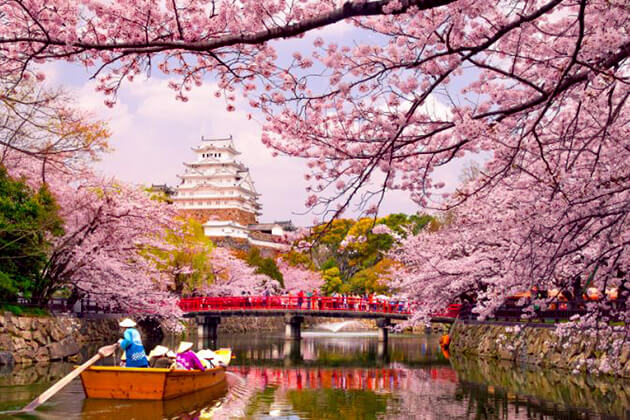 Summer
Summer is considered as the liveliest season of a year with majestic festivals and big events. The summertime is highlighted with top-rated festivals such as Osaka's Rice Planting Festival (June 14th), Hiroshima's Peace Memorial Ceremony (August 6th), Yamaga Lantern Festival (August 15th and 16th), and so on. The signature of the Yamaga Lantern Festival is that hundreds of women dressing in yukata and wearing beautiful shining lanterns on their heads will perform a lively dance. This experience truly draws attention to native people and international visitors. Traveling in the summer, you may exposure to the hottest season and feel uncomfortable. However, if you think the high humidity can be an obstacle to you Japan school trips, you should rethink about it because there are many places for you to enjoy summertime in milder weather. The recommended spots are the Japanese Alps, Tohoku, and Hokkaido. The ocean of Alpine wildflowers contributes to perfect colorful and fresh vacations for people traveling here. Therefore, your summer is even better with those stunning experience.
Autumn
Do you know the highlight of Autumn is the autumn foliage or "Momijigari" in Japanese? This name was originated from hobbies of gathering the beautiful autumn leaves of ordinary people in ancient Japan, which was likened as the hunting activities of the higher status people. Well, the word "gari" means "picking" in Japanese, however, today it simply means visiting the carpet of the autumn leaves. When the weather turns into chilly autumn, Japan is magnificently rugged with major colourful leaves canopy ranging from red, crimson to yellow. That pleasant weather is suitable for discovering excellent Japanese food. Choosing Autumn you won't miss exciting food events known as "Autumn's Appetite". You can enjoy Hokkaido Food Festival, Tokyo Wagyu Show and the special one Tokyo Ramen Show. In addition, we highly suggest you try Kampachi, which is "monopoly dish" of the fall comparing to other seasons. This is mainly because of the harvest season of yellowtail amberjack fish, and the unique features of this fish such as firm flesh and the sweetness of meat textures. Due to less fatty and oily meat than winter amberjack, autumn Kampachi makes a perfect flavour in sushi and sashimi.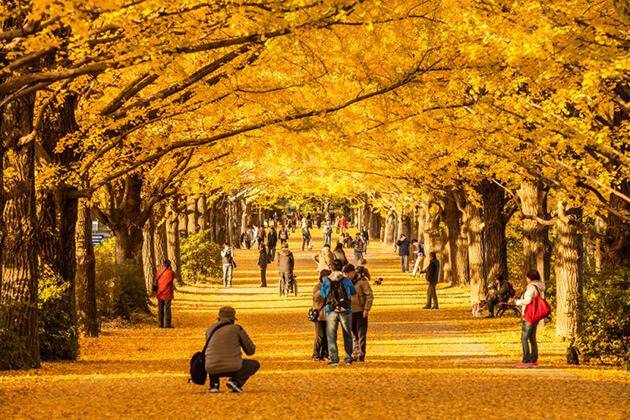 Winter
Do not afraid that in the cold winter Japan will lose its gorgeous beauty like other seasons. The farmhouses at Shirakawago and Gokayama are inscribed as UNESCO world heritage sites. A captivating scene in those freezing days comes from special "lite-up" event. Japanese people will opt some days in January and February to create a remarkable picture of illuminated houses which has the snowfall on the roofs, in the backdrop of majestic snow. From afar, the combination of these elements gives you an eyecatching spot and makes winter a worth visiting time in the year. Besides, you could mitigate the exposure to the cold winter by enjoying the typical cuisine of the winter. Have you ever heard about the Winter BBQ Festival in the temperature of minus 10 degrees Celsius? Let's get some hands-on experience by participating in the great BBQ party in Hokkaido. The atmosphere of gathering, doing together and enjoying your BBQ meals in the winter will be one of the most impressive feelings to you on your school trip to Japan. If you love outdoor activities, you should not miss the Sapporo Snow Festival (snow art), which lasts from 5 February to 11 February. This annual festival is the time for showing snow sculptures in anime films like Pokemon or Miku and other buildings and statues. Apart from those activities, there is a lot of funny entertainment are waiting for you.