General Information
Tour Code:
Duration: 9 Days/ 8 Nights
Start/End: Tokyo/ Osaka
Tour Route: Tokyo – Hakone – Kyoto – Kobe – Hiroshima – Osaka
Tour Customizable: Absolutely! (Tell us your specific requirements in the inquiry form)
Brief Itinerary
Day 1: Arrive in Tokyo, Japan – Freshen-up and city orientation (B)
Day 2: Tokyo Imperial Palace – Asakusa Kannon Temple – Edo Tokyo Museum – Roppongi Hills (B, L, D)
Day 3: Meiji Shrine – Rikugien Japanese Landscape Garden – Akihabara Technology district (B, L, D)
Day 4: Tokyo – Mount Fuji – Hakone National Park (B, L, D)
Day 5: Hakone – Kyoto by private coach and bullet train (B, L, D)
Day 6: Kyoto Tour – Golden Pavilion – Nijo Castle – Sanjusangendo Hall – Kiyomizu Temple (B, L, D)
Day 7: Kyoto – Himeji Castle – Kobe – Hiroshima (B, L, D)
Day 8: Hiroshima – Peace Memorial Park – Peace Memorial Museum – Itsukushima Shrine – Miyajima Island (B, L, D)
Day 9: Hiroshima – Osaka Airport / Depart Japan (B)
Detailed Itinerary
Day 1: Arrive in Tokyo, Japan – Freshen-up and city orientation (B)
Say hello to Japan – the land of the rising sun. Students and teachers will be warmly welcomed by our tour guide and then we transfer students to the hotel and serve them a fresh breakfast. Check in to our accommodation before discovering a tour of Tokyo.
Day 2: Tokyo Imperial Palace – Asakusa Kannon Temple – Edo Tokyo Museum – Roppongi Hills (B, L, D)
The second day in Tokyo, we will kick off our day with a special breakfast before exploring the Imperial Palace in the center of Tokyo. Students can witness massive stone walls and moats surrounding this large park area. Next, we will take students to the Asakusa Kannon Temple – the oldest temple in Tokyo.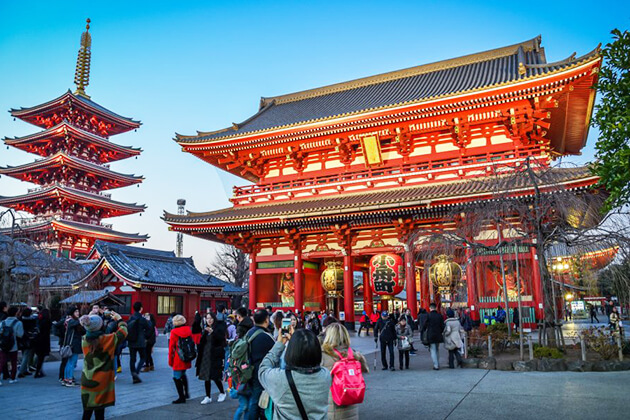 After having lunch with Japanese food, we transfer students to the Edo Tokyo Museum, where students can get a deeper understanding of many aspects including cultural heritage, deep history, commercial situation, and Edo Period architecture.
We continue this student tour with a short drive to Roppongi Hills, which is the combination of the 52nd and 53rd floor Mori Art Museum and high-end restaurants, art galleries, shopping, panoramic city views.
In the late afternoon, we transfer students back to Tokyo to enjoy a scrumptious dinner and stay overnight at the hotel.
Day 3: Meiji Shrine – Rikugien Japanese Landscape Garden – Akihabara Technology district (B, L, D)
Today, after breakfast, our tour guide will pick students up to the Meiji Shrine – the busiest site in Tokyo.
After that, we head to the stunning Rikugien Japanese Landscape Garden which is considered Tokyo's most beautiful Japanese landscape garden alongside Koishikawa Korakuen.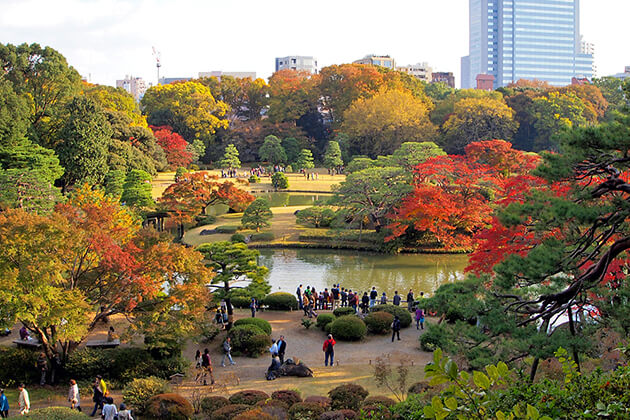 From the hustle and bustle city center, we head to the Akihabara Technology district, where is full of gadgets to explore.
In the evening, we serve students dinner with traditional Japanese food and then stay overnight in Tokyo.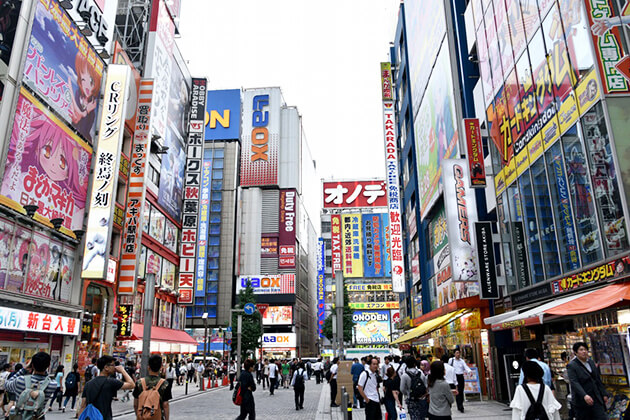 Day 4: Tokyo – Mount Fuji – Hakone National Park (B, L, D)
Today we wake up early in the morning and enjoy a fresh breakfast before visiting Mount Fuji, which is the highest volcano in Japan. Students can enjoy a leisurely walk around many trails and take a lot of photos. After lunch, we spend the rest of the day on exploring Hakone National Park. Hakone is one of the most attractive places because of its natural beauty and hot springs. Therefore, it is a great chance for students to immerse themselves in the geothermal springs.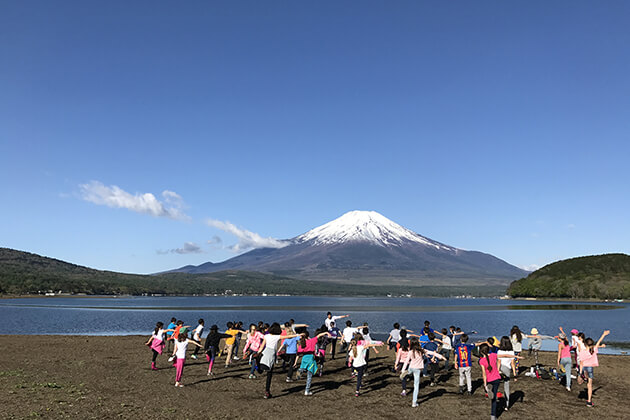 At the end of the day, we transfer students back to the hotel in Hakone for dinner and overnight accommodation.
Day 5: Hakone – Kyoto by private coach and bullet train (B, L, D)
After breakfast, we take a famous bullet train to Kyoto. Check out of your accommodation and then meet your transfer and take the world famous bullet train to Kyoto. The bullet train can gain speeds up to 320km per hour and if ever you have used the excuse that your train was delayed you better think twice here, as in Japan the train service is so reliable that if the train is ever late they will issue you with a letter to prove to your boss that you're not lying! Arrive in Kyoto and then check into your accommodation and enjoy some free time to relax. Overnight in Kyoto.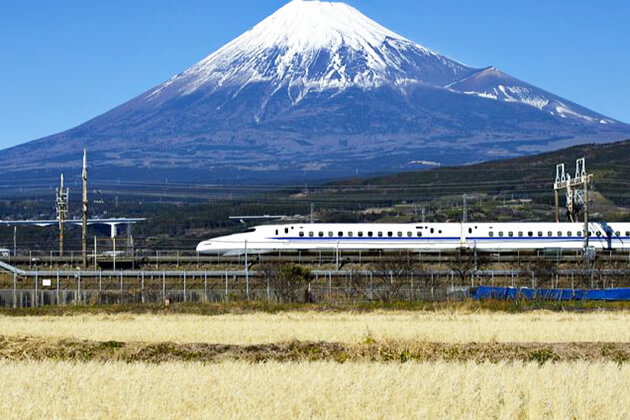 Day 6: Kyoto Tour – Golden Pavilion – Nijo Castle – Sanjusangendo Hall – Kiyomizu Temple (B, L, D)
Today, students will enjoy a welcome breakfast to start a city tour of Kyoto. Coming to Japan capital, we will pay a visit to the ZEN temple called the Golden Pavilion. Students can immerse themselves in the stunning image of the temple adorned by gold leaf reflects beautifully in the water of Kyokochi. After that, we head to Nijo Castle, which is the best-preserved castle in Kyoto. Our tour guide will introduce and explain about Japanese history when students go sightseeing at the castle.
After having lunch, our next destination is Sanjusangendo Hall – the longest wooden structure in Japan with 120 meters. Then, we reach a pure water temple – Kiyomizu Temple. This is a must-see temple for us because the temple's wooden stage offers a panoramic view of Tokyo rising out of a sea of maples. From here, students can look at the ancient capital of Tokyo and enjoy stunning views that change with the seasons.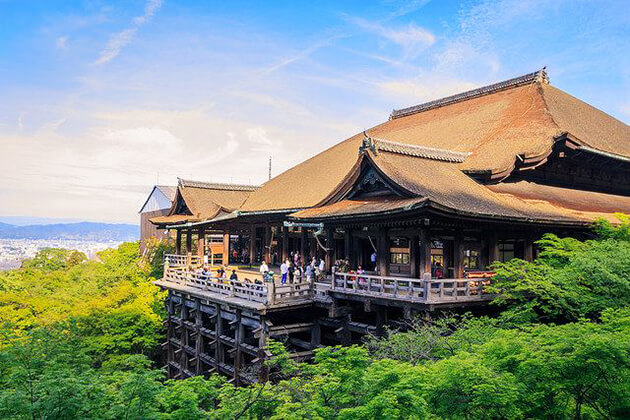 At the end of the day, we transfer students back to the hotel and serve them Japan food. Overnight in Kyoto.
Day 7: Kyoto – Himeji Castle – Kobe – Hiroshima (B, L, D)
After having breakfast, we will depart on the coach for Hiroshima. On the way, we pay a visit to Himeji Castle, which acquires a reputation for elegant white appearance and known as White Heron Castle. Inside the castle is all about wooden architecture and this is also a popular cherry blossom spot during the blooming season.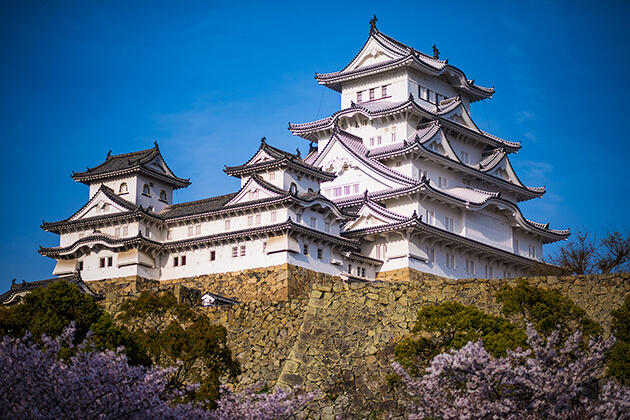 Then, students will be served a scrumptious lunch before reaching Kokoen Garden. In this stunning place, students can witness an up-close view of picturesque sceneries and enjoy green tea in the tea ceremony house. How interesting it is!
Arriving in Hiroshima, we transfer students to the hotel for dinner and overnight accommodation.
Day 8: Hiroshima – Peace Memorial Park – Peace Memorial Museum – Itsukushima Shrine – Miyajima Island (B, L, D)
Wake up early in the morning and enjoy fresh breakfast to ready for a full day of Hiroshima exploration. Hiroshima is the principal city of the Chugoku Region and it is the first city in the world targeted by the atomic bomb. Afterward, we head to the Peace Memorial Park and Peace Memorial Museum.
In lunchtime, students will enjoy Japanese food before visiting the Itsukushima Shrine, which literally means the island of worship on Miyajima Island. The shrine is a perfect combination of the magnificent architecture and composition, which certainly do not fail to enthrall the thousands of visitors. Most importantly, students can take a great chance to witness the giant tori gate and enjoy stunning views around the island and sea.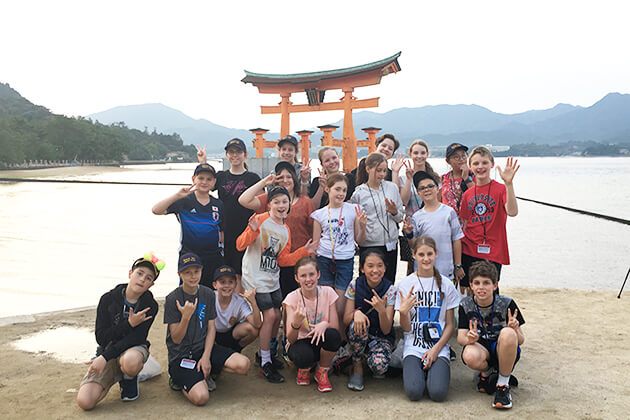 As the sun begins to set, we transfer students back to the hotel in Hiroshima and serve them a special dinner. Overnight in Hiroshima.
Day 9: Hiroshima – Osaka Airport / Depart Japan (B)
Last day in this educational tour, we will check out our accommodation, savor a special breakfast and then depart for Osaka airport. The school trip ends. We hope this tour leaves students with meaningful lessons and lasting memories.