General Vietnam School Trip Information
Tour Code:
Duration: 12 Days/ 11 Nights
Start/End: Hanoi/ Ho Chi Minh City
Tour Route: Hanoi – Mai Chau – Halong Bay – Danang – Hoi An – Hue-Ho Chi Minh – Cu Chi tunnel – Mekong Delta-Ho Chi Minh
Tour Customizable: Absolutely! (Tell us your specific requirements in the inquiry form)
Brief Itinerary
Day 1: Arrival in Hanoi (D)
Day 2: Hanoi – Mai Chau (B/L/D)
Day 3: Mai Chau – Hanoi (B/L/D)
Day 4: Hanoi (B/L/D)
Day 5: Hanoi – Bear Sanctuary Ninh Binh (B/L/D)
Day 6: Hanoi – Da Nang – Hoi An (B/L/D)
Day 7: Hoi An (B/L)
Day 8: Hoi An free at leisure (B)
Day 9: Hoi An-Hue (B/L/D)
Day 10: Hue-Da Nang – Ho Chi Minh City (B/L/D)
Day 11: Saigon – Mekong Delta – Saigon (B/L/D)
Day 12: Ho Chi Minh City Departure (B)
Full Itinerary of Vietnam School Tour 
Day 1: Arrival in Hanoi (D)
Upon arrival in Hanoi, our guide and private car will meet students and transfer them to the hotel for check-in. On arrival in Hanoi if time permitted, enjoy a one hour tour by cyclo, a chauffeur-pedaled tricycle through Hanoi Old Quarter, also known as 36 streets. This bustling area of narrow streets and alleys is home to literally thousands of small businesses and shopkeepers. It's a great place to explore, especially by cyclo, with plenty of photo opportunities all around us. Welcome dinner at a nice restaurant in Hanoi.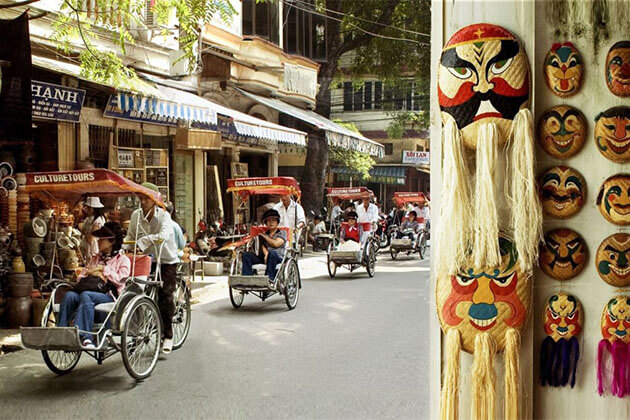 Day 2: Hanoi – Mai Chau (B/L/D)
Early morning depart from Hanoi to Mai Chau which is located 150 km Northwest of Hanoi, the drive takes 3.5 hours. Just an hour out of Hanoi after Hoa Binh Town, the road will slowly weave itself through mountains, fertile valleys, and traditional villages.
Arrive in the picturesque Mai Chau Valley which is surrounded by spectacular karst rock formations and rice paddies, depends on hotel availability, check-in and have lunch at local Thai house. After lunch, students will have activities of their choice of walking or cycling to a valley with some steep uphill and downhill. Many villages dot the hillsides and the undulating terrain makes for an interesting journey. This evening we will have dinner at the local house and then enjoy a performance of traditional dance (optional and subject to family arrangement) followed by local rice liquor.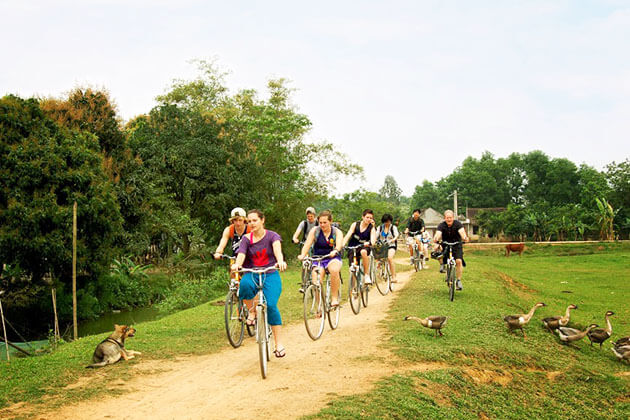 Notes: Home-stay in Mai Chau. (Local home-stay basic)
Here they arrange tourists to stay at Ban Lac but we should arrange them at Pom Coong, less domestic tourists and quieter
Day 3: Mai Chau – Hanoi (B/L/D)
In the new day in student tour, we will start this morning with a light trek through the Mai Chau Valley. Visit the Mo Luong (Soldier) Cave, walk to Thi villages of Pom Coong and visit some local homes where students can see the locals weaving the fabric by handcraft, working on the rice fields and doing their daily housework's. Lunch at home-stay then transfers to Hanoi.
Day 4: Hanoi (B/L/D)
Visit Ho Chi Minh Complex, where we will spend a couple of hours to visit Ho Chi Minh's Mausoleum, his former stilt-house residence, the Presidential Palace, the Ho Chi Minh museum and One Pillar Pagoda. Keep going to see the Temple of Literature.
Follow this, enjoy lunch, continue by a one-hour cyclo ride around Hanoi  Old Quarter. It was once the heart of Hanoi and is still an unbelievable sensory overload; its bustling functionality will astound all first-time visitors. Following this, we visit the infamous Hanoi 'Hilton' prison and then we visit the Dong Xuan Market and enjoy a Water Puppet show and then head back to the hotel for our dinner. Relax after that. Dinner and overnight in Hanoi.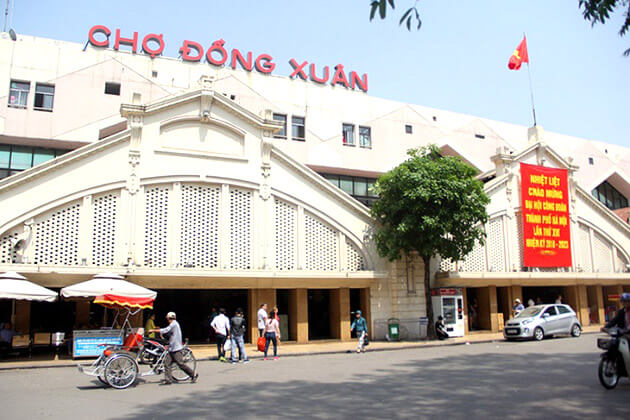 Day 5: Hanoi – Bear Sanctuary Ninh Binh (B/L/D)
Enjoy a refreshing breakfast to get ready for a full day exploration at Bear Sanctuary Ninh Binh, which is located near Cuc Phuong National Park,  this destination promises to add unforgettable experiences to your trip to the beautiful Ninh Binh province.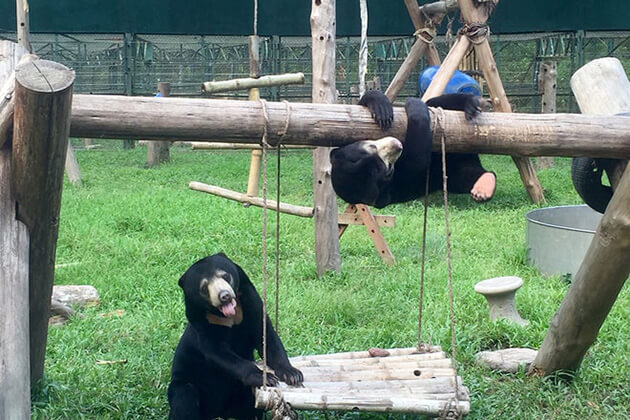 Follow our local tour guide to visit adorable bears and join a great activity mini-debate which is one of the most practical activities to train critical thinking for the students is the Mini debate. It offers students chances to analyze scenarios and emphasize their point of view using well-articulated defense. After the debate, the facilitator will tell them what worked well and what didn't. This destination promises to add unforgettable experiences to your trip to the beautiful Ninh Binh province.
Next, in the lunchtime, you can also savor traditional Vietnamese vegetarian and vegan dishes made with fresh, local ingredients at the onsite bistro and enjoy the tranquil views across the Sanctuary. There is a wide range of practical activities including trees planting, cooking class, Cleaning the sanctuary, play with other bears, forage for food or hide away in their dens when they want to relax as well as workshop activities such as picture coloring, drawing bear pictures, bear storytelling. All of the meaningful activities will boost the creative ability of children and build their love with bears and nature. A lot of fun games are designed for school students such as quiz, board games. Later, students will have a chance to participate in the debate activity. Students will be divided into groups and pinpointed for topics and also the side to support or oppose. These practical works give students an authentic encounter with the living of bears.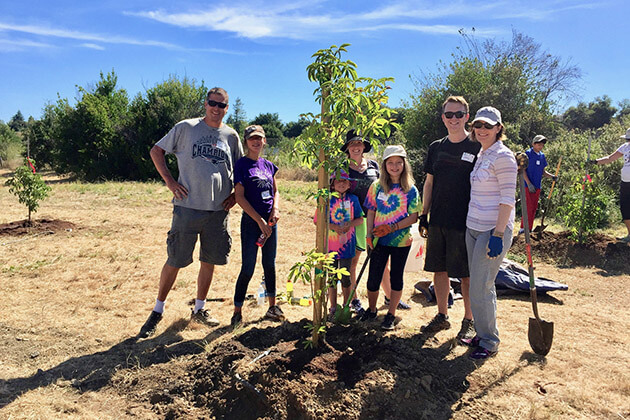 Feasting on the special dinner before returning to Hanoi for a good rest.
Day 6: Hanoi – Da Nang-Hoi An (B/L/ D)
This morning transfer to the Noi Bai airport for flight to Da Nang. On arrival in Danang, our guide and private car will meet and transfer students to visit the Marble Mountain, five sacred hills containing dozens of Buddhist shrines.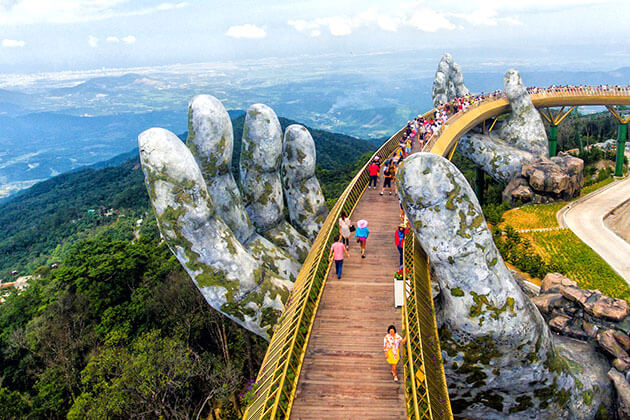 After visiting Danang, we have lunch then transfer to Hoi An for a walking tour.
Follow this, the group take a walking tour through Hoi An, once a major Asian trading port in the seventeenth and eighteenth centuries. Hoi An's architecture and relaxed lifestyle have changed little over the years. Take a leisurely walking tour of the ancient town center and visit the sites of former merchant's homes, a 400-year-old Japanese Covered Bridge, and  Chinese Communal Hall. Before students return to the hotel to enjoy browsing and shopping in one of the most colorful local marketplaces in all of South East Asia
Day 7: Hoi An (B/ L)
Today's cooking class begins with a visit to Hoi An's colorful market where we will buy fresh produce to cook for lunch. The colorful market is a fantastic way to experience local life and a hub of activity in the mornings. We the board the Red Bridge boat for a leisurely cruise (25 minutes) along the Hoi An River to the Red Bridge Cooking School. On arrival, we explore the cooking school's herb garden, before learning some of Hoi An's and Vietnam's well-known dishes. The cooking lesson runs for about 2 hours in the Red Bridge chefs first demonstrate each dish before we prepare the same dish ourselves, included in the class is a brief introduction to Vietnamese food carving (plate decoration). After the lesson, we sit down and feast on our own creations.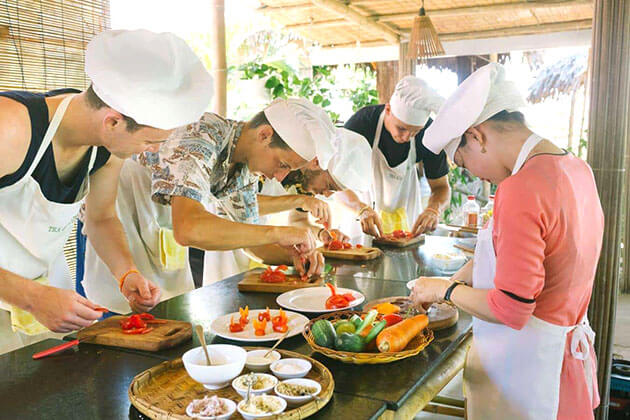 This afternoon and evening are at leisure. Relax on the beach, explore the city on your own, or go shopping.
Hoi An is a shopper's paradise and we will find paintings, silk fabric and clothing, ceramics, Chinese lanterns, chopsticks, lacquerware, teapots, and embroidered tablecloths and napkins.
Day 8: Hoi An free at leisure (B)
Today, we have a free day at leisure in Hoi An.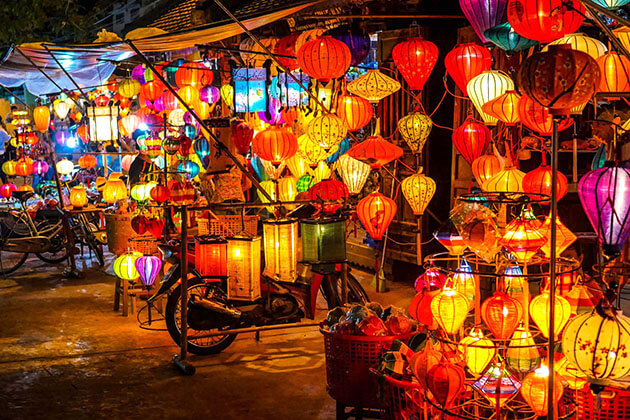 Day 9: Hoi An-Hue (B/L/D)
This morning, depart Hoi An for Hue. Travel up to the top of scenic Hani Van pass, the peak of the pass lies perpetually shrouded in clouds. Arrival in Hue, visit Tu Duc King's tomb, have vegetarian Buddhist lunch at pagoda nearby. Followed by a check in the hotel.
Following by a boat trip on the romantically named Perfume River takes students by tranquil settings of gardens and lakes where Hue is best-known religious sites, the Thien Mu Pagoda then visit Citadel and the Imperial City of Hue.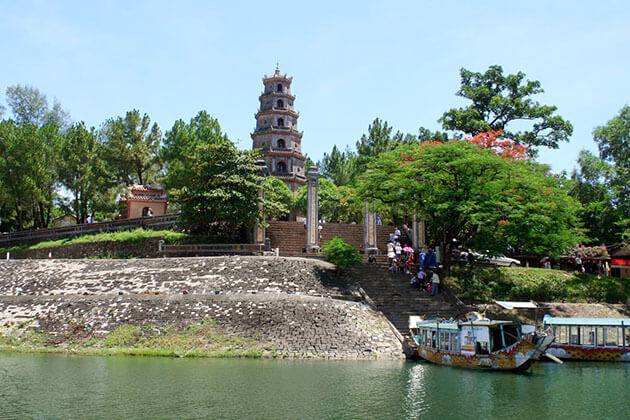 Day 10: Hue-Da Nang – Ho Chi Minh City (B/L/D)
Transfer back to Da Nang Airport (takes approx. 2.5 hours) for flight to Saigon (Early afternoon flight). Upon arrival at Tan Son Nhat airport, our guide will meet and transfer students to the hotel.
Lunch at a local restaurant in Saigon with Pho Vietnamese noodles and included the first drink.
This afternoon, our half-day city tour of vibrant Saigon includes the landmark Reunification Hall, formerly known as the Presidential Palace. It was towards this modern building that North Vietnamese resistance fighters tanks (Vietcong) rolled on the morning of April 30, 1975, as Saigon fell. This fascinating building is filled with history still fresh in the minds of many. Our tour also includes the red-brick Catholic cathedral of Notre-Dame, the nearby 19th-century Empire-style Post Office, and the next-door City Hall all look indomitably European, Ben Thanh Market.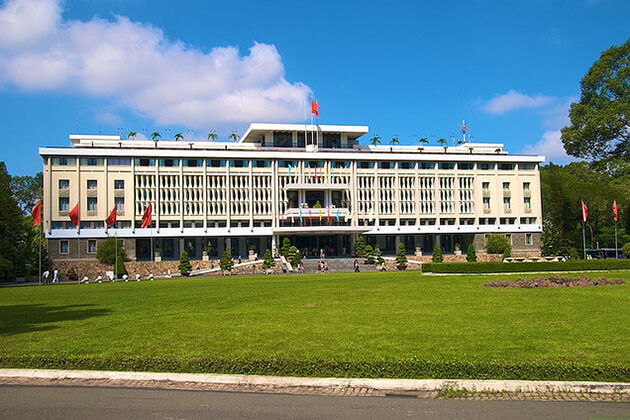 Day 11: Saigon – Mekong Delta – Saigon (B/L/D)
After having breakfast, we start to travel the bustling highway into the surrounding countryside pass lush rice paddies carefully tended, before boarding our motorized sampan for a unique experience on the mighty Mekong Delta waterways. The water is a lifeline – the focus of all daily activity – as students journey through a maze of tributaries and fruit plantations. Enjoy a sample of delicious fruit in the shade of a fruit farmer's garden before continuing via even smaller waterways to lunch, where the specialty is a remarkable dish of 'elephants ear fish'.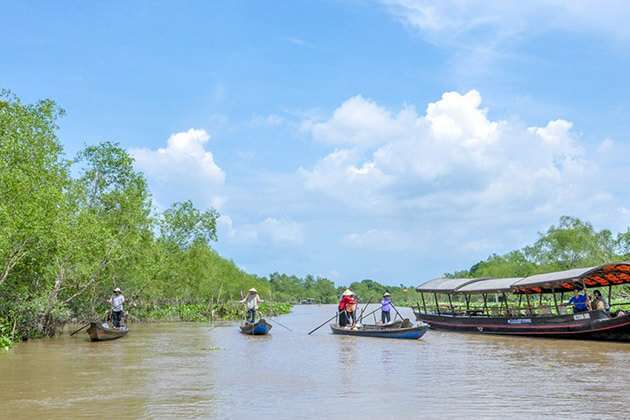 Day 12: Ho Chi Minh City Departure (B)
Full day at leisure until time for transfer to the Tan Son Nhat Airport for departure flight. The school trip ends.