General Information
Duration: 9 days
Destination: Thailand
Start/ End: Bangkok
Tour Route: Bangkok – Khao Sok National Park – Koh Samui – Koh Tao
Tour Type: Explore and Experience
Tour Category: Thailand School Tours
Tour Customizable: Absolutely! (Inform us)
Guides: Local Guides (Local Tour Guide)
Transportation: Private first-class air-conditioned vehicles
Accommodation: Listed below or equivalent.
Brief Itinerary
Day 1: Bangkok Arrival (D)
Day 2: Bangkok – inner city tour (B, L, D)
Day 3: Khao Sok National Park (L, D)
Day 4: Khao Sok National Park (L, D)
Day 5: Khao Soh – Koh Samui (L, D)
Day 6: Koh Samui (L, D)
Day 7: Koh Samui – Koh Tao (D)
Day 8: Koh Tao (L, D)
Day 9: Koh Tao – Bangkok (B)
Detailed Itinerary
Day 1: Bangkok Arrival (D)
Upon your arrival in Bangkok, we will support you to transfer to your hotel and check-in. After that, teachers and students can spend the rest of the day either relaxing at the hotel or going outside for a glance of urban exploration. Dinner is included.
Day 2: Bangkok (B, L, D)
After breakfast at the hotel, we to explore a different side of the city on a wild tuk-tuk adventure. Our itinerary is to head to the fortress of Phra Sumeru Fortress. Built during the reign of famous king Rama I, it's one of only two fortresses from that period that have survived to the present day.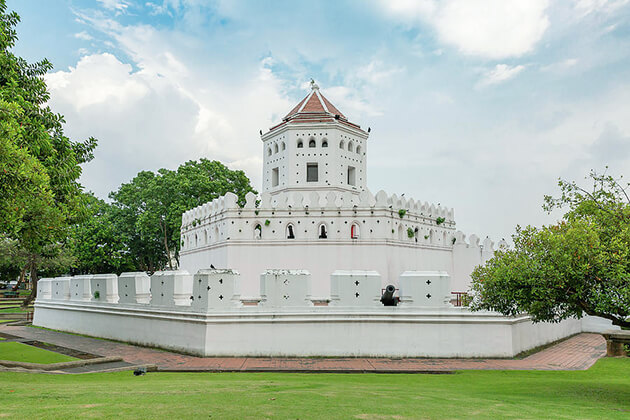 Then it's off to the Amulet Market, where a vast array of religious amulets, charms and traditional medicines are sold. See the reclining Buddha of Wat Po and head into Little India where a labyrinth of narrow lanes is stocked with rolls of textiles such as silk and cotton.
Savor local cuisine for lunch. After that, the stop is the Thieves Market -once a bustling market full of stolen goods! Nowadays it's more well-known for fake antiques and other interesting and quirky items.
Then it's on to the train station. Enjoy a surprisingly comfortable night's sleep onboard the train as you head to Surat Thani Province, in the south. Dinner at the hotel.
Day 3: Khao Sok National Park (L, D)
After arriving in the morning, enjoy a scenic ride to Khao Sok National Park, home to one of the oldest and most visually spectacular rainforests in the world. Stretching over 739 square kilometers, the forests here are with thick with vibrant-green foliage, gorging waterfalls, towering limestone cliffs, and an incredibly picturesque lake. It's also home to many species of animals including elephants, gibbons, bears, langur monkeys and a rare tiger or two! Take a swim in the river and have a spot of lunch before meeting your guide for an elephant ride through the jungle.
Later in the afternoon, teachers and students will be escorted to the hotel and have time for dinner.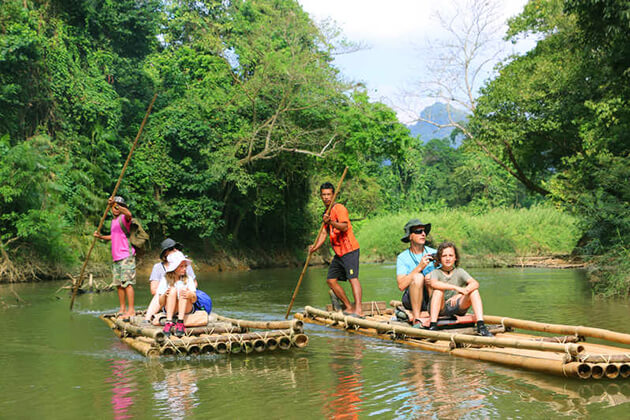 Day 4: Khao Sok National Park (L, D)
Travel by pick-up truck through the jungle to the enormous and tranquil Raja Phraba Lake. From there, take a traditional long-tail boat to a floating raft house on the lake. Spend the day swimming, tubing and exploring the nearby caves of the lake while surrounded by towering jungle-clad karst formations.
In the evening, bathe in starlight while taking in the unforgettable views of the night sky here, which enjoys very little light pollution from surrounding areas.
Lunch and dinner will be included.
Day 5: Khao Soh – Koh Samui (L, D)
After a refreshing night surrounded by the wild natural beauty of Khao Sok, today teachers and students will be driven to the port and catch a ferry to Koh Samui, on the Gulf of Thailand. Surrounded by white sandy beaches, calm waters, and abundant options for snorkeling or diving, you'll be spoiled for choices on things to do in this idyllic beach destination. If you're looking for creature comforts after your time in the jungle, you'll have no trouble finding them here, either.
Seafood is the main menu for your lunch and dinner here.
After exploring the island, head back to your hotel for a well-deserved good night's sleep.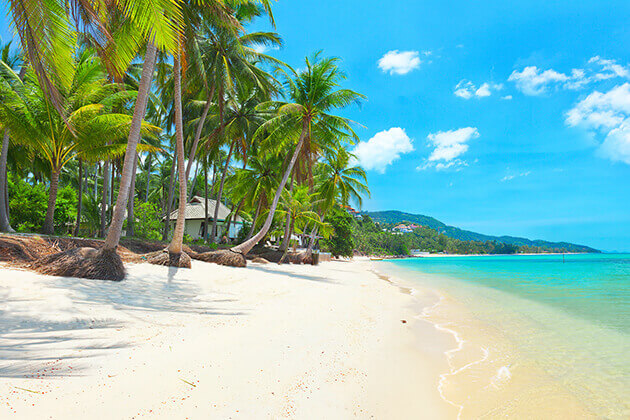 Day 6: Koh Samui (L, D)
Explore Samui's with an exciting half-day tour, taking in the unusual, but natural, rock formations of Grandmother and Grandfather Rock and the even more unusual story behind them. Visit the island's famous Big Buddha Statue, soak up the island's unique tropical vibes, and head to Wat Khunaram for a fascinating, yet macabre, surprise. See the mummified monk seated in a glass case that shows surprisingly few signs of decay! Although it may be strange, it's a rite of passage for visitors to the island!
Lunch and dinner will be served for you.
Afterward, head back to your hotel and get some rest.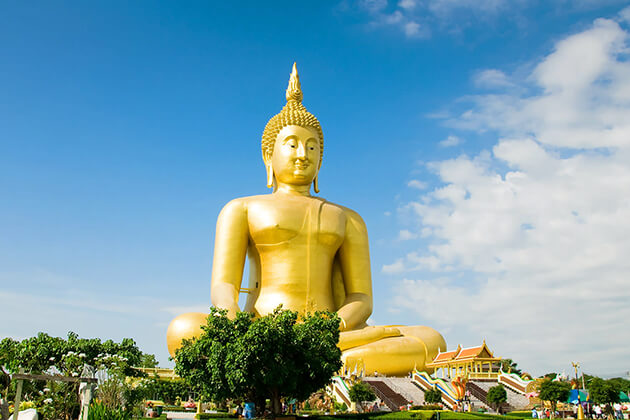 Day 7: Koh Samui – Koh Tao (D)
Hop aboard the ferry and head to Koh Tao. Also known as Turtle Island, the area is well-known for its abundance of sea turtles. Considered by many to have Thailand's best diving, the clear water and coral reefs of this gorgeous island have drawn divers and island lovers from around the world for decades. That's not all there is to do on the island, though. Koh Tao is also renowned for its spectacular white-sand beaches and laid-back atmosphere. It's the perfect place to leave all the busy and hectic life behind.
After exploring the island's natural wonders, head back to your hotel for some relaxation, or enjoy a cocktail while soaking up the salty air and ocean breeze.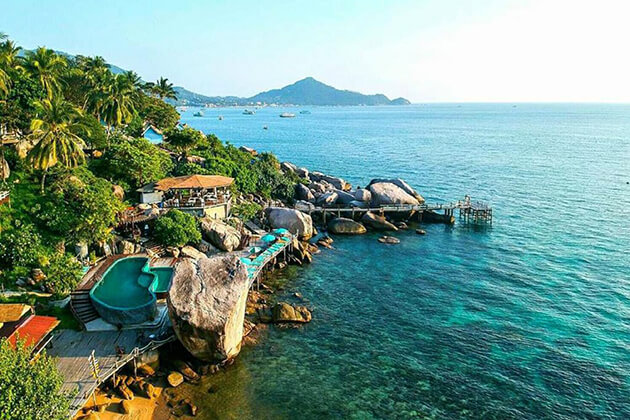 Day 8: Koh Tao (L, D)
Head out in the morning for a cruise to a spectacular outer reef for a day of snorkeling. While exploring the prismatic waters of the area, witness the spectacular natural beauty of the coral reef and spot an abundance of tropical reef fish, stingrays, turtles, and even sharks. If you're lucky, depending on the season, there is even the chance to see whale sharks.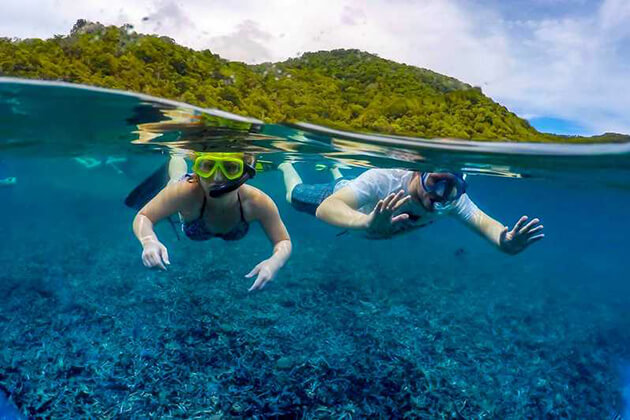 After a day of fun, sun and marine exploration, head back to your hotel and enjoy one final evening on the island.
Teachers and students will have a chance to taste local cuisine for lunch; for dinner, we prepare a small but cozy farewell party. Altogether we will enjoy the party, sum up the trip and share experience.
Day 9: Koh Tao – Bangkok (B)
Say goodbye to Thai paradise and take the ferry back to Koh Samui where you'll be transferred to the airport for your onward flight to Bangkok. The school trip ends. Wish you luck on the upcoming trips.