12 Days School Trip Thailand General Information
Tour Code:
Duration: 12 Days
Start/End: Chiang Mai / Chiang Mai
Tour Route: Chiang Mai – Doi Suthep – Whitewater Rafting – National Park Forestry Center – Wat Baan Din – Sticky Waterfall – Chiang Mai
Tour Customizable: Absolutely! (Contact us)
Brief Itinerary
Day 1: Chiang Mai Arrival
Day 2: Descend Doi Suthep – Trek and Waterfalls
Day 3: Go Trekking & Caving
Day 4: Explore stunning Whitewater Rafting
Day 5: Whitewater Rafting – the Elephant Experience
Day 6: Final Rafting trip – the National Park Forestry Center
Day 7: Trekking to Remote Hill Tribe Village
Day 8: The Waterfalls Trekking
Day 9: Wat Baan Din – Cycling – Organic Farm & Education Center
Day 10: Cycling to Mae Ngat Dam – Floating Huts
Day 11: Wat Baan Din – Sticky Waterfall
Day 12: Chiang Mai Departure
Detailed Itinerary
Day 1: Chiang Mai Arrival (D)
On arrival at Chiang Mai International Airport, teachers and students will be picked up and will be transferred directly to the booked hotel to check-in. Take your time before dinner at the hotel.
Day 2: Descend Doi Suthep – Trek and Waterfalls (B, L, D)
Have breakfast and a cup of hot chocolate then we will set off for Wat Prah That Doi Suthep. The temples of the bests in Thailand: most sacred, most beautiful, best views of Chiang Mai. From the temple, several treks are available depending on the flight arrival time.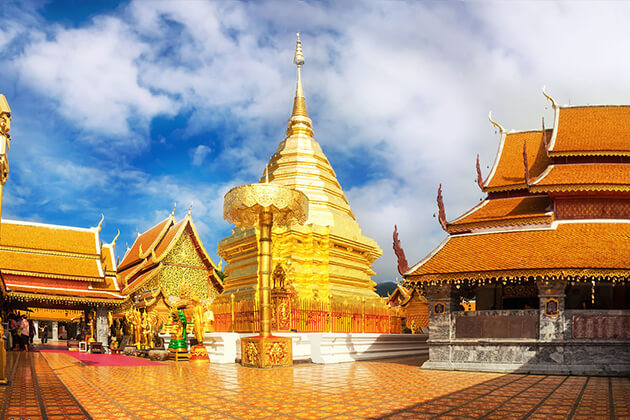 In the afternoon, we will stay in the homestay near the local people. We have our first taste of authentic Thai Cuisine. Then we stroll around the village, students also teachers will have the chance to learn the Hmong ethnic minority groups, parts of them are cultural traditions, traditional costumes, food, and games.
Enjoy dinner at the homestay.
Day 3: Go Trekking & Caving (B, L, D)
Today we start with breakfast. The first destinations are Chiang Dao Temple. You will admire on-off the 3rd tallest mountain in Thailand which runs with marvelous limestone cliffs.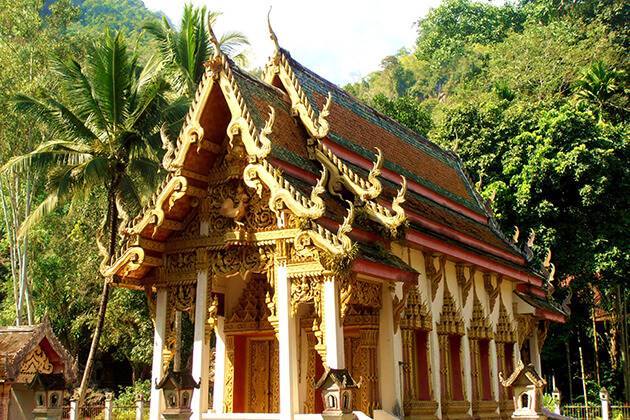 Enjoy lunchtime when we reach the valley floor. The afternoon schedule is for discovering 'Taam Khi Mee' – the cave which is two kilometers in length; and there are amazing cave formation structures inside such as stalagmites, curtains, columns, caverns and more! This cave has a variety of opportunities for students to learn about Chiang Mai geography.
We end today by a 1.5hr trek back to where we started and return to the accommodation for the night.
Day 4: Explore stunning Whitewater Rafting (B, L, D)
Today and the next 2 days, we go venturing rafting on the Mae Taeng river. The trip will make students excited with a wide range of fun team building activities, which can enhance their skills and experience. The first challenge for students is 7km of whitewater rafting after being well trained by experts. This is a wonderful opportunity for students to practice handle whitewater paddling skills, teamwork and leadership skills.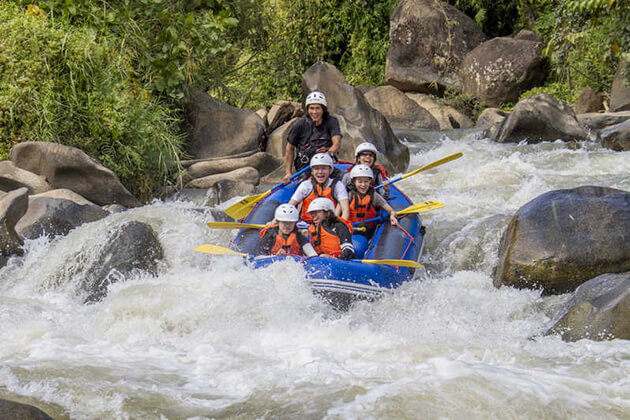 Lunch will be halfway down the river and we will finish off midafternoon at a Lahu Hill Tribe Village. It is an eye-opener experience for tourists to see their diversified cultures and customs.
Have dinner together and we spend the night learning about Thai Lanna Culture (northern Thailand)
Day 5: Whitewater Rafting – the Elephant Experience (B, L, D)
Kick-off your day with breakfast and contemplate the sunrise if you are up early enough, we will stick to our plan for the second day of rafting. Midway today we will stop for a remote Elephant Camp.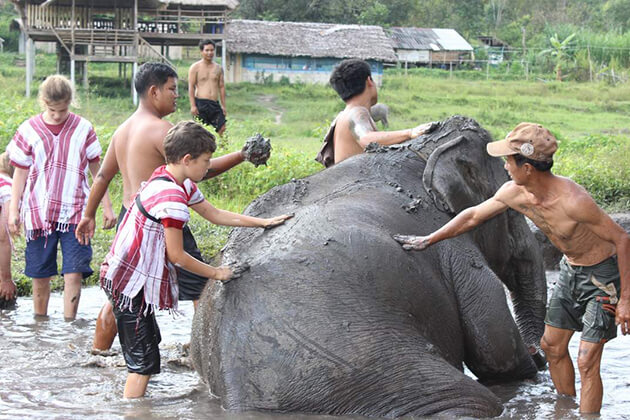 Enjoy a quick lunch and take a rest. In the afternoon, students coming here can study the history of the elephants for working in Thailand and the abolishment; besides, and the following types of the elephant for tourism that today. Students can get chances to watch the animals in their natural habitat from the faraway location. One of the hands-on experience is that visitors are allowed to feed and take a bath with these elephants.
At the end of the day, we head back to our main camp, have dinner and spend the night.
Day 6: Final Rafting trip – the National Park Forestry Center (B, L, D)
Today is our final day of whitewater rafting. We spend time discovering the rest of Thailand most stunning whitewater.
Later in the morning, teachers and students come back to Camp for lunch. After that, we will travel in 3 hours to the National Park Forestry Center. This destination has become the tourist magnet because of the best views – best admired at sunset and sunrise scene. From our station, the view includes the entire Chiang Dao with imposing Thailand's 3rd tallest mountain
.
Day 7: Trekking to Remote Hill Tribe Village (B, L, D)
Today, we get up early to contemplate amazing sunrise running through the Chiang Dao region. Following after that is breakfast, teachers and students should take your time to prepare carefully for the trekking adventure. Approximately 10 km in the total distance this trek snakes up the ridge raising 300 meters in the first 3 km. The exciting part after that is being at the peak – Doi Sam Liem.
We have lunch along the tour. From here the next 6km traverse down to where we will be spending the evening. The trek passes through both subsistence fruit and vegetable farms, coffee plantations, bamboo forests and of course the thickest of jungles. At a certain altitude, we could see the trees in a leading way to fields, which you could enjoy blooming flower if you are lucky enough to travel here at the right time.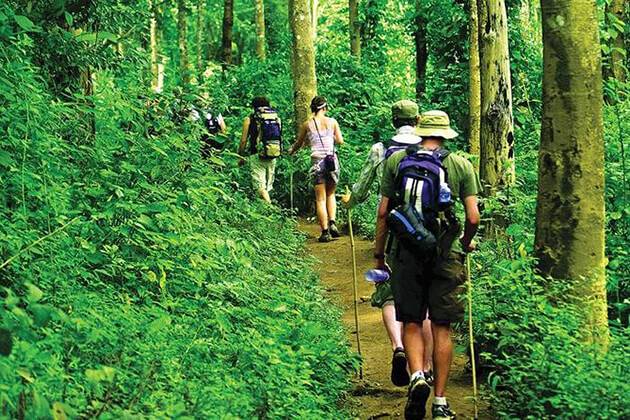 We will spend the evening walking through the village which helps students to get insight into a different hill tribe village. We have dinner with local children who often dress vibrant traditional clothing, we have the chance to listen to stories of their generation to generation heritage hand over in songs.
Day 8: The Waterfalls Trekking (B, L, D)
In the mornings, we can witness a fabulous sea-of-fog that fills the valley floor downside. Enjoy breakfast then continue the trekking down the mountain. Our way goes through a total of 4 waterfalls – some of which are available and safe to swim in, enjoy the trip in this fantastic way!
We reach the camp for lunch and a rest
In the afternoon, we go hiking. Travel on foot with specialized guides is ultimately safe, you won't have to worry about encountering with dangerous animals.
This evening delight is a BBQ party and overnight here.
Day 9: Wat Baan Din – Cycling – Organic Farm & Education Center (B, L, D)
After having breakfast we will head to Wat Baan Din. The first attraction for today is the famous Wat Baan Din Temple. Within the grounds of this beautiful Wat are buildings of different historical and regional styles from all over Thailand.
From here we mount our bicycles and cycle 12km weaving our way through villages, past open paddy fields and over the mighty Ping River finally arriving at the Organic Farm and Education Center for lunch.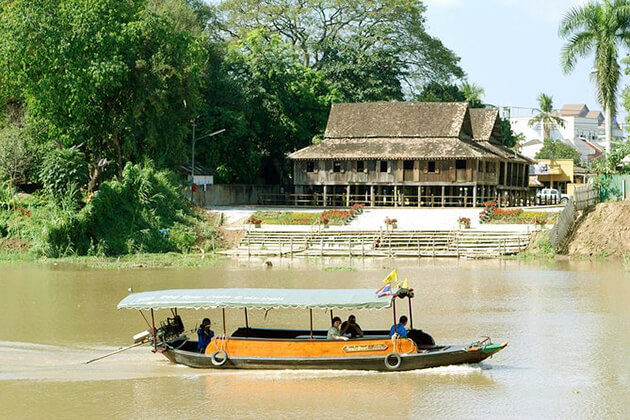 Next, we learn the environment, food, citizens and the brilliant culture from authentic experience and sharing approach. Particularly, each members will have an opportunity to build up a mud-brick to construct Mud Houses. Besides, we could learn the processes of farming rice – if we have enough time.
Day 10: Cycling to Mae Ngat Dam – Floating Huts (B, L, D)
Today we have breakfast and get ready to keep going on our journey. The itinerary is that we take a cycling journey through unpaved country lanes, through rice paddy segments which weave an eyecatching picture and reach the destination: Mae Ngat Dam.
From here we enjoy kayak trips. Here we will spend the afternoon and evening relaxing, swimming in the clean lake, using the available kayaks and other water toys.
We then board to the evening accommodation: the floating bungalows. Have dinner in a special space that you haven't ever.
Day 11: Wat Baan Din – Sticky Waterfall (B, L, D)
After breakfast, we will pack up from the floating bungalows and journey back to our awaiting vans. Today we will visit the famous Sticky Waterfall. It is a beautiful waterfall made of limestone and mineral deposits. It has been named 'the sticky waterfall' because the limestone surface has enough friction which could help you to stop slipping, thus, you find it easy to climb up. We can spend the morning exploring the falls that can be walked up, looking for the nicest pool to swim in.

After this, you will be driven back to Chiang Mai, enjoy the last lunch and check for our final nights' accommodation.
The evening dinner at the famous Chiang Mai night market, it is time for you to pick up any souvenirs.
Day 12: Chiang Mai Departure (B)
The teacher and students will have breakfast servings in Chiang Mai, then you are accompanied to Chiang Mai International Airport for your flight. We wish you have a meaningful trip to Thailand.