General Trip Information
Tour Code:
Duration: 12 days / 11 nights
Tour Type: Sightseeing, Culture, Adventure
Start / End: Bangkok / Bangkok (Departure)
Tour Route: Bangkok – Khao Yai National Park – Korat – Phi Mai Historical Park – Kanchanaburi – Khao Leam Houseboat Lake Safari – Coconut Island – Khao Leam – Hua Hin – Bangkok
Tour Customizable: Absolutely! (Tell us your specific requirements in the inquiry form)
Brief Itinerary
Day 1: Bangkok Arrival (B)
Day 2: Bangkok Discovery (B, L, D)
Day 3: Bangkok – Khao Yai National Park (B, L, D)
Day 4: Khao Yai National Park – Korat (B, L, D)
Day 5: Korat – Phi Mai Historical Park – Bangkok (B, L)
Day 6: Bangkok – Kanchanaburi – Khao Leam Houseboat Lake Safari (B, L, D)
Day 7: Lake Cruising – Coconut Island (B, L, D)
Day 8: Lake Cruising – Caves – Tribal – River Rafting (B, D)
Day 9: Khao Leam – Hua Hin (B, L, D)
Day 10, 11: Hua Hin – Leisure (B, L)
Day 12: Hua Hin – Bangkok – Departure (B)
Detailed Trip Itinerary
Day 1: Bangkok Arrival (B)
Upon arrival in Bangkok, students will be welcomed warmly at the airport by our tour guide, then our driver will transfer students to the hotel and serve them a refreshing breakfast. Students have free time to do whatever they want. It is suggested that students either have a break at the hotel or pay a visit to some reputable places in Thailand.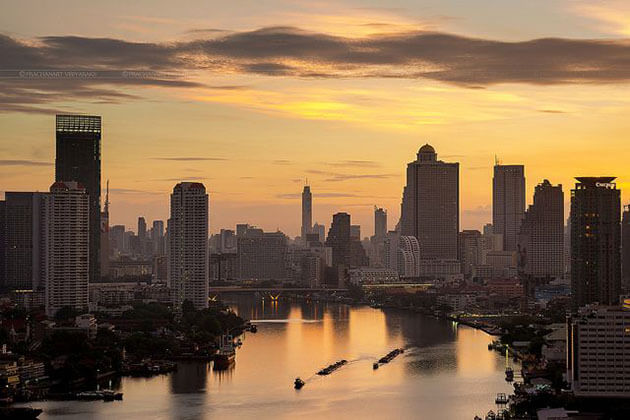 Day 2: Bangkok Discovery (B, L, D)
On the second day in Bangkok, we will spend the whole day visiting some of Bangkok's most iconic destinations after having breakfast. It is a great time for students to explore the Grand Palace, which is located at the heart of Bangkok and is one of Thailand's most sacred sites. In this place, students can witness the tranquil beauty of the Golden and Emerald Buddha and learn about the history of these temples.
Intriguingly, after having lunch, students have an immense chance to see some of Bangkok's most iconic landmarks through a river cruise on the Chao Phraya river, which is called the "Venice of the East". Our cruise will pass a lot of beautiful places including Chinatown, the Grand Palace, and small canals.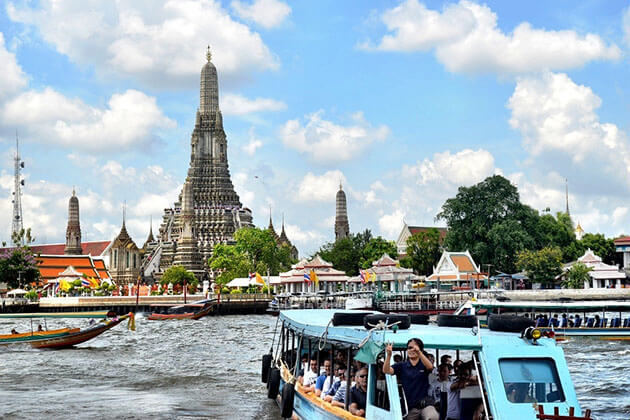 After a full day of city sightseeing, we head back to the hotel for a well-deserved dinner and comfortable accommodation.
Day 3: Bangkok – Khao Yai National Park (B, L, D)
In the morning, students have a refreshing breakfast before exploring the beauty of Thailand's forests and wild animals on this one-day tour to Khao Yai National Park, which takes about three hours from Bangkok. Today, students have ample opportunity to enjoy a varied itinerary with an insight into traditional Thai at a local market and take an elephant ride through the verdant jungle. After that, students will chill out with a swim at the picturesque Haew Sawat Waterfall and soak in the scenery here.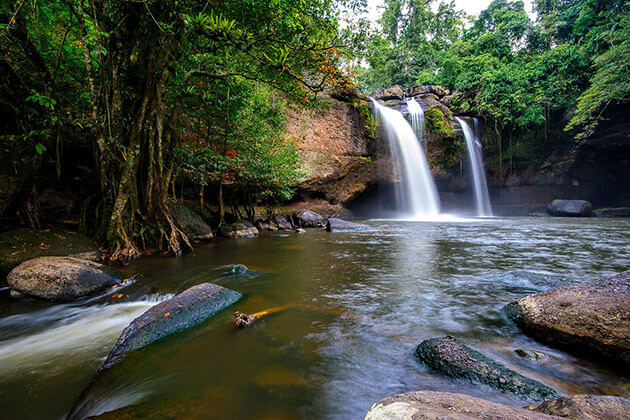 In the afternoon, after a scrumptious lunch, students will be transferred to an exhilarating night safari by jeep. It is definitely an amazing experience for students to learn about wildlife in the evening. Our guide will point out the area's fascinating nocturnal critters, which become active only at night including cat-like jungle civets, porcupines, and even restless elephants. Finally, we will complete the tour with return transport to the hotel to relax and enjoy a delicious dinner.
Day 4: Khao Yai National Park – Korat (B, L, D)
After an interesting day in Khao Yai National Park, students will be transferred to the city of Korat to explore the sights of the surrounding areas such as Phimai, Dan Kwain, and Phnom Rung. Most importantly, along the way, we will stop to witness the ancient ruins of Buriram, which were built in Khmer style, similar to those of Angkor. After having refreshing lunch, the next destination for students has impressively restored Phnom Rung before paying a visit to a small pottery village to try their hand at making a pot from clay on a wheel.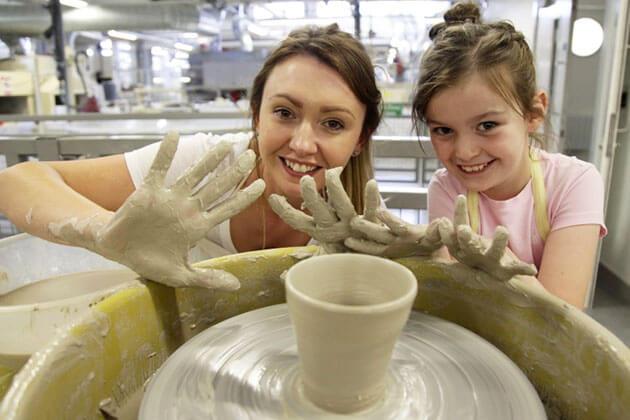 At the end of the day, we transfer students back to the hotel to enjoy various delicious delicacies.
Day 5: Korat – Phi Mai Historical Park – Bangkok (B, L)
Get up early in the morning, students will spend the whole day exploring Thailand's fascinating history. After breakfast, the driver will escort students to the Ban Prasart archaeological excavation site, which suits for all ages to observe Khmer art. It is a great opportunity for students to learn about the area's history. Then, students will be immersed themselves in Phi Mai Historical Park, which is considered home to Thailand's most significant Khmer temples to explore the fascinating ruins of this ancient temple complex.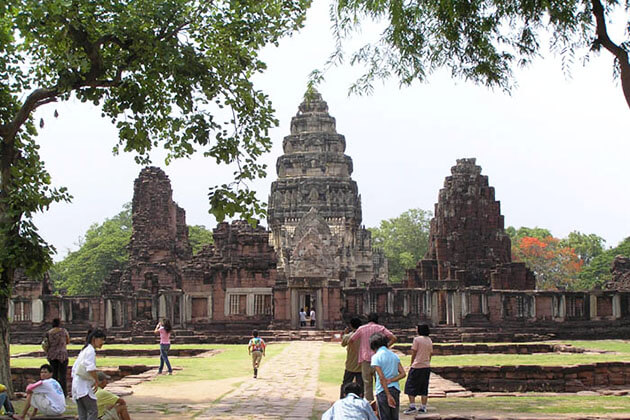 After that, we head to Bangkok, enjoy scrumptious lunch, and have leisure time to chill out.
Day 6: Bangkok – Kanchanaburi – Khao Leam Houseboat Lake Safari (B, L, D)
After breakfast at the hotel, our guide will pick students up around 8 am for a tour to Kanchanaburi – home to the famous Bridge over River Kwai. There are a lot of things to see, do and experience here such as exploring Sai Yok National Park, swimming at the Erawan Falls, visiting an Elephant Sanctuary, or picnicking at the Dam.
In the afternoon, students will have lunch before coming to a lakeside village where they will board a Thai houseboat. Students have ample opportunity to swim, relax on deck, or nap in a hammock as the houseboat slowly cruises around the lake which brings them a great feeling of immersing themselves in the sound of nature.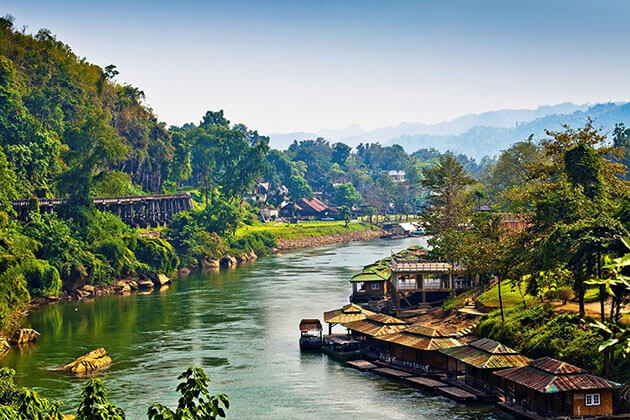 At the end of the day, we transfer students back to the hotel for dinner and overnight accommodation.
Day 7: Lake Cruising – Coconut Island (B, L, D)
In the early part of the morning, we will kick off our day with a refreshing breakfast to be ready for a long day of exploration. The houseboat goes along the lake, gently past the traditional Man fishing village, which was built completely on stilts. Sitting on the boat, students can enjoy the stunning views and the tranquility of the lake. They will join a guided tour of Coconut Island, one of several inhabited islands on the lake.
After that, at lunchtime, students can try local cuisine, experience the unique local culture, and then spend the rest of the day enjoying themselves on the houseboat.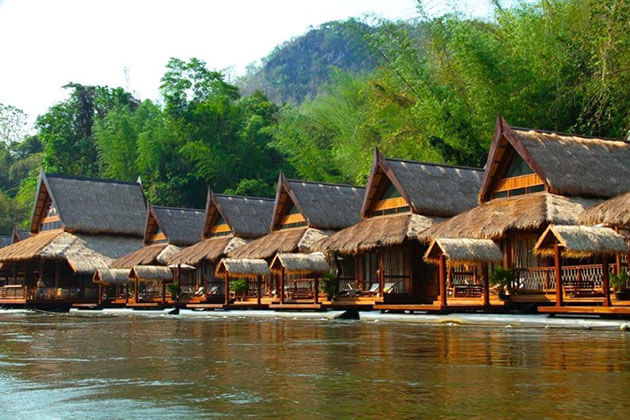 In the evening, students will be served a delicious dinner, and then they stay overnight at the hotel.
Day 8: Lake Cruising – Caves – Tribal – River Rafting (B, L)
After breakfast, we can start a new day of adventure by kayaking to small caves inhabited by hundreds of bats. Get on a long-tail boat to reach a Karen hill tribe village and take a stroll through to get a deeper understanding of the local lifestyle here. Then, students have a great chance to witness elephants walking and strolling with them through the jungle followed by bamboo river rafting.

After that, we return to the houseboat in the afternoon and it is the time to relax and savor a scrumptious lunch.
Day 9: Khao Leam – Hua Hin (B, L, D)
Today, after having a refreshing breakfast, we can start our day with various activities such as fishing, swimming and sunbathing on a floating home. Then, our driver will take students to Wang Kha village, which is home to many ethnic minorities.
After delicious lunch, we continue to Sangkhlaburi passing Thailand's longest wooden bridge, where our cars will take students to Hua Hin for a relaxing beach break.
Finally, our guide will drop students off at the hotel and they will be served savory dinner and stay overnight here.
Day 10, 11: Hua Hin – Leisure (B, L, D)
Hua Hin welcomes students with tropical sand, blue sea, and sunshine for a couple of days here. With over 8 km long beach, this is a perfect place for relaxing. Two days in Hua Hin are definitely amazing days simply because students will have ample opportunity to participate in dynamic activities such as horse riding, water sports, and rafting. At lunchtime, students will savor seafood in the local restaurant before visiting bustling markets and magnificent temples. At the end of the day, students have a scrumptious dinner and overnight accommodation at the hotel.
Day 12: Hua Hin – Bangkok – Departure (B)
On the last day of our tour, after having a refreshing breakfast, students will be picked up and transferred to Bangkok's international airport for onward flight. The educational school trip ends.