General Trip Information
Duration: 12 days/ 11 nights
Tour Type: Sightseeing, Culture, Adventure
Start/End: Chiang Mai International Airport / Sticky Waterfall
Tour Route: Chiang Mai International Airport – Doi Suthep – Whitewater Rafting – Remote Hill Tribe Village – Wat Baan Din- Mae Ngat Dam Floating Huts – Sticky Waterfall
Tour Customizable: Absolutely! (Tell us your specific requirements in the inquiry form)
Brief Itinerary
Day 1: Chiang Mai International Airport – Doi Suthep – Trek to Village Stay ( D)
Day 2: Descend Doi Suthep – Trek and Waterfalls ( B, L )
Day 3: Trekking and Caving ( L, D)
Day 4: Introduction to Whitewater Rafting (L)
Day 5: Whitewater Rafting via the Elephant Experience ( B)
Day 6: Final Rafting 8 km – Overnight stay at the National Park Forestry Center (L)
Day 7: Full Day Trek to Remote Hill Tribe Village (B, D)
Day 8: Trek down via the Waterfalls (B, L, D)
Day 9 & 10: Wat Baan Din – Cycle – Organic Farm and Education Center (B, L)
Day 11: Cycle to Mae Ngat Dam Floating Huts
Day 12: Wat Baan Din – Sticky Waterfall (B)
Chiangmai Thailand Detailed Itinerary
Day 1: Chiang Mai International Airport – Doi Suthep – Trek to Village Stay (D)
After pick up you from Chiang Mai International Airport we will transfer directly to Wat Prah That Doi Suthep – one of Chiang Mai's most sacred and beautiful temples. It is located at the top of Suthep Mountain and offers many stunning views of Chiang Mai surrounding valley floor. The temple considered as a home of gorgeous ornate carvings and is a perfect introduction to Thai culture, Buddhism. It is an opportunity for everyone to be blessed by the monks for their upcoming adventure.
From the temple, there are several treks are available depending on the flight arrival time. Before sunset, the trek will be tailored to the available time. The cool temperatures at the altitude along with the cover of the evergreen forest is a perfect way to walk off some jetlag and stretch those legs after the long journey to Thailand.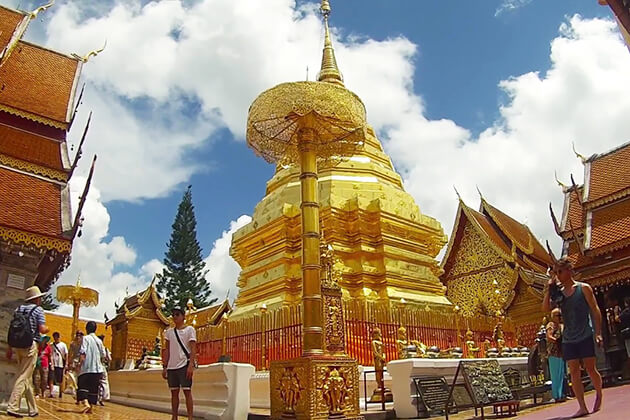 In the evening, we can complete the first day trip with a comfortable place in Hill Tribe Village to get a deeper understanding of authentic culture and learn about the Hmong ethnic minority group of Asia including some of their cultures, traditions, traditional hand-woven costumes, food, and games.
Day 2: Descend Doi Suthep – Trek and Waterfalls (B, L)
Your next day trip will start with an early morning. Scrumptious breakfast and hot chocolate are perfect choices for you.
You will participate in the trek down the mountain first. It is about 7km in length and finishing off at the Huay Tung Tao Reservoir, which is a large lake with bamboo huts to chill out when overlooking mountains of Doi Pui. Most importantly, this destination attracts a lot of people to come and see beautiful sceneries. You will have lunch at restaurants circling the lake to enjoy local cuisines.
Upon arrival at the Reservoir, you will have the opportunity to enjoy local cuisines on floating local Thai style huts looking across the water.
In the mid-afternoon, we arrive at our main camp location where we will settle into our dorm-style accommodation for the night.
Day 3: Trekking and Caving (L, D)
The next visits are Chiang Dao Temple and Cave where we will have a brief bathroom break and explore this destination for 1 hour. The architecture and ornament in the Chiang Dao temple complex are unique with blue and white decorative schemes.
After that, we will ascend up and over Thailand the third tallest mountain with stunning limestone cliffs.
We will arrive at the valley floor to have lunch time. In the afternoon, you have an opportunity to explore Taam Khi Mee with stunning cave formations including stalactites, stalagmites, columns, curtains, caverns and much more! It is a chance to learn about the geology and geography of the Chiang Mai region.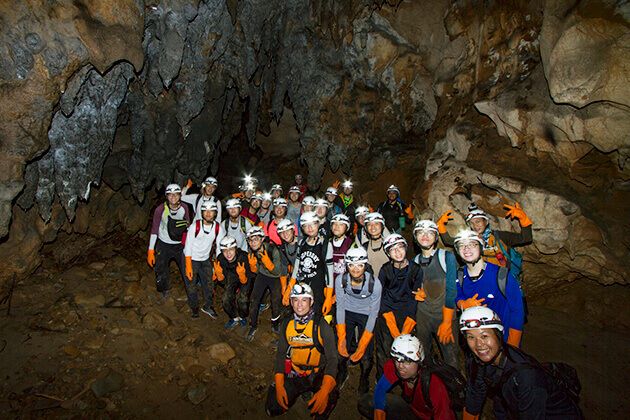 Day 4: Introduction to Whitewater Rafting (L)
Over the next 3 days, our rafting adventure on the Mae Taeng river will get exciting mostly because we spend our time on 17km of class 1-2 whitewater. Moreover, on the way to the Mae Taeng River, you can see stunning views surrounding the Northern Thai countryside with quiet villages nestled in the forested mountains. When you reach the camp, river guides will offer guidance on river safety and some basic padding techniques to prepare you for the upcoming ride. This is an opportunity for everyone to practice their whitewater paddling skills and develop a sense of enjoyment.
We will enjoy lunch and finish midafternoon at a Lahu Hill Tribe Village where we will stay in the night. In our second hill tribe village, we will have the opportunity to learn about their different cultures, customs, history and compare them to our experiences of both the Hmong and the dominant Thailand culture or northern Thailand.
Day 5: Whitewater Rafting via the Elephant Experience (B)
After delicious breakfast and a warming hot chocolate, we will embark on our second day of Rafting. We will have a chance to explore the diverse and dense jungle of Mae Taeng area because this place offers an intimate glimpse to the natural life of the Asian Elephant.
Today we will have an opportunity to stop off a remote Elephant Camp where we can learn about the history of elephants in Thailand as well as its abolishment and the establishment of different types of elephant tourism that exists today. At this camp, we will observe the animals in the remote location in their natural habitat, as well as feed them and wash them in the river. Absolutely, this is an amazing experience.
At the end of this day, we will arrive back at our main camp where we will spend the night.
Day 6: Final Rafting 8km – Overnight stay at the National Park Forestry Center (L)
Today is our final day of whitewater rafting. We will spend 3 hours on the most exciting whitewater in Thailand. This rafting trip will conclude the rafting portion of the trip, and then arriving back at Camp for lunch.
After lunch, it takes about 3 hours to transfer to a National Park Forestry Center, which is the most reputable mainland national park destination in South Thailand with a great diversity of plants and wildlife. Most importantly, this has undoubtedly some of the best views – best appreciated at sunset and sunrise. From the cabins that we stay in, views across the entire Chiang Dao area, which is the third highest mountain in Thailand. The village is a picturesque religion and covered by fog most of the year. It is definitely the best destination on your school trip.
Day 7: Full Day Trek to Remote Hill Tribe Village (B, D)
After our stunning sunrise across Chiang Dao followed by breakfast, we will prepare our departure for our full-day trek. We will have ample opportunity to explore the hill tribe cultures of Northern Thailand and interact with the Karen, Hmong, Palong, and Akha tribes in a respectful way. Approximately 10 km in total distance this trek snakes up the ridge raising 300 meters in the first 3 km. The reward after this 3 km is being at the regional peak – Doi Sam Liem. From here the next 6km traverse down to where we will be spending the evening. The trek passes through both subsistence fruit and vegetable farms, coffee plantations, bamboo forests and the thickest of jungles. The evening will be spent with a walking village tour, which provides insight into another hill tribe village. After dinner, local children often appear dressed in vibrant traditional clothing and tell stories of their heritage passed down in song. It is one of the most unique features of Thailand in these remote villages.
Day 8: Trek down via the Waterfalls (B, L, D)
After scrumptious breakfast, we will continue our trek down the mountain. If you have a passion for natural beauty, you will have a chance to immerse yourself in a spectacular sea-of-fog that fills up the valley floor below in the early part of the morning. It is about 8 km in length this portion descends a total of 600 meters passing 4 waterfalls – some of which are possible to swim. It is a fantastic way to chill out and unwind. After hiking, we arrive back at Camp for lunch and a relaxed afternoon.
This evening we will stay a BBQ and enjoy the fire roasting marshmallows. How interesting it is!
Day 9 and Day 10: Wat Baan Din – Cycle – Organic Farm and Education Center (B, L)
After breakfast, we will transfer to Wat Baan Din. In this day, we will start and finish our tour in Thailand by participating in important local cultural traditions. Wat Baan Din Temple is a must-see to witness beautiful Wat with buildings of different historical and regional styles of Thailand.
From here, we mount our bicycles and cycle 12km weaving our way through villages, large paddy fields and over the big Ping River. Finally, we arrive at the Organic Farm and Education Center for lunch.
Over the next day and a half, we will learn about the environment, food, dwellings and culture here. Travelers will have the opportunity to build mud bricks to erect Mud Houses. We will learn the processes of planting and harvesting rice – the staple food of the world's population and witness how this community strives to live self-sufficiently with regard to clean drinking water, fruit and vegetable farms, chickens and cows as well as solar powered energy.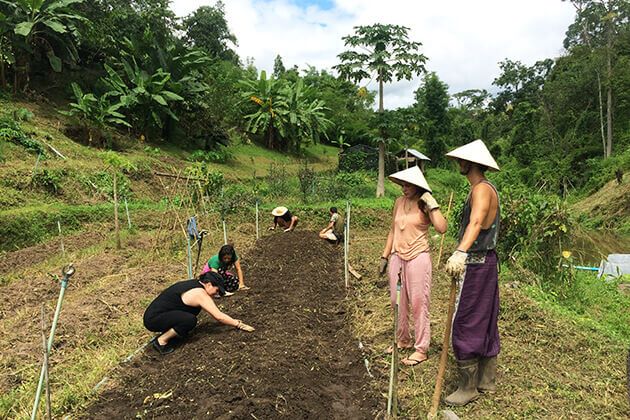 Day 11: Cycle to Mae Ngat Dam Floating Huts( B)
Today, we can kick off our new day with a scrumptious breakfast to keep on our journey. After a couple of days at the Organic Farm and Education Center we will be ready to continue our journey to the Mae Ngat Dam floating huts which is one of the most fun and reputable destinations in Northern Thailand. It is a chance for travelers to cycle through rice paddy fields and explore breathtaking views along unpaved country lanes. From here we board kayaks and continue our journey about 5km out to our evening accommodation: remote floating bungalows. These floating houses are basic one-room cabins connected side-by-side and float on the lake surface.
Finally, we leave our bikes to arrive at a tethered and anchored floating community. We will spend the afternoon and evening to swim in the clean lake and using the available kayaks.
Day 12: Wat Baan Din – Sticky Waterfall (B)
After breakfast, your trip will be transferred to Wat Baan Din, which is one of Chiang Mai's most remarkable temples. There is a wide range of structures including an ordination hall, a viharn, a meditation hall, the monks living quarters, a drum hall and several other buildings. All of them are built in traditional architectural style.
After that, we will pay a visit the reputable Sticky Waterfall, which is a must-see place to explore the cascading levels of falls that can be walked up, looking for the nicest pool to swim.
Finally, we will transfer back to Chiang Mai and check into our final night' accommodation. It is an unforgettable experience for you to spend your time at the famous Chiang Mai night market and pick up different souvenirs. Finally, you will transfer to Chiang Mai International Airport for your onward flight.