School trips heading to reputable elephant sanctuaries in Thailand have nothing short of extraordinary. Here are the top-list elephant facilities with great reputations, which are worth visiting during your trip to Thailand. Plus, students will have chances to learn some background information about elephants, their behaviors, living environment, … naturally and ethically. These sanctuaries offer you interactions with the elephants, not all the time riding though; however, the knowledge you gain and the time you spend at the sanctuary will become enjoyable memories.
Firstly, let's see numerous exciting activities when you explore these Thailand elephant sanctuaries:
+Feed elephants with bananas, watermelons, pineapples and sugar cane
+Interact with the elephants in a healthy & safe way
+Learn about their lifestyle & behaviors
+Go swimming with the elephants at a muddy bathtub
+Capture incredible photos with lovely huge animals
Best Things To Do in the 3 Great Elephant Sanctuaries in Thailand
Educational school trips is delighted to recommend the top 3 great ethical elephant sanctuaries in Thailand: Chiang Mai Elephant Nature Park, Krabi Elephant Sanctuary, and Phuket Elephant Sanctuary.
Chiang Mai Elephant Nature Park
Elephant Nature Park is one of the leading sanctuaries projects of the country established in Chiang Mai province since the 1990s. The park is providing a sanctuary for elephants from all over Thailand, focusing on rescued, injured and distressed elephants. In addition to being the natural environment for elephants, this is also a safe home to dogs, cats, buffaloes and many other animals from dozen of rescue projects. Here you can see them around and how they enjoy the shared sanctuary grounds. There are a lot of approaches for the elephant interaction activities, choose your favorite one.
Volunteer Activities
The park in cooperation with some educational organizations designs volunteering programs at the Chiang Mai Elephant Nature Park, particularly for students. These projects entitle volunteers to learn about elephants, agriculture and community; participate in creating a better learning experience for local children; enjoy a cultural exchange at a tribal village in the mountains of Chiang Mai.

Krabi Elephant Sanctuary
This sanctuary is known as the first basement in the town to conserve those elephants suffering from overworking in the tourism industry. In other words, it is a haven for retired and rescued elephants, also a sustainable habitat for the elephants to live in a natural environment. Teachers and students will be facilitated to interact and spend time with adorable elephants in a safe and sustainable environment. There should not have any expectations for riding and circus-dancing. A trip to Krabi Elephant Sanctuary is promising with endless fun activities for students; take your chances to gain an insightful experience about the history and behavior of these large mammals. Besides, remember to create memories that all members will cherish for a lifetime.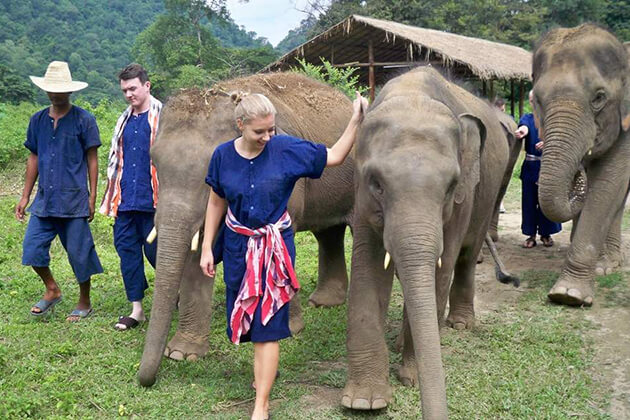 Phuket Elephant Sanctuary
With the same function as other elephant sanctuaries across the nation, this facility is a new home set for sick, injured and old elephants, where welcomes them with the indigenous habit. Enjoy observing the elephants going bathing from afar distance, you are not allowed to brush or clean them. The reason for this is to avoid any unnecessary stress from people surrounding when they are being bathed. It's time for students to ask questions about elephants because your inquiries will be responded by experts with professional answers.
What Elephants Visits Brings for Thailand School Trip
We are happy to provide you with a list of accessories that you should bring to make your visit as enjoyable as possible:
+Personal travel insurance
+Sunglasses
+Cap or hat to protect from the sun
+Sunscreen
+Clothes (without worrying of getting sweaty or slightly muddy)
+Extra clothes to change
+Prescription medications (if any)
+Good walking shoes are better for your toes
Now, we believe that you can choose your most suited one from our recommendations for elephant sanctuaries in Thailand. The activities of visiting and marvel in the pleasurable wonderment of interacting with those lovely animals will surely fulfill your experience in Thai tours. Let's join and support the elephants!