Tet or Vietnamese Lunar New Year is the most important holiday in Vietnam. It marks the end of winter and the arrival of spring, often falling in January and February, depending on the lunar calendar. Some people mistake Vietnamese New Year for Chinese New Year but actually, they are different and independent. As the longest public holiday for celebration, many people come back home for a family reunion and also foreign tourists travel to Vietnam or even organize a school tour for students to enjoy the festive spirit and experience this special holiday.
Vietnamese New Year 2022 Facts
Vietnamese Lunar New Year 2022 officially is celebrated from February 1st, 2022 to February 3rd, 2022.
Zodiac Sign: Tiger
Characteristic of Tiger Zodiac Sign: A person with a tiger sign is courageous, intelligent, and adventurous. He or she is different as usual, tends to do extraordinary and willing to take risks and the majority of them are successful in life.
What is the Tet Holiday?
The Vietnamese believe that Tet Holiday is the best occasion for family members to return home and enjoy life after a full hard-working year since Vietnamese families are so close-knitted. It such a wonderful time to forget their struggles, summarize their achievements around the last year and focus on making an enjoyable celebration. One important thing is that Vietnamese believe that a new is a trigger of changes, plans, and progress. Besides, every single action might affect the rest of the year, thus, people pay great attention to speaking and actions in the beginning days of the new year. Tet holiday traditionally takes place for a month, however, it has been shortening because of the busy life. In spite of its length, the Tet holiday is remained a vital festival in Vietnam because of its priceless tradition, feature, and meaning.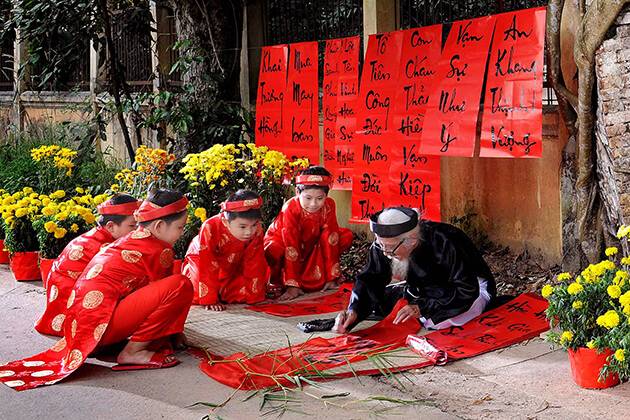 The Soul of Tet Holiday
Fantastic Cuisine
Bánh Chưng (Sticky Square Cake)
Bánh Chưng is a traditional sign of Tet, the main ingredients are glutinous rice, mung bean, and pork, added with others. It is those unique ingredients of Vietnamese agriculture that contribute to the unique Chung cake of Vietnam. Banh Chung is square-shaped and covered by green leaves symbolizing the Earth. This cake was invented by the prince of the Hung King dynasty. An amazing feature is that Chung cake can last long for days in Vietnamese weather for nearly 1 month at room temperature on average. It has been passed on from generation to generation and still tasty and savory. Every time enjoying these cakes at Tet holiday, Vietnamese people have a special but familiar feeling as they can taste all seasons and remember the old-time story of its origin.

Giò, Chả (Vietnamese Sausage)
Giò chả or Vietnamese ham/sausage is another traditional food in Tết holiday and usually served with Xôi (sticky rice) and Bánh Chưng. Giò is wrapped by leaves, boiled, and stored in cool temperature whereas Chả is deep-fried. These food are also made of lean pork well stored.
Mứt (Jam)
Mứt Tết is quite similar to a snack, not food. Mứt Tết is used to welcome guests during the Tet holiday. Local people often mix several types of snacks to create many tastes: ginger, carrot, coconut, pineapple, pumpkin, lotus seed, star fruit.
Trees & Flowers
This occasion is time to buy flowers, such as peach blossoms, kumquat trees, and chrysanthemums for decoration. Peach blossom represents Tet in Northern Vietnam while apricot blossom trees symbols in Southern Vietnam. The red color of peach blossom is believed to bring luck to the family. Also, the yellow of apricot blossom is thought to contribute fortune to the owners. It would be a pity if missing two of them. Vietnamese and foreign visitors have chances to amaze the colorful flowers at flower markets on the Vietnamese lunar new year.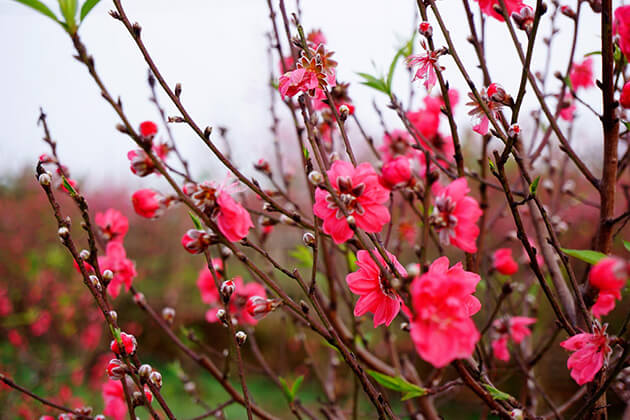 Neu Tree
It is originally a 5 meters tall bamboo shoot. Neu tree is hung top-down with different things based on each region such as votive papers, amulet exorcism, or alcohol bottles made of straw. It is believed that the tree is the signal for the devils to realize that this place is home to living people, not to harass.
Tray of Five Fruits
Wonder about the tray of fruits shown up on alters of many families in Vietnam? A tray of five fruits often includes bananas, grapefruits, oranges, and some tropical fruits which are only prepared on the Vietnamese Lunar New Year. The fruits are chosen differently, depending on each region and season. An important meaning of the tray of five fruits is its symbols for the wishes of the host family through their names, colors, and arrangements.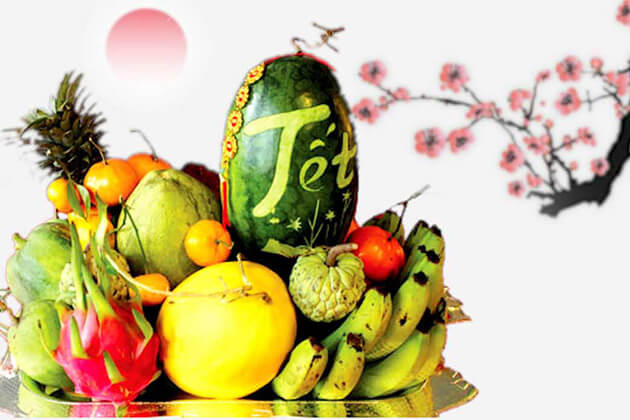 How the Tet holiday is celebrated?
Before Tet – Preparation
This period is worthy to mention because of the preparation, the decoration can bring an incredibly festive atmosphere. It is around one or two weeks before the actual celebration. The general atmosphere leading up to Tet is stirred by shopping, cleaning houses, cooking traditional Tet food, and waiting for relatives to return home. People try to be debt-free on Tet to pay off their debts and get paid by others in advance. When it gets closer to Tet, streets, and markets are full of products and people but most of the stores will close during the beginning days of the new year. Thus, Vietnamese often try to buy food or necessary products enough for several days. One important feature that people focus on is that Vietnamese always clean family altars and lay "Ngũ Quả" (five fruits type) and new offerings to show respect to their ancestors.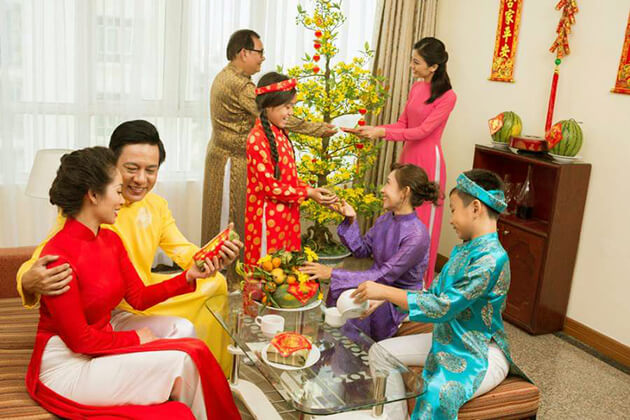 Tet Ong Cong, Ong Tao (Gods of Kitchen)
As a tradition, Ông Táo (Kitchen God) are the three kitchen guardians for each house. On this occasion, Vietnamese people use the traditional offerings and especially the carps to regale three gods and goddesses of their kitchen. People who release the carps into the river are used by the Gods as transportations to come to heaven. They will return to heaven on the 23rd day of the twelfth month by lunar calendar for an annual report on family members to the Jade Emperor. Ong tao comes back to the family on the last day of the year to celebrate the Tet holiday with the family. Ong Cong, Ong Tao celebration of Tet holiday 2020 is on January 17th.
Cleaning the House
Tet is heightened with house cleaning. This sometimes is fun but easy to become a nightmare to many people. Even people create a jolly name "house-cleaning festival" and make fun with a lot of pictures on the internet. The period of busy cleaning house often falls on a week before Tet; family members will focus on cleaning the house, the garden, and the altars as well as redecorating them together. Broken things will be repaired, old things will be replaced. All those preparations are aimed to welcome the best things in the New Year and to receive luck as well as fortune.
The Last Day of the Year & New Year's Eve
On the last day of the year, people from different generations gather at parties or banquets to enjoy the last meal of the year. The talk at that time is about things already happening in the year. The best moment of Tet is to greet the new year with family, stay together, and countdown. Many choose to stay home while some want to take part in enormous parties, especially in big cities like Hanoi and Saigon. All of these actions are to pray for a new year of luck, health, and fortune to every family member. The more, the merry!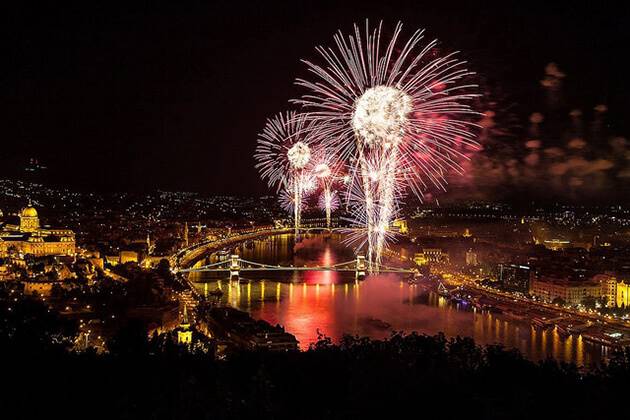 During Tet Holiday: Traditional Customs
Vietnamese traditions are mainly based on ancient cultural beliefs, which govern their behaviors or actions. Therefore, activities during Tết always involve happiness, joy, and good luck. Below are some of the popular, long-standing Tết traditional customs that have stood the test of time from generation to generation.
Visiting Family and Friends
On the Tet holiday, families lay out a splendid feast to welcome visiting relatives and friends. This occasion is a wonderful time for family members and friends to exchange gifts. After greeting the guests, the family travel to their respective places of worship (Christian or Buddhist) to pray for a new coming year or enjoy many public parades celebrating the festival.
Traditionally, on the first day of Tet people will visit Father, the second is for Mother, and the third is for Teacher. This quotation can be interpreted that Vietnamese spend the first day visiting their parents on the husband's side; on the second day, they come to parents on the wife's side; and on the last day, people pay a visit to their teachers. In general, Tet is a reason also a time to back to origins, wish for the best, and join in colorful parties. Tet holiday often ends on the third day, but we still feel the atmosphere by the seventh day.
Giving Lì Xì (lucky money)
From the first reunion day of Tet, children receive red envelopes containing money from their elders. This traditional custom is known as mừng tuổi (happy new age) in the north, which appropriates to lì xì in the south. As usual, children put on their new clothes and visit their elders the traditional Tết greetings before receiving the money. The elder also gets lucky money from their children, which means a blessing for a new year of health, peace, and happiness. People believe that it could bring them good fortune in the coming year.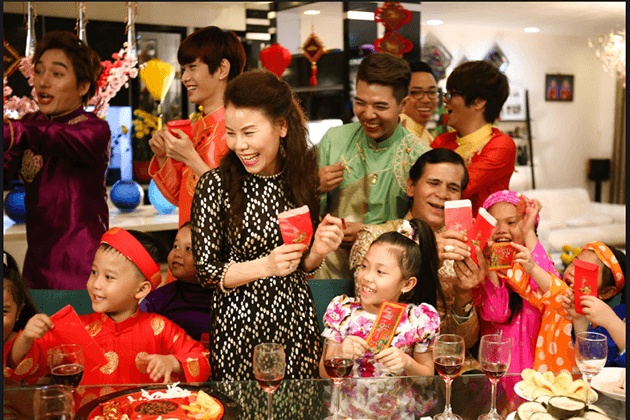 Xông Nhà (first-footing)
Xông nhà is considered one of the most important rituals during Tết. Vietnamese have a deep-rooted belief that the first person to visit a house at the very beginning of a lunar year will bring the family's fortune year-round. Xông nhà ritual was evolved into a personal belief, however, it is flexible to apply and varies according to each region. The time from New Year's Eve to the early morning is known as the golden time for first-footing. Recognizing that custom, people never visit any house on the first day without being invited first, they will wait till it is later in the morning. It is believed that a person of good temper, success, and morality can bring good luck to the host family and chosen to first-footing.
Festival at Tet Season
During this Tet occasion, people feel delighted to enjoy the festive atmosphere around the country namely buffalo fighting festival or boat racing, wrestling, lion or dragon dances, etc. They will be organized quite evenly during the Tet holiday; therefore, you can attend and experience them as many as possible.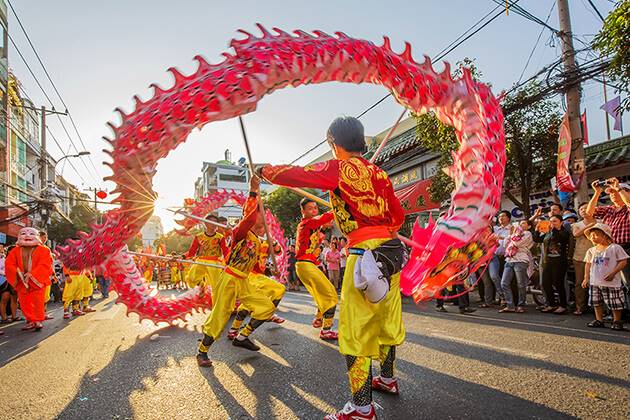 In short, the Vietnamese Lunar New Year is the priceless spirit value of Vietnam and nowadays, it has become an indispensable part of the life of all Vietnamese people. Foreigner visitors are welcomed here to explore that beauty and get unforgettable experiences of Vietnamese cultures, customs, and traditions at this time of year.