General Information of China Adventure School Trip
Tour Code:
Duration: 6 Days
Start/End: Guilin/Guilin
Tour Route: Guilin – Dragon Backbone Terraces – Yangshuo – Guilin
Tour Customizable: Absolutely! (Contact us your specific requirements in the inquiry form)
Brief Itinerary
Day 1: Guilin Arrival
Day 2: Guilin – Dragon Backbone
Day 3: Dragon Backbone: Go hiking
Day 4: Dragon Backbone – Yangshuo: Caving and Camping
Day 5: Yangshuo: Rock Climbing and Cooking Class
Day 6: Yangshuo: Off-Road Biking and Visiting Tea Farm
Day 7: Yangshuo – Guilin: Departure
Detailed Itinerary
Day 1: Guilin Arrival (D)
On your arrival to Guilin, you will be picked up by the tour guide and driver. They will accompany you to the hotel and help you to check-in. Enjoy dinner and have time for free.
Day 2: Guilin – Dragon Backbone: Arrival and Group Activities (B, L, D)
Students and teachers have breakfast served at the hotel. Gather at the hotel lobby and guides will travel with you. Once the full group is assembled with the tour guide, we will have a briefing to discuss tour guidelines before heading by bus to Dragon Backbone. It gets the name because the terraced fields built along the slope winding on the mountain resemble as a dragon's scales together with the mountain range looks like the backbone of a dragon; it is the top place for fans of hiking.
Lunch will be offered on the way. Once we are nearly at Dragon Backbone, we'll transfer to another vehicle which will take us to the village of Pingan. This is the complex of Terraced Fields with the spectacular scenery like "Seven Stars around the Moon" and "Nine Dragons and Five Tigers". Teachers and students should pack up clothing and necessities for 2 days hiking.
There will be free time after dinner.
Day 3: Dragon Backbone: Go hiking (B, L, D)
After breakfast, the guide will hand out a map, a compass, and a lunch box to each person, go over some last-minute details and then we will begin an all-day hike from the village of Pingan to stunning, peaceful, and relaxing village of Dazhai – located at the base of the famous Dragon Backbone Rice Terraces about 7 miles (12km) away. The destination is the ideal viewpoint for the sunrise, sunset and photographing. One of them is "Xishan Shaoyue" – the highest and most extensive viewpoint. The people who live in this area mostly belong to a minority ethnic group called the Zhuang who has distinct customs, language, and even clothing from the majority Han Chinese. On the way, the guide will talk to the group about the Zhuang culture, their customs, and discuss how the ancestors of the Zhuang migrated from the central plains to the mountains. The tour guide will stay with you for safety and supervision while the students will need to use their map and compass to find the village of Dazhai.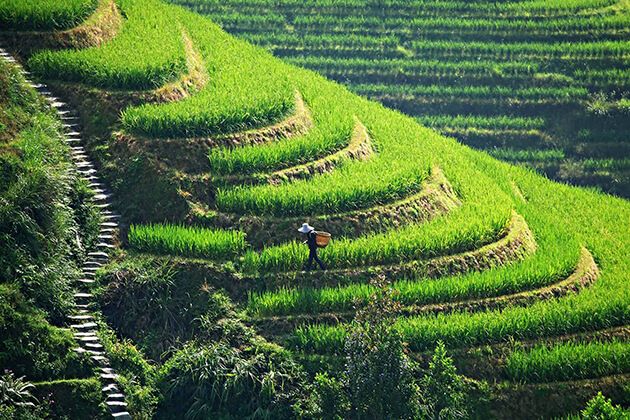 Have a short lunch and relax. Subsequently, we will go around this area to explore the spectacular scenery with rivers, streams, rolling hills, mountains, and rice terraces all in a tranquil setting. Students will have ample opportunities to take pictures and see many Zhuang people dressed in their traditional clothing.
We will arrive at Dazhai. After dinner at the hotel, everyone will talk about how it feels today and the guide will tell you about the details of the activities the next day.
Day 4: Dragon Backbone – Yangshuo: Caving and Camping (B, L, D)
Prior to checking out of the hotel, we will have breakfast. Then teachers and students will take the pleasant downhill walk to the Dazhai parking lot from where we will be picked up to a new hotel. Check-in and prepare for the afternoon trip.
We have lunch at a local restaurant. After lunch, we will then head to Yangshuo Moon Water Cave for around 2.5 hours drive. The cave is the largest and one of the most charming natural caves to explore in Yangshuo. The whole cave extends about 6 kilometers long and go through 8 mountains. We will do one of the most thrilling activities of the area – exploring a real cave, Moon Water Cave. An instructor will first teach us a little about the local Karst caves and how they were formed. Then, with our headlamps on, we'll enter the cave and spend several hours exploring. There will be numerous rock formations along the way – stalactites and stalagmites – and even some fossils from millions of years ago. As an added bonus, there is an underground river that flows through one section of the cave. Once completely underground, we'll also be able to turn our lamps off and experience 100% total darkness. Caves are muddy and this one is no exception so make sure to bring clothes you don't mind getting dirty. In fact, this cave has mud baths and anyone who doesn't mind getting completely covered is welcome to go for a "swim". Once out of the cave, everyone will be able to get cleaned up.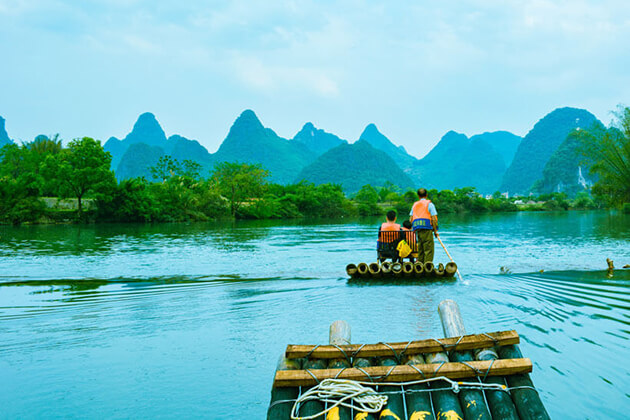 Later in the afternoon, we will head to a camping base where will have a camping area reserved for us. Before dark, the guide will help everyone pitch their tent (for those that need help) and once the tents are up, a campfire will be lit and everyone can begin to enjoy their relaxing, fun evening under the spectacular Yangshuo starry-lit sky.
We have a great, fun-filled evening planned. We will have a delicious BBQ dinner cooked over our campfire, and afterward a bamboo dance party!
Day 5: Yangshuo: Rock Climbing and Cooking Class (B, L, D)
We will pack up the camping gear and have breakfast at the hotel near the camping base. And then we will head to one of the many popular, nearby peaks that have established climbing routes to spend the morning rock climbing over the dramatic Yangshuo River Valley. It is widely said that this the most famous rock climbing destination for tourists in China. Popular destinations are Kedou (Tadpole) Mountain, Baimian (White Face) Mountain, and Nailao (Cheese) Mountain. A climbing expert will give everyone a quick course on basic rock-climbing skills. Once the instructor has finished, and each individual guest feels ready, it's "Climb On!" There are many different routes to try ranging in difficulty from easy to hard. Guests are free to choose any route they wish (except for routes deemed too challenging to be safe by the instructor.) All safety precautions are rigorously followed so everyone can have a great experience. For those familiar with the Yosemite Decimal System, all routes for beginners will be quite easy.
Lunch will be served at the hotel nearby. After hotel check-in, we will take a short walk to the nearby culinary school for our Chinese cooking class. A professional chef will first discuss the types and characteristics of various regional cuisines and discuss how to make a basic sauce. After that, the chef will teach everyone how to properly use knives, how to properly cut vegetables, set cooking temperatures, and what proportion of oil, salt, sauce, and vinegar should be used. The chef usually prepares several dishes for everyone to learn. After all the dishes are finished, everyone can enjoy their hard-earned dinner feast.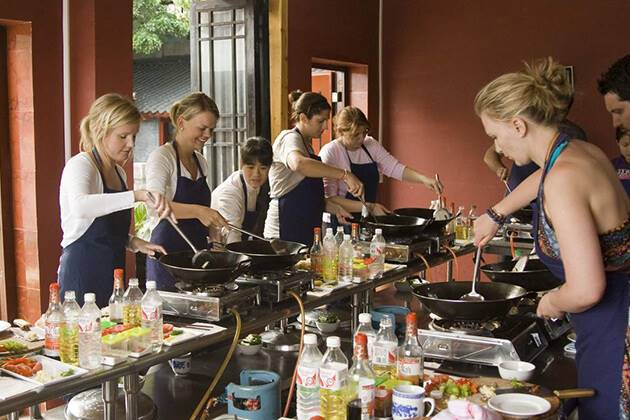 Dishes list: egg dumplings, braised eggplant, steamed chicken, fried noodles, fried green vegetable and so on. Please let us know in case you have any food restrictions because of your health.
We will taste local cuisine for dinner. Teachers and students go to a unique and impressive outdoor performance called Impression Sanjie Liu. Dozens of dancers and artists will perform on the water with the natural Karst mountains lit up in the background. It's so completely unique, that there's almost no comparison in the world, but it would be similar to a small-scale Olympic Opening Ceremony performed outside and on water.
Day 6: Yangshuo: Off-Road Biking and Visiting Tea Farm (B, L, D)
Enjoy your breakfast at the hotel, today we'll head to the mountains to go off-road biking. An instructor will give everyone a lesson on how to bike properly in an off-road setting. After the lesson, for those who still do not feel comfortable, our guide will spend extra time with them until they feel more comfortable. The dirt trail we'll ride is about 15 kilometers and lasts around three hours. It's mostly flat without many trees but has low-lying green vegetation in abundance.
Once we finish, we'll head back to the hotel to get cleaned up and then go to lunch nearby. The next destination is the Qixianfeng tea farm, where we will about all aspects of Chinese tea culture from the picking of the tea leaves, to the making of the tea and finally the proper way to taste the tea. First, we'll go out to the rows of tea plants and help pick the most tender tea leaves as our guide will show us. With these freshly picked leaves, we will learn the entire process of how to properly prepare tea through the steps of harvesting, drying, rolling, shaping, and brewing. We will also learn about the differences in how to make different kinds of tea. Finally, we will taste various teas, such as green tea, black tea, white tea, and scented tea, among others.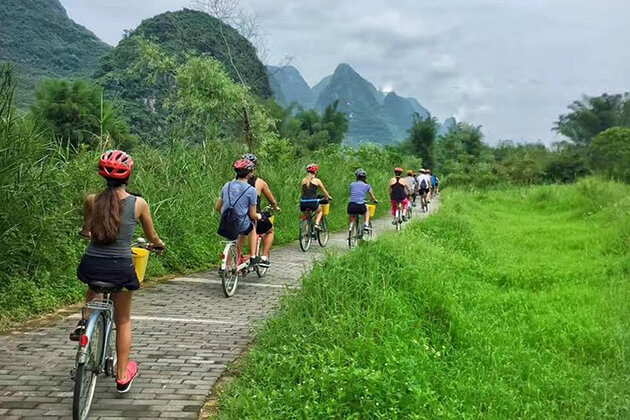 In the evening, to celebrate the incredible adventures we've had all week, we could spend our last evening together at a farewell dinner party. We'll watch a short highlight video of all the best moments from our trip and every person will have a chance to talk about their favorite parts of the tour.
Day 7: Yangshuo – Guilin: Departure (B, L)
Our last morning will be a leisurely morning with plenty of time to have breakfast and relax or play games in the hotel before leaving for the airport, bus, or train station. A boxed lunch will be provided. We hope teachers and students enjoy the trip and have a memorable experience in the previous time. The trip ends, wish you have a nice departure!