General Trip Information
Duration: 8 days / 7 nights
Tour Type: Sightseeing, Culture, Adventure
Start /End: Pick up at Guangzhou – Yangshuo
Tour Route: Guangzhou – Guilin – Yangshuo – Departure
Tour Customizable: Absolutely! (Tell us your specific requirements in the inquiry form)
Brief Itinerary
Day 1: Guangzhou – Arrival (B)
Day 2: Guangzhou, Industries & Architectures (B, L, D)
Day 3: Guangzhou to Guilin, High-Speed Train and Home Stay (L, D)
Day 4: Guilin, Farming and Apply Facial Makeup (B, D)
Day 5: Yangshuo, Bamboo Raft and Countryside Biking (B, L, D)
Day 6: Kayaking and Football Match (B)
Day 7: Longji Rice Terraced Fields and Minority People (B, D)
Day 8: Departure (B)
Detailed Itinerary
Day 1: Arrival (B)
Say hello to Guangzhou – the most populous metropolis in Southern China. Upon arrival, our guide will meet students and teachers, transfer them to our hotel and serves them a refreshing breakfast. We have leisure time to refresh and chill out before exploring a wide range of destinations in this charming city.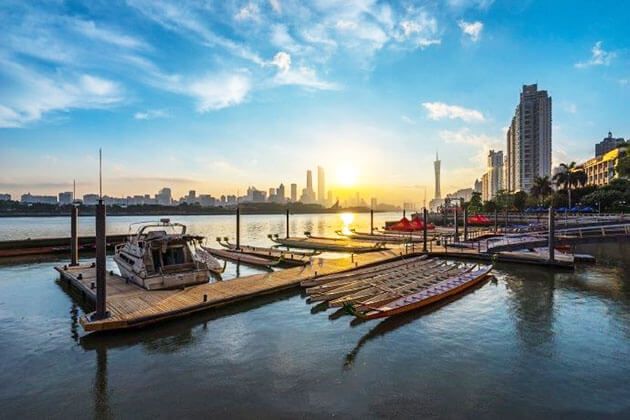 Day 2: Guangzhou, Industries & Architectures (B, L, D)
After breakfast, students will be transferred to the Industry tour. It is true that China associate with various successful and well-managed industrial companies on the dynamic land, which offers ample opportunity for students and new entrepreneurs to get a closer insight internal working environment of a company as well as useful information related to the educational course, which cannot be visualized in lectures. Visiting famous factories like Guangzhou Zhujiang Brewery Group and Zhujiang- InBev International Beer Museum is a great choice for students to gain deep knowledge about industry development of China and know how the local workers earn a living.
In the afternoon, after having lunch, we will take students to Guangzhou Tower and the Chen Ancestral Museum. Guangzhou Tower is the highest TV tower in China and the third highest in the world, and the tower has been a must-see scenic spot in Guangzhou. Regarding Chen Ancestral Museum, which is a masterpiece of Cantonese building and has a rich history of more than 100 years. Certainly, you will be fascinated by Guangzhou's distinct beauty, alongside its splendid lakes and parks.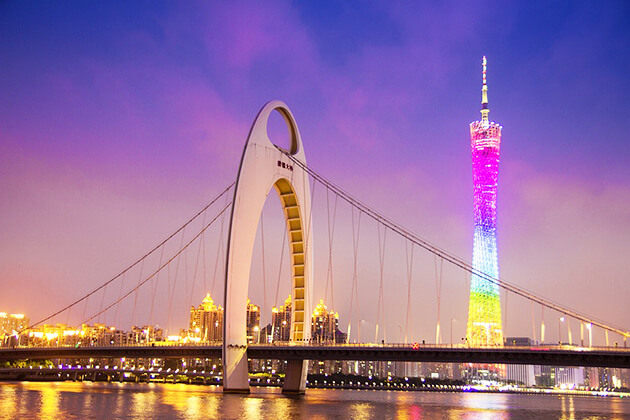 Finally, we complete a dynamic day with scrumptious local cuisine and overnight accommodation in the hotel.
Day 3: Guangzhou to Guilin, High-Speed Train and Home Stay (L, B, D)
Today, a private guide will take students to explore great panoramic views of the hustle and bustle Guangzhou city to enjoy Cantonese food in restaurants. After brunch, taking a high-speed train to Guilin, which is considered to be the pearl of China's thriving tourist industry because of its natural beauty and historic treasures.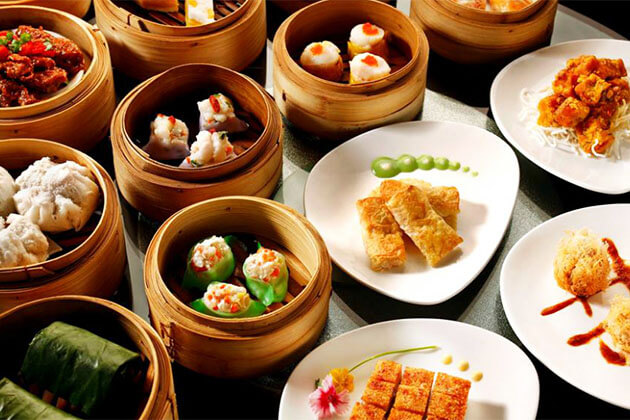 Upon arrival in Guilin, students will meet our guide to assist them with their transfer to the local village. Students can take a chance to meet our local host, check-in for the homestay, and enjoy delicious dinner with the local family. It is definitely an interesting experience for students on an educational tour.
Day 4: Guilin, Farming and Apply Facial Makeup (B, D)
After having breakfast with the local family, the host will take students out for farming. They have ample opportunity not only to try some useful and practical activities but also to help local people to weed grasses, transplant rice paddies, and pick local fruits.
After that, we will transfer to the Confucian Temple were consist of many buildings, halls, and shrines. Most importantly, it is a chance for students to get a deeper understanding of local people to worship Confucius and learn how to apply facial make up for the local minority opera in the ancient temple. It is the cultural beauty of Guangzhou – China, which makes this country more attractive and marvelous.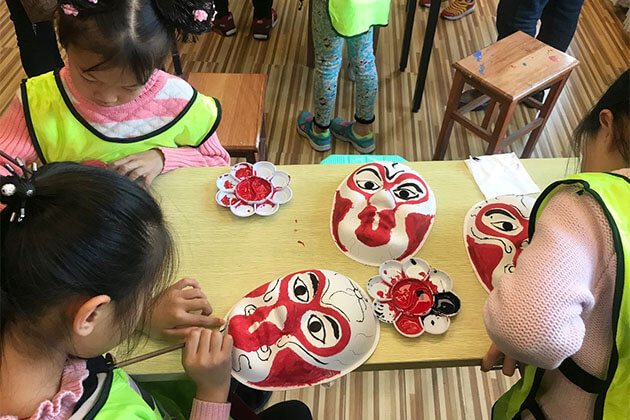 At the end of the day, we transfer students to our hotel in Yangshuo for check-in, serve them a delicious dinner to prepare for our next journey.
Day 5: Yangshuo, Bamboo Raft and Countryside Biking (B, L, D)
After having breakfast students and teachers will meet our tour guide at the hotel and transfer to Xingping Ancient Town, which acquired a reputation for natural scenery and ancient cultural heritage in China. Students will have an opportunity to board the bamboo raft and witness the solitary limestone peaks along with the Li River. Interestingly, both teachers and students should bring a camera to capture stunning views along the river and historical sites in this ancient town. It is a great chance for teachers to teach students to learn how to take photos.
Then, students will return to Yangshuo and jump on a bicycle to explore the countryside. Most importantly, they can take a chance to get a closer insight into local people's lifestyle and interact with friendly people.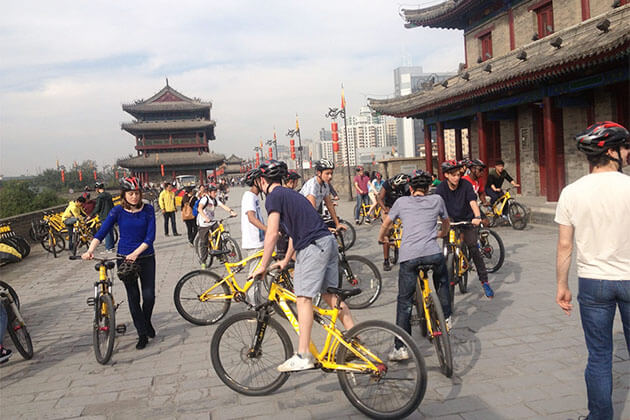 In the evening, we will transfer students back to the hotel and serve them a scrumptious dinner.
Day 6: Kayaking and Football Match (B, D)
Student trip will be more interesting if students take part in the Kayaking tour which is an iconic activity in Yangshuo. This trip starts from an ancient town, continues down the Li River to Liugong Village. Students will have ample opportunity to immerse themselves in stunning landscapes with their different shaped peaks and bamboo forest.
Most importantly, students can participate in the local football club to chill out and learn how they run their club at their own pace. These outdoor activities greatly contribute to student trip more amazing and interesting.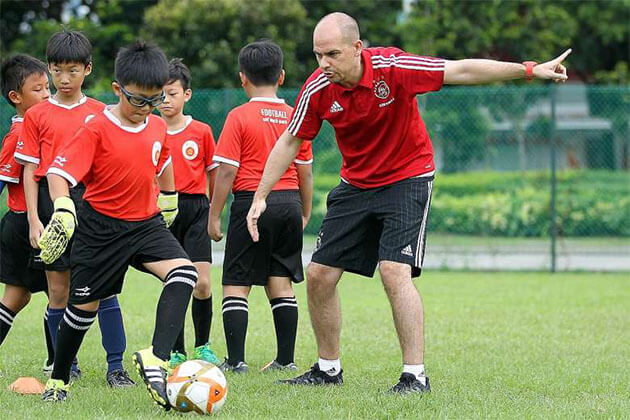 At the end of the day, we will transfer to Guilin and enjoy fresh dinner here.
Day 7: Longji Rice Terraced Fields and Minority People (B, D)
After breakfast, we will take students to Pingan Village to witness the marvelous rice terraced fields. Especially, at the end of September when fields are golden brown with ripe rice students can witness the tranquil landscape with rice fields before harvest and have a chance to get a deeper understanding of traditional rice farming methods and the Zhuang ethnic minority.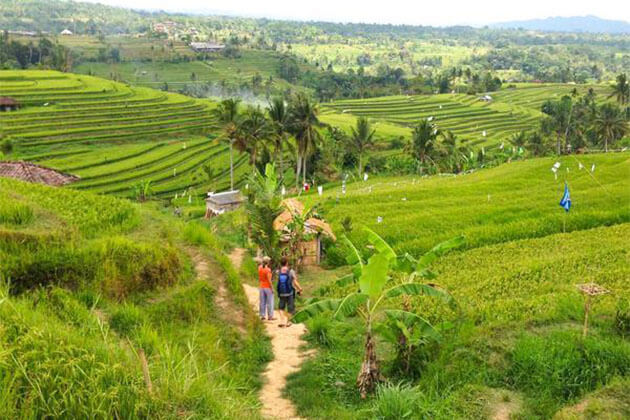 In the evening, students will enjoy a dinner with special local cuisines and interact with local people.
Day 8: Departure (B)
It is time for students to enjoy scrumptious breakfast before transferring to the airport for their home flight. Educational tour ends! We hope students can get various meaningful lessons and have enjoyable moments on this trip.