Celebrating a team-building event in school tours is a positive method to build up a strong attachment among teachers, students, and parents. Moreover, this kind of activity supports students to learn valuable skills such as cooperation and communication. Nowadays, learning by experiencing and school trips is not only to help students to relieve hard-working time on paper and computers but also to have some unforgettable experience in student life. In addition, these occasions are a chance for them to apply what the have learned at school in real life and practice quick reactions when confronting down-to-earth situations. That is the reason why people often say that after each traveling, we could get to know better a person, and a lot of friendships start from those educational school trips.
Useful Tips for Successful Team-building Activities in A School Trip
Figure Out What Team Members Need
This is the first and foremost important task about which you need to spend time searching and learning. It's would be helpful to form a group to communicate, discuss and support each other during team-building events. Find out what is the main purpose of these activities, which could enhance student attitudes to learning, efforts to the event; then a small survey or individual meetings should be conducted to gather opinions of team members. The next thing you need to do is to select the most relevant views of the original themes. By discovering what the whole team needs and stick to that plan, you not only strengthen the bond in the group but you also can avoid pitfalls when activities are not matched with purposes.
Draw Up An Action Plan
The second step should be to check the educational school trip schedules. the aim of this action is to ensure the team-building event won't happen on a day that all people are tired from the trips. Besides, make sure that you invest time to plan a detailed outline of methods, the time limitation, and other necessary things before starting the event. When designing formal action planning, you should consider the element of supervisors to follow up and observe during the event. Engaging exercises are the soul of every team-building event, so they must be fun and challenging, facilitating teams to reach the highest potential. Ensure the team participants are involved and challenged at the program. You can begin by asking yourself which effective exercises are for team-building.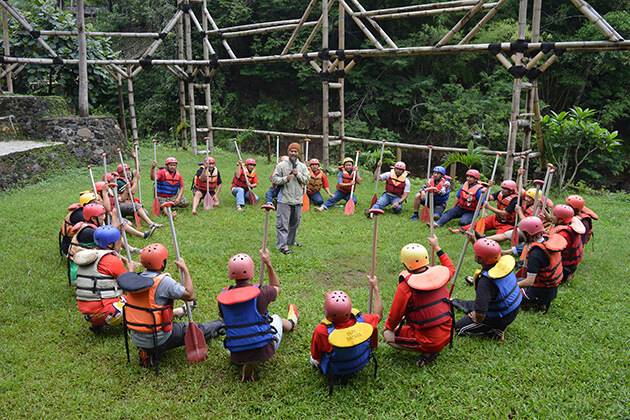 Set A Rule
The need for a strict rule is a requirement for running team-building programs smoothly and avoid violating the set plan. A fixed guideline is meant to develop harmonious relationships, build up the team solidarity. When making it clear for everybody, you could create a fair playground for everyone, avoid cheating and playing a dirty trick on others.
Make It Clear Roles and Responsibilities
One of the main shortcomings for a lot of teams and groups to celebrate the event ahead is the ambiguous duty of members. Clarity on these roles can be helpful in encouraging and reaching common goals. Besides, clarifying roles and responsibilities can keep the event away from the fact that some people have to carry the can while others are irresponsible. Those people who need to know their roles in events are both supervisors and players. After assigning duties for people, you need to make sure that everybody understands their specific roles and remain involved; it is good to know whether responsibilities overlap between individual team members or not. Of course, it's vital to learn physical conditions or health strength in order to ensure you choose appropriate tasks for the right individual. While you are allocating tasks for members, you had better ask them to actively listen and feedback about the assignment.
Encourage Team Members to Dedicate to The Team-building Event
The spirit of collaboration should be placed above the competition. Because you hold educational school trips and the participants are students, you should focus on the term of cooperating between them. If students think that event is a contest, they will concentrate on winning and being hungry for success while forget to enjoy and learn anything as expectations. Instead, try to involve all of the participants in those activities, encourage them to work together to solve a problem. All in all, ensure to make it accessible to everybody and if they do not obey, use your powers to command them.
Identify Each Contribution
One of the most important things is to recognize efforts to overcome teambuilding challenges and cheating or violation cases. The winners should be appropriately awarded while those people who break the regulations deserved penalties. And of course, you need to explain to participants the reasons why for all those actions. Make a sum up a speech about what you have done, what students and other members can get from experience. Besides, get feedback from team members is necessary because you could evaluate the level of success of the team building event and also draw a lesson for the next program.
Amazing Team-Building Games in School Trips

Amazing Race
To talk about the activity focusing on the speed and quick reaction of individuals and support from team members, the Amazing Race is perfectly suitable for teambuilding. Individuals will be offered with puzzles and asked to race against their opponent in other teams to reach stops before them. Their team members can aid the player to come up with the answer during the games. The one who accomplishes the challenge first will be the winner of Amazing Race. The question is that as the host of the game, you should diversify puzzles, locations, and challenges to make the player attempt and gather the support from partners. This game is not only for testing students' speed but also for testing the patience, resilience, agility and health ability.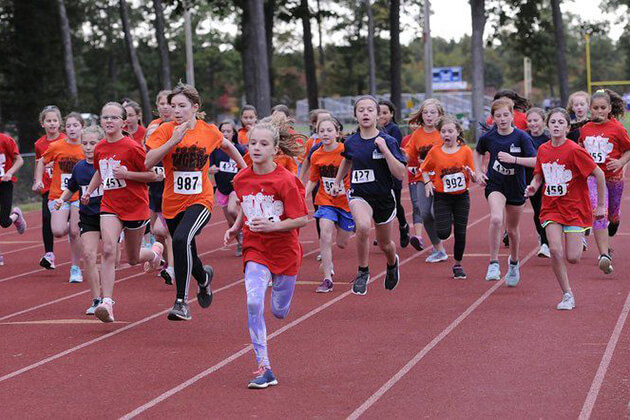 Disaster Survival
Just the name "Disaster Survival" can make you feel excited and want to join. The context of this outdoor team building activity can be parks or jungle if you want it to look vividly. The first step is to divide your students into groups of 8 to 10 and disseminate the rules of the game and make sure all of them are clear about it before starting. Now when you finish those steps, give them a clue of the situation or describe to them the fictional disaster, let them find it on their own. Recommended situations are a plane crash, a shipwreck, being left on uninhabited islands, so on. Each team has to strategize to design a plan of survival and make a list of 10 or more items they need to overcome the disaster. Those things they can get from the wreckage or in the natural environment, which all team members must agree on the items and the plan as well. That is the point of this game because it requires leadership, problem-solving skills, negotiation ability, and critical thinking to defend individuals' ideas. Moreover, this game enables students to stay together in the jungle, cooperate with others to face the challenges and become the winner, which could enhance the solidarity between them.
Build It From Memory
If you are designing activities of architecture as a teambuilding game, do not miss this game on the list. The ability of short-term remembering and problem-solving needs to be employed as much as possible to come up with the best product. When you prepare for the game, you should build a building sculpture of LEGOs and keep it secret by covering. Then, you can divide students into teams of 7 to 8 and each team has enough LEGO blocks to make a copy of the structure. Members of each team take a turn to have a close watch (about 10 secs) and try to memorize it before returning to their teams. Each player when coming to their group will have one minute to build the unique copy structure. Once they return to their team, they have 25 seconds to instruct the group on how to build a replica of the structure. After one minute of trying to recreate it, another member from each team can come up for a sneak peek before returning to their team and trying again. The game will finish in case one of the teams successfully duplicate the original structure. It sounds quite easy but the activity requires a lot of cooperation, communication, problem-solving, and remember ability.
Cup Stacking Challenge
You must have heard about this game many times but it still is one of the best games for students. The pinpoint of Cup Stacking Challenge is not a total blast as many other games. It is the challenge of patience and total perseverance. The whole team has to understand each other and try to be skillful when doing the assigned tasks. You should decide how many students to put in a group, which depends on the number of strings attached to rubber bands. Make sure that you make one rubber band for each group. The rule of the game is that per player has to hold onto one of the strings tied on the rubber band, which is used as a tool to pick the cups. They could control that device by expanding the rubber band to drop cups or contracting to hold cups. You can offer groups to build a pyramid or special shapes.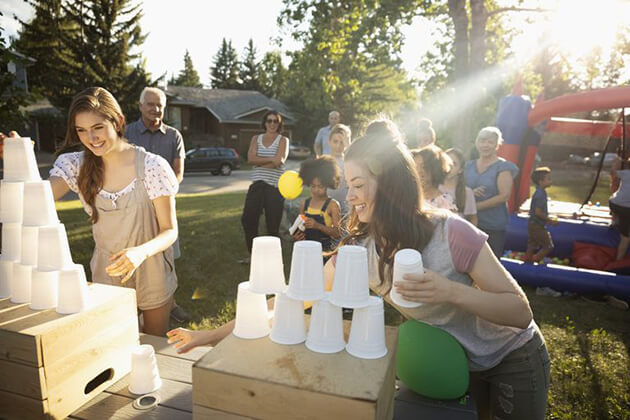 Paintball
Paintball or team shooting is one of the competitive games for most of the team members. This entertaining activity uses low-energy guns, which have spherical dye-filled gelatin capsules or paintballs. In the sham fight, the playground should be in a forest, a park or somewhere with obstacles so that players could hide while looking for others. Then, contestants have to shoot other people with paintballs. During the activity, one can seek help from team members to back up and fight against opponents. Whoever got a shot of those weapons will be eliminated from the game. Finally, the person can hit the most targets and the team of him/her will be the winner. The game will surely facilitate students to sharpen leadership skills, solidarity, staying alert, and target achievement skills.
Blindfold Tent Pitching
Pitching a tent might be simple and boring, so why not make some challenges when setting up a tent by using blindfolds? When all the members are blindfolded, this game will become the most enjoyable team-building activity. First, you need to separate students into groups of 7 to 8; then each group should choose 2 members to stay outside the circle of the tent without blindfolds. These two people are not allowed to do anything except for using verbal language to tell other members how to pitch a tent. All the members of each team have to cooperate and contribute to the teamwork product in a given time. Let's create this game and involve your students in the exciting tent pitching.