General Trip Information
Tour Code:
Duration: 10 days / 9 nights
Tour Type: Sightseeing, Experience & Discovery, Nature, Landscape, In-depth Cultural
Start / End: Luang Prabang / Pakse
Tour Route: Luang Prabang – Pakou – Khouangsi Waterfalls – Xiengkhouang – Vientiane – Pakse – Don Khong Island – Tadlo – Pakse – Departure
Tour Customizable: Absolutely! (Tell us your specific requirements in the inquiry form)
Brief Itinerary
Day 1: Luang Prabang – Arrival (B, L)
Day 2: Luang Prabang – Pakou – Luang Prabang (B, L, D)
Day 3: Luang Prabang – Khouangsi Waterfalls (B, L, D)
Day 4: Luang Prabang – Drive to Xieng Khouang (B, L, D)
Day 5: Xiengkhouang – Flight to Vientiane (B, L, D)
Day 6: Vientiane – City Tour (B, L, D)
Day 7: Vientiane – Flight to Pakse – Don Khong Island (B, L, D)
Day 8: Don Khong Island – Boat Trip Surrounding (B, L, D)
Day 9: Don Khong Island – Tadlo (B, D)
Day 10: Tadlo – Pakse – Departure (B)
Full Itinerary
Day 1: Luang Prabang – Arrival (B, L)
Welcome to Luang Prabang – the best-preserved traditional city in Southeast Asia! Upon arrival, at the airport, students and teachers will be warmly greeted by our tour guide. Then, we will transfer the students to the hotel by private air-conditioned vehicle with our English speaking guide and serve them a refreshing breakfast.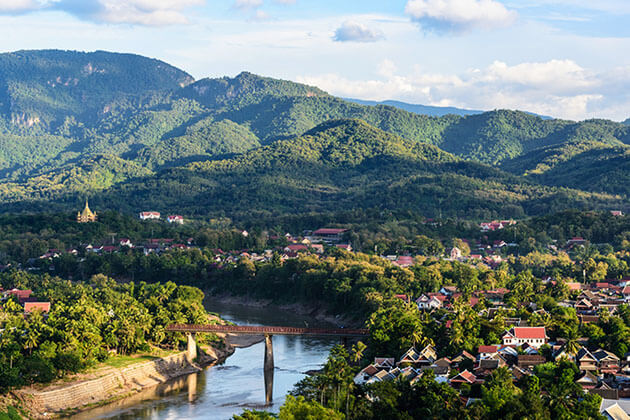 After check-in, the rest of the day is free for them to refresh and relax.
Day 2: Luang Prabang – Pakou – Luang Prabang (B, L, D)
The second day in Luang Prabang, students have a full day of exploration with tranquility atmosphere, splendid natural scenery, and cultural sights.
After breakfast, we will take students to the city's oldest temple Wat Sene and then students enjoy a short-guided tour seeing the Wat Xiengthong with its roofs sweeping low to the ground, representing classical Laotian architecture.
Afterward, students will be served a delicious lunch before transferring to Mekong River, where gives students a panoramic view of the tranquil countryside as well as an interesting visit to the mysterious Pak Ou Caves. Then, we will pay a visit to the local village of Ban Xanghai, where students can learn how to produce rice wine. Moreover, we also transfer students to some small villages including Ban Xangkhong and Ban Xienglek, which well known for silk weavings.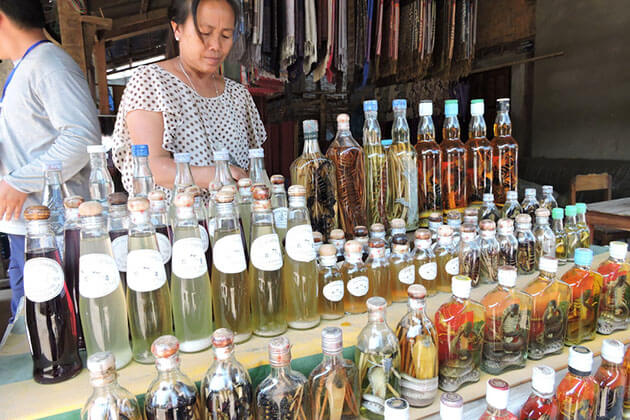 In the late afternoon, students will be guided to climb up to the top of Mount Phousi, where they can see gilded stupa as well as a beautiful sunset view of the city and the Mekong River.
Finally, we will transfer back to Luang Prabang to enjoy dinner and stay overnight here.
Day 3: Luang Prabang – Khouangsi Waterfalls (B, L, D)
Today, students will start off their day with a visit to Phosi Market. It is a chance for students to immerse themselves in the hustle and bustle market with the local village of Lao ethnic minority groups at Ban Ouay and Ban Thapene. Students can witness a wide range of products including local tea, saltpeter, and dried buffalo skin, and local lifestyle.
In lunchtime, students will be served local cuisines and have a short break before moving to the Khouangsi Waterfall. Besides being mind-blowingly beautiful, students can take a dip in some pools of turquoise blue water and walk along the forest paths.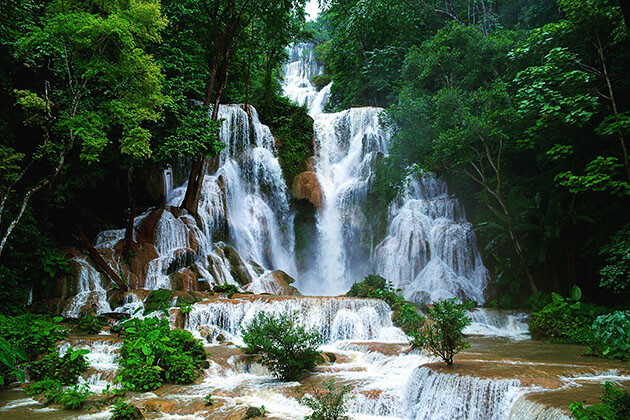 As the sun begins to set, return to Luang Prabang for a scrumptious dinner and overnight accommodation.
Day 4: Luang Prabang – Drive to Xieng Khouang (B, L, D)
An optional early start gives students a fantastic opportunity to visit the National Museum at the former Royal Palace, where students can witness myriad of collection of artifacts reflecting the richness of Lao culture.
Afterward, we will have lunch and a short break before visiting the Plain of Jars, an impressive archaeological site where possess hundreds of large stone jars. Students will spend the rest of the day wanding around this place, learning about the colorful history and being told tales of the past.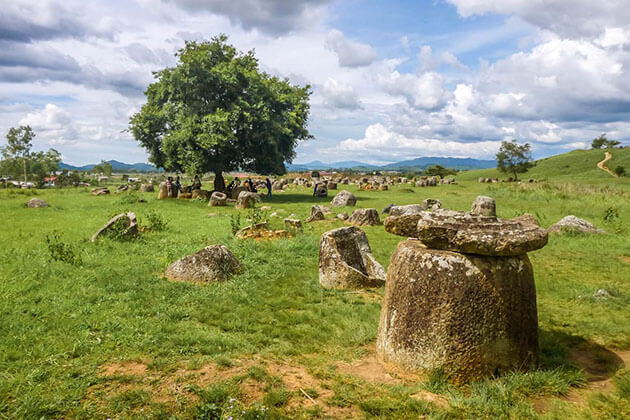 In the evening, we will transfer students to Xiengkhuang to enjoy dinner and relax here.
Day 5: Xiengkhouang – Flight to Vientiane (B, L, D)
Wake up early in the morning, students will visit Muang Khoun, which is home to unique sitting giant Buddha as well of some old pagodas that lies in ruins. Then, we take the flight to Vientiane.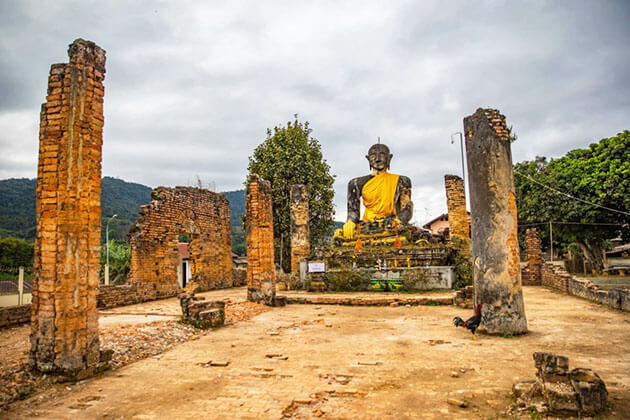 Upon arrival, we transfer students to our hotel and serve them lunch and dinner here. After that, we will stay overnight in Vientiane.
Day 6: Vientiane – City Tour (B, L, D)
Today, students will be served a refreshing breakfast first to get ready for a whole day of exploration. Students have ample opportunity to visit various destinations in Vientiane such as Cope Vientiane, Laos National Museum, Patuxai Victory Monument, and Buddha Park.
In the afternoon, we will transfer to many temples in Vientiane. Pha That Luang is the first temple we will visit. This temple is Laos' most important cultural monument and as a symbol of its powerful ancient royal kingdoms.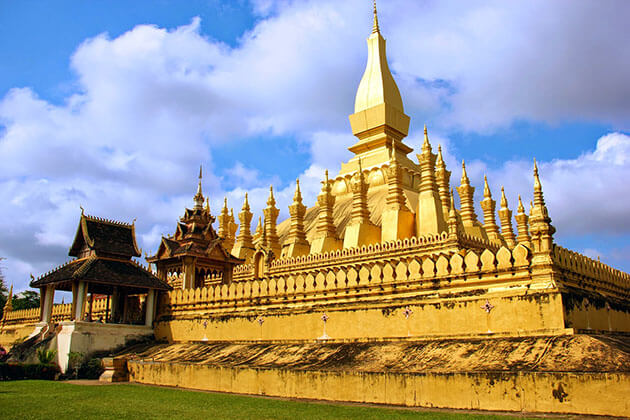 Next, we will visit the former royal temple of Wat Prakeo, which previously housed the famous Emerald Buddha Image. More interestingly, watching a spectacular view over the Mekong River at sunset is a fantastic choice for students. It seems like the whole of Vietiane turns out to enjoy the twilight hours here, and it is an ideal place to get a feel for the general vibe of Vientiane and interact with hospitable locals.
Finish a dynamic day, we will transfer students back to the hotel and serve them a scrumptious dinner.
Day 7: Vientiane – Flight to Pakse – Don Khong Island (B, L, D)
After having breakfast, we catch an early flight to Pakse. On arrival, we drive on the Dao Heuang Market to dip ourselves into a vibrant atmosphere, and students can witness the local lifestyle through interacting with native people. Next, we will take students to a giant golden Buddha at Wat Phou Salao to explore the magnificent golden Buddha statue. After that, we will escort students to Tad Fane Waterfall, which is the largest waterfall in Laos.
The scenic rainforest provides students with the diversity of wild animals such as tigers, elephants, monkeys, and leopards.
Then, students will have lunch and a short break nearby local restaurant before transferring to Don Khong, which is one of the most scenic areas in Laos and the largest island in the South Mekong river region. Students can enjoy the peace of life in Don Khong, which offers them a great chance to have a meaningful cultural experience and get a deeper understanding of the daily life in Laos.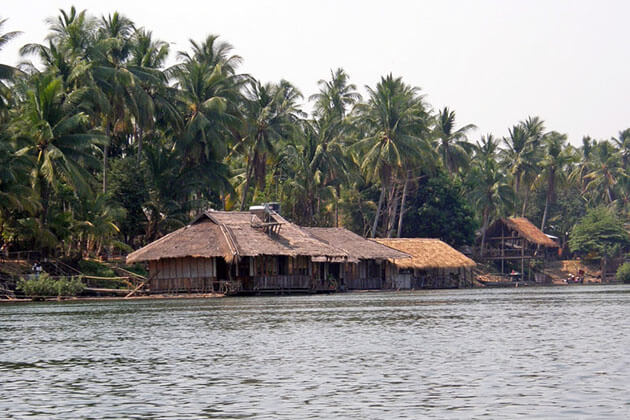 In the evening, we will transfer students back to the hotel in Don Khong Island to have lunch and take a break at night.
Day 8: Don Khong Island – Boat Trip Surrounding (B, L, D)
In the early part of the morning, after having breakfast, students will have a great chance to explore the local village of Ban Khone. Most importantly, it is also an opportunity for teachers to bring historical knowledge to teach students in a wide of relics from the French colonial era and retrace the old colonial past. Afterward, students will enjoy lunch and then we continue to discover the 4000 islands area by boat to visit the Liphi waterfall, one of the most beautiful waterfalls marking the end of Lao border to Cambodia, also known as the Samphamith. The last destination today is the largest waterfall in South East Asia, which known as Niagara of the east.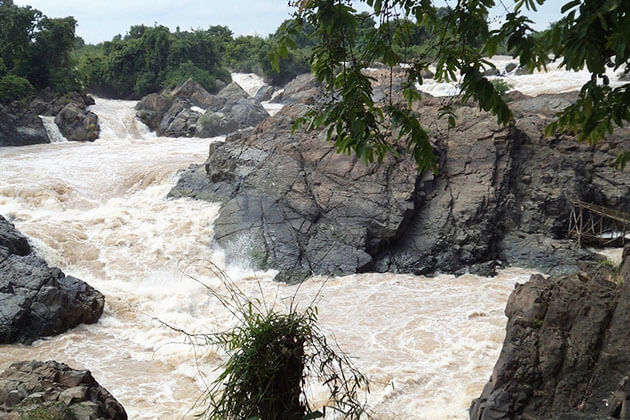 At the end of the day, we finish a dynamic day with a scrumptious dinner and stay overnight at the hotel.
Day 9: Don Khong Island – Tadlo (B, D)
After an early breakfast, we continue our tour towards Tadlo, through Boloven Plateau, which is located high above the Mekong Valley. Students will have a great opportunity to witness spectacular waterfalls views, the cultivation of rich coffee, tea, cardamom, bananas, and other crops. Upon arrival at Tad Lo waterfall, we will visit the villages of Alak, Nge, Katu, and interact with ethnic minority groups to understand more about people, culture, and local lifestyle here.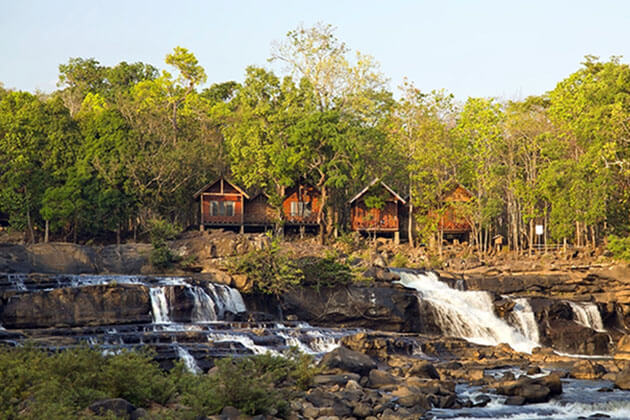 In the evening, students will enjoy delicious delicacy with local people and stay overnight in Tadlo.
Day 10: Tadlo – Pakse – Departure (B)
The last day of this trip, students and teachers can enjoy the flexibility to spend more time in places that interest them most. Complete the tour with return transport to Pakse for our departure. Educational school trip ends. We wish students to have an unforgettable time with our itinerary.