General Trip Information
Tour Code:
Duration: 10 days/ 9 nights
Tour Type: Sightseeing, Culture, Adventure
Start/ End: Vientiane/ Pakse
Tour Route: Vientiane – Vang Vieng – Phonsavan – Luang Prabang – Pak Ou Cave – Pakse – Champasak – Ban Khone
Tour Customizable: Absolutely! (Tell us your specific requirements in the inquiry form)
Brief Itinerary
Day 1: Vientiane Arrival
Day 2: Vientiane – Vang Vieng
Day 3: Vang Vieng – Phonsavan
Day 4: Phonsavan – Plain of Jars
Day 5: Phonsavan – Luang Prabang
Day 6: Luang Prabang City Tour
Day 7: Luang Prabang – Pak Ou Cave – Khuang Si Waterfall
Day 8: Luang Prabang – Flight to Pakse – Champassak – Ban Khone
Day 9: Ban Khone – Phapheng Waterfalls – Pakse
Day 10: Pakse Departure
Laos School Trip Detail Itinerary
Day 1: Vientiane Arrival (B, D)
Say hello to the capital of Laos. Upon arrival in Vientiane, students and teachers will be welcomed by our friendly tour guide and then we will transfer them to the hotel for check-in and refreshing breakfast.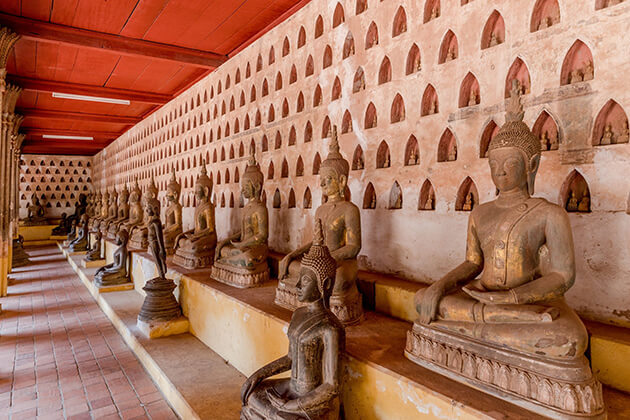 We will start our school trip with the city's oldest temple, Wat Sisaket – filled with thousands of Buddha statues. Then, we will transfer to Wat Prakeo, which is the former royal temple and the famous Emerald Buddha. After that, the Patuxai Victory Monument is the next destination for students to take photos with their friends and teachers. In the evening, we return to the hotel for dinner and overnight accommodation.
Day 2: Vientiane – Vang Vieng (B, L)
In the second day of the student tour, we will serve students breakfast at the hotel before taking 3-hour driving to Vang Vieng, which is a small town next to the Nam Song River. Upon arrival in Vang Vieng, we will check in the hotel and have lunch here. After a short break, we will explore Tham Jang caves and experience a short trek to the Tam None Cave.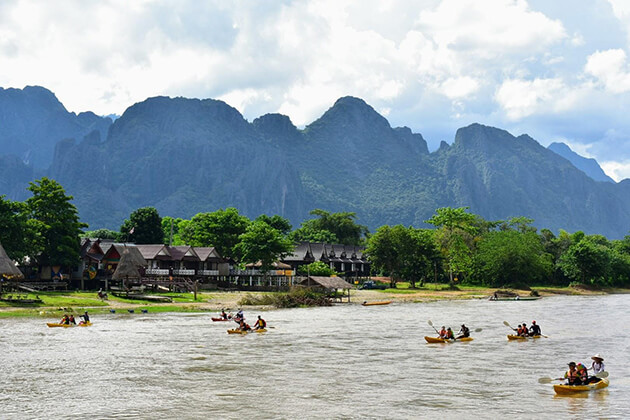 In the late afternoon, we will have a great chance to witness the amazing sunset over the Nam Song River and have a fun time together with kayaking on the river. The rest of the day is free for students and teachers. After that, they will be served lunch by the local restaurant.
Day 3: Vang Vieng – Phonsavan (B, L, D)
Coming to Phonsavan – a natural stone structure that is said to look like a jar, we will serve students a refreshing breakfast. Phonsavan is the provincial capital of Xieng Khouang province and it takes us about 7 hours to come here. Intriguingly, along the way, students have ample opportunity to enjoy the stunning landscapes and witness Laos' local life.
In the afternoon, after having delicious lunch with local cuisines, we will transfer to Mulberries farm, where students can learn all about how to make silk. More interestingly, if teachers want their students to get a first- hand experience of this product, they can encourage students in joining classes to know more about the way to make beautiful pieces of silk. Complete our day, all people will have dinner with the local people and enjoy the evening at leisure.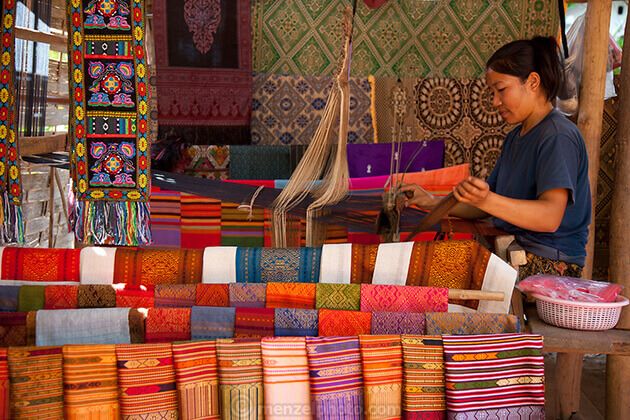 Day 4: Phonsavan – Plain of Jars (L, D)
Today, students will spend the whole morning to take a short trek to explore the mysterious Plain of Jars, which is a megalithic archaeological landscape in Laos. It is also one of the most significant prehistoric sites in Southeast Asia. After having a delicious lunch, we have a chance to observe local life and pay a visit to a small monastery in Ban Xieng.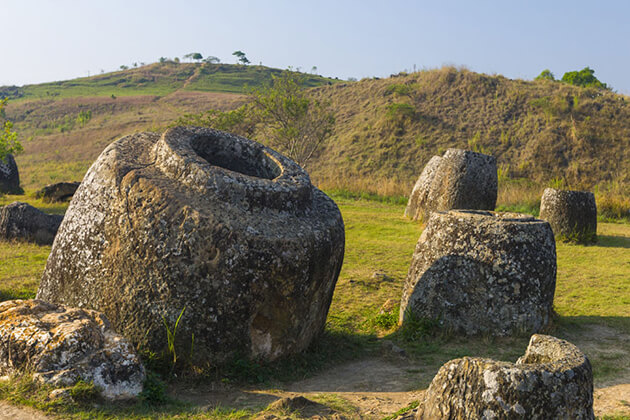 After that, we continue to transfer to Muang Khoun – the one place in the old provincial capital. Most importantly, besides these historical sites, there are various breathtaking waterfalls and trekking opportunities nearby. Students also have a chance to learn about how the war-affected people in Laos. After that, our guide will drop students off at the hotel to serve them a scrumptious dinner and then they will stay overnight here.
Day 5: Phonsavan – Luang Prabang (B, L, D)
After breakfast at the hotel, our guide will pick students up around 8.30 am. The distance from Phonsavan to Luang Prabang is quite long (about 6 hours driving), therefore, we will have a stop for lunch at Sala Phoukhou. Afterward, we continue the journey with a visit to Luang Prabang. As the sun begins to set, head back to Luang Prabang for our dinner and overnight accommodation.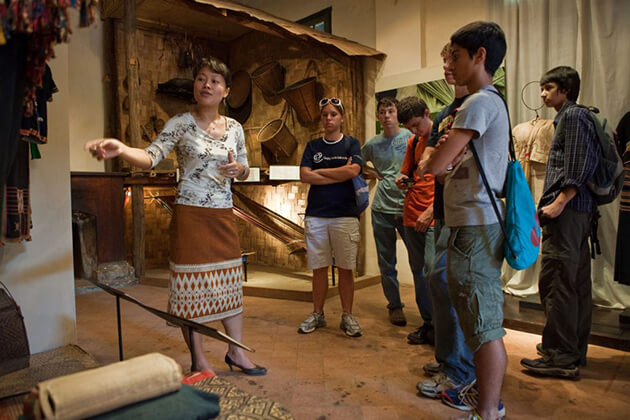 Day 6: Luang Prabang City Tour (B, L, D)
Today will be a great day in Luang Prabang mostly because students will have a chance to immerse themselves in various reputable destinations and participate in dynamic activities around the city. Refreshing breakfast is definitely a perfect choice for students to ready for a new day. We will start off with a visit to the former king's palace, where provides a wide range of items nicely displayed including traditional costumes, arts, jewelry, rare furniture, ornaments and much more. After that, students will enjoy delicious lunch before transferring to Wat Xieng Thong – The Golden City Monastery, which is a must-see place in Laos.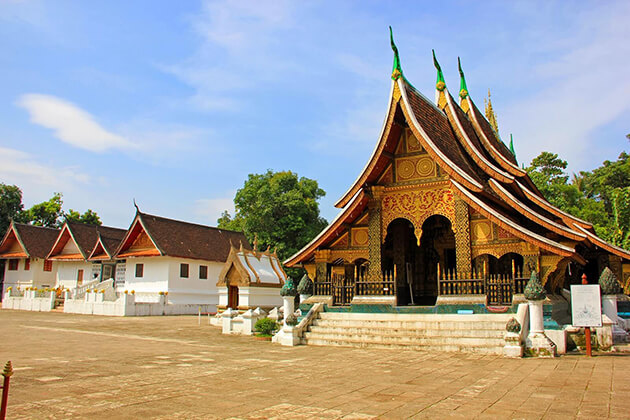 Our next destinations are the temples of Wats Mai, Vixoun, and the national Stupa of That Luang. Moreover, students also have ample opportunity to check out Ban Xang Khong village, which acquired a reputation for its products made from silk. It is a great time for students to get a closer insight into the local lifestyle and get authentic experience because they have about 2-hour community service work to help local people.
Next, we will head to the Phousi Holy Hill to witness the marvelous panoramic views of the town at sunset. Afterward, students will be served a flavorful dinner at a local restaurant, then they can join hustle and bustle street night. In this place, all of the students definitely stuck into a lot of beautifully hand-made textiles. Complete a dynamic day with a return to the hotel and stay overnight at Luang Prabang.
Day 7: Luang Prabang – Pak Ou Cave – Khuang Si Waterfall (B, L, D)
Start a new day with a pickup students at around 8.30 am by our guide, then we board a boat upstream on the Mekong River. It is a chance for students to witness stunning landscapes of the tranquil countryside and experience the lifestyle, custom, and culture of the local people. Afterward, we will take students to the mysterious Pak Ou Caves, which is full with thousands of gold lacquered Buddha statues.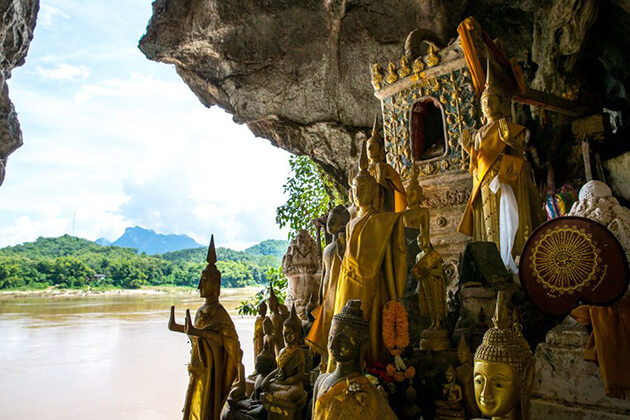 In the lunchtime, we will pay a visit to the Phosi Market where students can observe diverse products including local tea, saltpeter, dried buffalo skin, and many traditional crafts. Then, there are various destinations for them to explore such as Hmong Hill tribe, Ban Ouray, Lowland Lao, and Ban Thapene of Khmu village.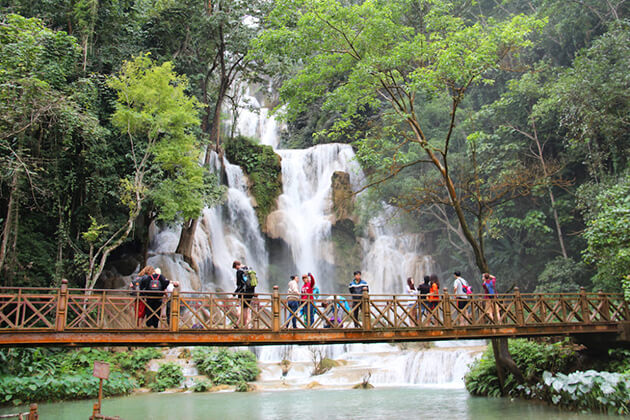 After that, we continue driving to the striking Khouangsi Waterfall, where students can take a stroll along the forest paths and enjoy the fresh atmosphere here. Finally, we return back to Luang Prabang and pay a visit Ban Xang Khong and Ban Xienglex, which famous for its hand-made Jute Sar paper. In the evening, students will savor a delicious dinner and stay overnight at the hotel.
Day 8: Luang Prabang – Flight to Pakse – Champassak – Ban Khone (B, D)
After having a refreshing breakfast, we will transfer to the airport for our flight to Pakse and Champassak. Interestingly, on the way, we also pay a visit Wat Phou, which is the most important Hindu sanctuary of the Khmer Empire. Next, we take a boat cruise to the beautiful Island of Ban Khone, where students can witness a wide range of relics from the French colonial era. It is a great chance for them to get a deeper understanding of history and culture in the areas.
At the end of the day, students will enjoy a scrumptious dinner and take a rest in Ban Khone.
Day 9: Ban Khone – Phapheng Waterfalls – Pakse (B, L)
Start our day with pick up students at the hotel by tour guide after having breakfast. Then, we will head to Khone Phapeng Waterfall, which is one of Lao's most beautiful natural attractions and it is well-known as the world's widest waterfall. More interestingly, the falls offer many tour itineraries out of Don Det such as the dolphin tours and popular kayaking. In the afternoon, we will drive back to Pakse and savor flavorful local cuisines here.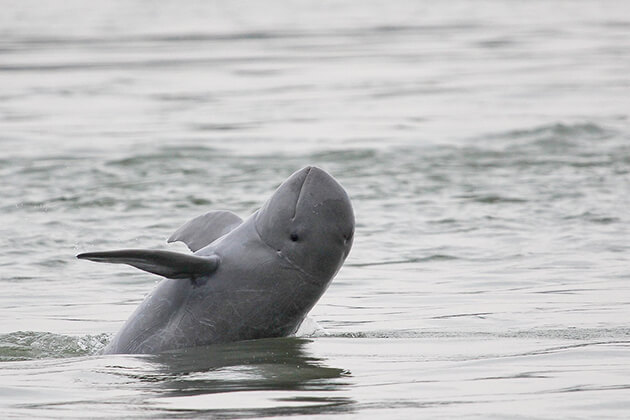 Day 10: Pakse Departure (B)
Complete our tour with return transport to the hotel. It is time for students to enjoy a free morning to do something at their own pace. Then, students will be transferred to Pakse Airport to catch their departure flight. Educational school trip ends.