General Information
Tour Code:
Duration: 7 Days / 6 Nights
Start/End: Vientiane / Luang Prabang
Tour Route: Vientiane – Luang Prabang
Tour Customizable: Absolutely! (Tell us your specific requirements in the inquiry form)
Brief Itinerary
Day 1: Vientiane Arrival (D)
Day 2: Explore the City & Buddha Park (B, L, D)
Day 3: Vientiane – Fly to Luang Prabang (B, L, D)
Day 4: Luang Prabang – Community Service at Elephant Conservation Centre (B, L, D)
Day 5: Meet Elephants in the forest – Visit the Nursery – Back to Luang Prabang – Baci Ceremony (B, L, D)
Day 6: Morning Alms Giving – Living Land (Rice Experience) – City Tour (B, L, D)
Day 7: Luang Prabang Departure (B)
7-Day Laos School Trip Detail Itinerary
Day 1: Vientiane Arrival (D)
On arrival at Vientiane airport, students and teachers will be welcomed and transferred to our hotel. The rest of the day will be free to recover. Dinner in a nice restaurant and overnight in Vientiane.
Day 2: Explore the City & Buddha Park (B, L, D)
This morning, we will explore Vientiane and its outskirt with a visit to the oldest temple Wat Sisaket dated back from 1818 with thousands of Buddha images from many countries. Continue to Wat Prakeo, the former royal temple of the Lao monarchy and originally built in 1565, is home to the Emerald Buddha image. We then head to the famous and sacred structure of That Luang Stupa and have a short stop to take some pictures of the imposing Patuxay Monument, Vientiane's own Arc de Triumph.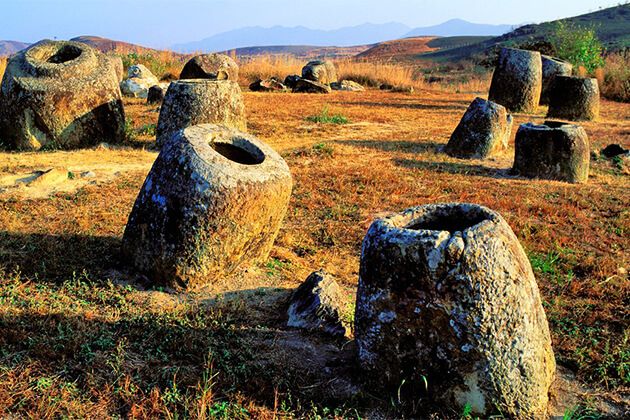 After lunch in a restaurant in town, we drive out of the city to visit Buddha Park where hundreds of manmade Buddhist and Hindu sculptures are displayed. Return to the city center and have free time with a soft drink to witness the sunset on the Mekong River. Dinner and overnight in Vientiane.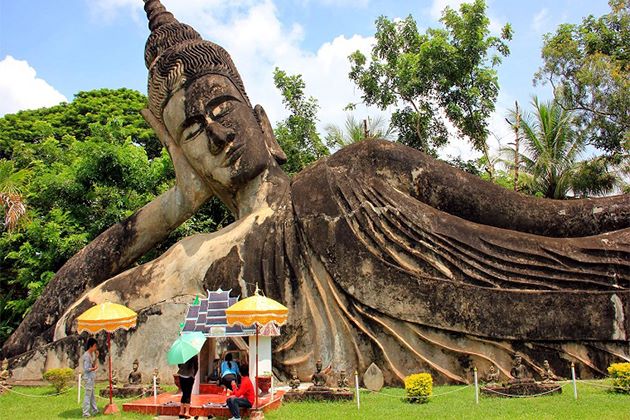 Day 3: Vientiane – Fly to Luang Prabang (B, L, D)
After a refreshing breakfast, students will be free to visit the Morning Market until our car arrives to take them to the airport to board the noon flight to Luang Prabang. On arrival, students will be welcomed and transferred to our hotel.
Late afternoon, we will climb up 328 steps of Mount Phousi for an enjoyable exploration of the sacred, gilded stupa as well as a beautiful sunset view of the city and breathtaking landscapes of the Mekong River. Afterward, we will explore the Night Market, where students can find a lovely selection of handmade textiles made by the hill tribe and local people surrounding Luang Prabang. Dinner and overnight in Luang Prabang.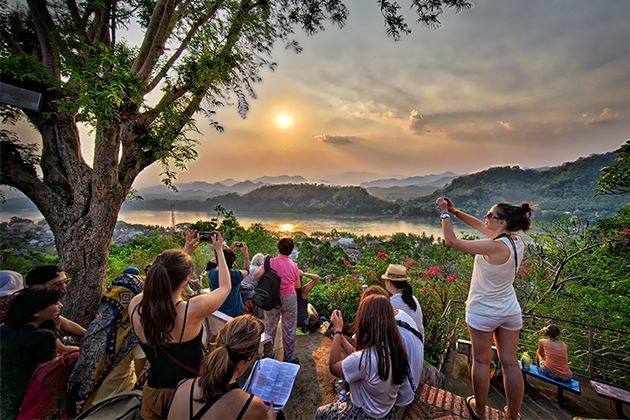 Day 4: Luang Prabang – Community Service at Elephant Conservation Centre (B, L, D)
After having a refreshed breakfast, we will take a 2.5-hour drive to Elephant Conservation Centre (ECC) in Nam Tien Protected Area in Sayaboury Province. On arrival, we will take a short boat ride to the park center while students can catch a quick glimpse of our elephants from the boat docks. After lunch in the bungalow, we will visit the Center's facilities and have some briefings given by our local guide on our project.
Next, we will pay a visit to the Elephant Hospital in Laos that was implemented by ECC and observe the elephants' daily baths, and learn more about our giant friends' playful characters. We then meet our mahouts, who will show you some commands that they normally use to communicate with the elephants. Moreover, students will have a chance to approach the elephant with the mahouts at their side, feel free to give food to elephants, and take photos with them.
We then walk with the elephant to get a deeper understanding of the dense forest of Nam Tien – the REAL land of elephants and see their nightly resting ground. Along the way, we will be given information about the biodiversity of the Nam Tien protected forest.
Before dinner, students will have free time to swim in the lake or visit the museum. Overnight in a lakeside bamboo bungalow with a private terrace.
Note:
• We try to adapt to the rhythm of the animals, so schedules and activities may vary. Visitors to the Center must be open-minded and ready for a flexible program.
Day 5: Meet Elephants in the forest – Visit the Nursery – Back to Luang Prabang – Baci Ceremony (B, L, D)
Get up early in the morning, we will enjoy breakfast at the bungalow. We then meet up with the elephants in the forest, treat them to their morning bath, and stroll together in their natural environment.
Next, students will walk with the elephant to the Socialization Area for a big part of the day and know more about recreating a semi-natural living environment. Follow the guide to learn more about the elephants, this will be an unforgettable memory of our life that cannot find in any other place in Laos.
Lunch will be served at the viewing platforms. After that, we back to our bungalow and say goodbye to ECC's staff, lovely mahouts, and friendly people to drive back to Luang Prabang.
At the end of the day, we will experience one of Laos' oldest traditions, The Baci, a ceremony to celebrate special events such as weddings, births, traveling, welcoming friends, and farewells. The purpose of this ancient belief is to call back escaped souls to the body, and this will re-establish harmony and balance in the body. Dinner and overnight in Luang Prabang.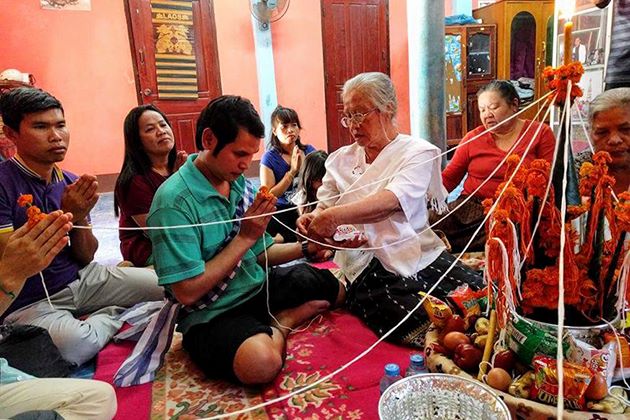 Day 6: Morning Alms Giving – Living Land (Rice Experience) – City Tour (B, L, D)
Wake up early in the early morning, we will witness and participate in offering alms to hundreds of saffron-robed monks – an awe-inspiring sight. Our guide will prepare special food for students to hand over to the monks, however, if students do not wish to make an offering, please keep an appropriate distance and observe the ritual in silence. Dress appropriately – shoulders, chest, and legs should be covered.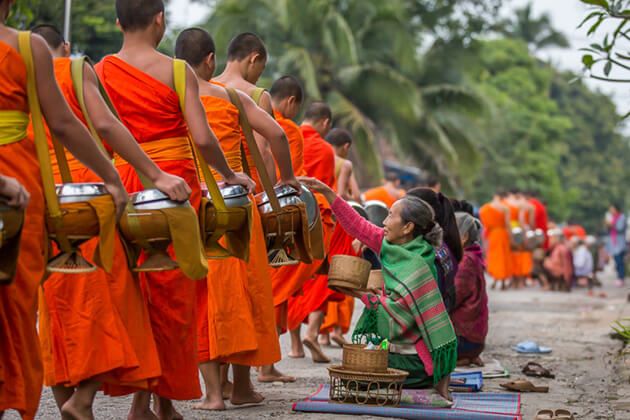 After a proper breakfast at the hotel, we spend our morning on a community-based living rice farm situated in the idyllic countryside, surrounded by mountains and rice paddies. Experience the life of a farmer and try your hand at some activities. No problem if students do not wish to join, they can view it from the traditional Lao rice house's balcony. Then, we pay a visit to some local handicraft workshops like bamboo weaving, blacksmith work, and sugar cane processing to get a deeper understanding of the tradition, culture, and customs of Laos. Finally, students will join a tour of the organic garden with an explanation of how natural herbs are used in traditional medicine.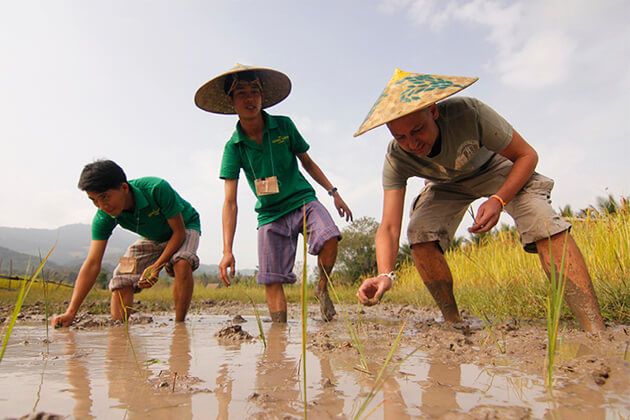 Back to Luang Prabang for lunch, we will transfer to the National Museum at the former Royal Palace and the amazing Wat Xiengthong with its roofs sweeping low to the ground, which represents classical Laotian architecture.
In the evening, students have dinner and overnight accommodation in Luang Prabang.
Day 7: Luang Prabang Departure (B)
After breakfast at the hotel, we will be free to visit the Morning Market, where students can see such diverse offerings as dried buffalo skin, local tea, and saltpeter among the chickens, vegetables, and hill-tribe weavings. Finally, we transfer students back to the airport for the departure flights. Educational School Trip ends.
Suggested Accommodation:
| | | |
| --- | --- | --- |
| Location | Hotels & Ratings | Room Category |
| Vientiane | Sengtawan Riverside hotel | Deluxe room |
| Luang Prabang | Indigo House | Superior room |