How about adding some rewarding community service programs on educational trips to make them more meaningful? In each school trip to Vietnam, students are encouraged to take part in community service activities, which could result in significant improvement of thoughts and feelings about the community. Those in the longterm will set up as something important of life, values, and beliefs of students. The firsthand participation in social activities not only bring students down-to-earth reflection, but it also helps them to understand how community service could affect people's lifestyles and the world outlook.
Heading School Tours for Community Service to The North of Vietnam
SOS Orphanage in Hanoi
The name SOS means children's development is now urgent than ever, which implies needing crucial supports from the community. Thus, this should be one of the first stops for the intention of community service. To talk about SOS Orphanage, the place is a loving home to children from poor families, homeless to the orphanage, and so on. The team to help those students are major students of colleges, universities. They come to visit the village of SOS Orphanage, connect with unlucky children and help them in daily life issues and teach them academic knowledge. The children in the village are hospitable and certainly warmly welcome foreigner friends. So, do not hesitate to join with supporting the team and have some fun activities with friendly children here. You can create some games such as football, cat-and-mouse, also you can bring them nice gifts or necessary things and have a memorable time together.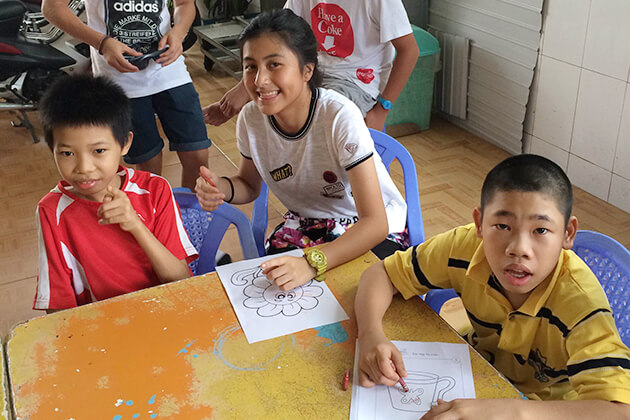 Visit Bo De Pagoda in Hanoi
If the school trips aim at the culture aspect and religion of Vietnam, Bo De Pagoda is fairly suitable for the crew. No matter you are tending to donate things or helping people, you will navigate the meaningful activities of supporting this pagoda. It dates back to the 18th century but currently, it also serves as a facility of orphaned children (about 150 children). The program is run by the monks and now due to the attempt of them the budget for children is not enough; The kids are living and growing in substandard conditions. Therefore, they need a lot of donations to be able to maintain and improve living. Taking a school tour package of community service to the monastery is considered as a touching heart action to both the monks and children here. Moreover, students also have chances to discover the ancient architecture of Vietnam, get to know more about the Buddhism religion and how it is operated in Vietnam.
Community Service in The South of Vietnam for School Trips
Thien Phuoc Orphanage in Ho Chi Minh City
Thien Phuoc is the home for children with disabilities and orphanhood. The orphanage gives children love, hope for life, provides them with physical and spiritual needs. This non-government organization is being operated under the Catholic Committee of Ho Chi Minh City. It was established in 2001 to cater for more than 100 children. The children with Cerebral Palsy Epilepsy, the generation to generations effects of Agent Orange and Down Syndrome are offered intensive healthcare, rehabilitation, and proper education. The staff here are working days and nights to take care of those unlucky children. There are several community service teams and organizations that have come to the orphanage for contribution and charities, for example, Global Service Day, The King's School Manila, so on. Thus, why not visiting Thien Phuoc Orphanage and stay with disabled children emotionally? Each small action to help the children are highly evaluated, you also can participate in activities held by the organization. This must be an emotionally rewarding experience when you have the chance to learn about students and show sympathy to them.
Toilette Building for Hoa Mi Kindergarten in Vinh Long (Mekong Delta)
Hoa Mi Kindergarten is a small scale kindergarten with 2 classes. The age of children here is ranging from 2 – 5 years old and there are 60 of them here. The kindergarten is visited by Chinese International School – Hong Kong for community service. This organization is launching a toilette project of lavabo, water tap, toilette. Works are needing to be done such as mix the cement, build the wall, decorate, paint the wall, … Children and the teaching staff here are wishing for volunteers and donators. Let's come here to finish it together and handover to Hoa Mi Kindergarten.

Physical Disable Teaching Center
If you are traveling around Saigon for community service, you should pay a visit to the Physical Disable Teaching center. This center is located in Hoc Mon district, the outskirt of Saigon. After 3 years of building, the center was officially run in 2006. At first, Physical Disable Teaching center serves 100 – 130 learners who are with a physical disability. The purpose is to give them vocational education including garment, computer, painting, embroidery, and massage. Most of them are deaf, mute, blind but they desire knowledge, and interactions with others. A Singapore-based social service agency came here and had positive supports. You can do the same things interesting in this place from painting Wardrobe for students, interaction with them, to learn about the garment, and have a memorable experience with the people.
Mekong Delta Community Works
Constructing houses for the impoverished family is the community service you often see in this remote region of the Mekong delta. Tourists and volunteers are encouraged to take part in the project. There will have diversified tasks to complete every day. You could choose which tasks are suitable for you or be divided separately into groups. The list of tasks is layering bricks, assembling frames, transporting materials, or supervising the progress of the project. You can either join in the long-term or short-term as long as the participation is matched to your fixed plans. This is a chance to stay with native people and get culture experience that you have not had.