General Trip Information
Duration: 12 days/ 11 nights
Tour Type: Sightseeing, Culture, Adventure
Start /End: Pick up at Yangon airport/ Yangon – Departure
Tour Route: Yangon – Bagan – Yangon
Tour Customizable: Absolutely! (Tell us your specific requirements in the inquiry form)
Brief Itinerary
Day 1: Yangon Arrival & Sightseeing Chauk Htat Kyi (L, D)
Day 2: Yangon Morning visit – Charity Project( B, D) – No guide for Charity Project
Day 3 & 4: Yangon – Free day for Charity Project (B, D) – No guide
Day 5: Yangon – Fly to Heho – Inle Lake ( B, D)
Day 6: Inle Lake sightseeing & cooking class (B, L, D)
Day 7: Visit Khaung Daing Hot Springs by Tuk Tuk – Fly to Began (B, L, D)
Day 8: Bagan – Mt. Popa – Began (B, L, D)
Day 9: Bagan Bike Tour (B, L, D)
Day 10: Free day in Bagan – Train to Yangon (B, L)
Day 11: Yangon with Fare Ware Dinner (B, L, D)
Day 12: Yangon – Departure (B)
Detailed Trip Itinerary
Day 1: Yangon Arrival – Sightseeing (L, D)
Say hello to Yangon! Welcome warmly by our tour guide who takes students to the hotel for check-in. They will have ample opportunity to get a deeper understanding of the extraordinary mix of architecture and explore stunning landscapes when we drive through downtown areas. It is a chance for students to immerse themselves in the historical buildings, which have a faded colonial charm not seen elsewhere in Asia. After that, students will continue the vacation at the post office- a charming historic building, passing by Strand Hotel, Mahabandoola Garden and Independence Monument along the way.
After having delicious lunch, students will pay a visit reputable Chauk Htat Kyi with a 70-meter long reclining Buddha. Local people often gather at the feet of the statue carved with traditional symbols to pray and express their respect. You can take a break at the Karaweik Hall royal floating barge and enjoy local cuisine in your dinner at the local restaurant. Then, students will complete the first day trip with an overnight in a hotel in Yangon.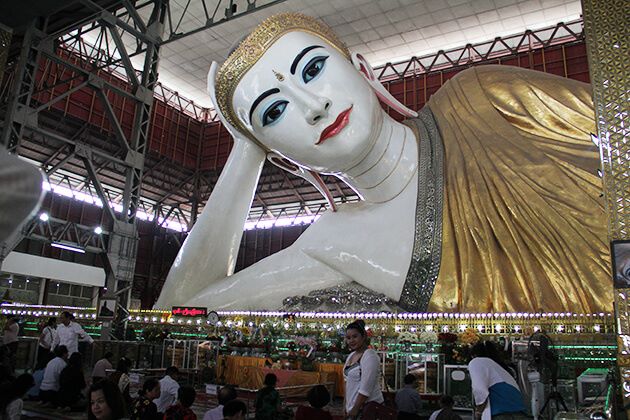 Day 2: Yangon Morning visit – Charity Project (B, D) – No Guide for Charity Project
In the early part of the morning, after having a refreshing breakfast, we will visit Shwedagon Pagoda with its glittering gold stupa. At the pagoda, students can take a chance to witness local pilgrims and monks offering their devotions.
After that, we move to a Charity project. In the evening, we will transfer back to the hotel for dinner and overnight accommodation.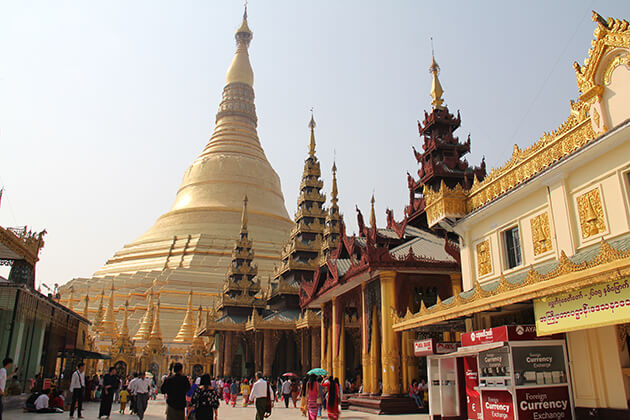 Day 3 to Day 4: Yangon – Free Day for Charity Project (B, D) – No Guide
Today, we kick off our day with a refreshing breakfast before transferring to Charity Project, which provides assistance for the education and welfare of disabled and orphaned children living in Myanmar. After that, we back to the hotel in the evening. We complete a long day for charity with a scrumptious dinner at a restaurant and overnight at hotel in Yangon.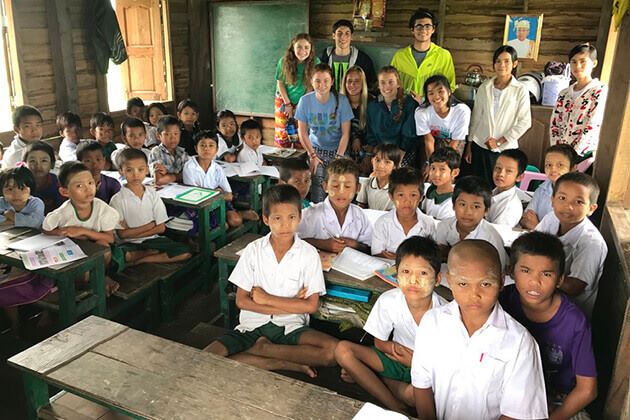 Day 5: Yangon – Fly to Heho – Inle Lake (B, D)
In the early morning, we will enjoy local cuisines of Myanmar before moving to Yangon airport for the flight to Heho. Upon arrival Heho, we will pick students up from the airport and transfer them to Nyaung Shwe hotel for check-in. After that,  we have a tasty dinner at a local restaurant.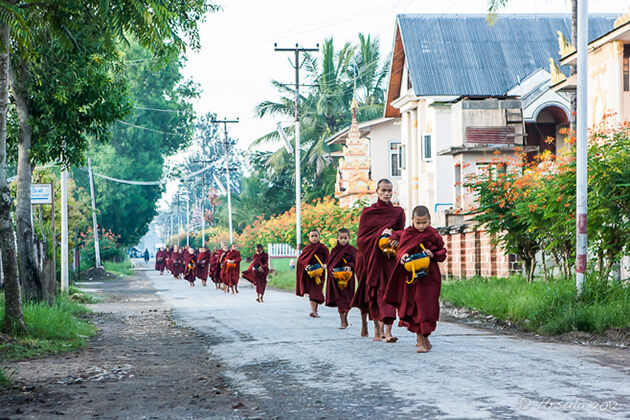 Day 6: Inle Lake sightseeing & Cooking class (B, L, D)
It would be a perfect choice for students to start their day with a visit to the market, which has some unique features of a hectic market, where hill tribe people dressed in colorful, traditional outfits as they barter for goods and produce. Late morning, students have an opportunity to take part in the cooking class at Bamboo Delight and learn how to make a traditional meal using seasonal fruits and vegetables from the traditional organic garden project. How interesting it is!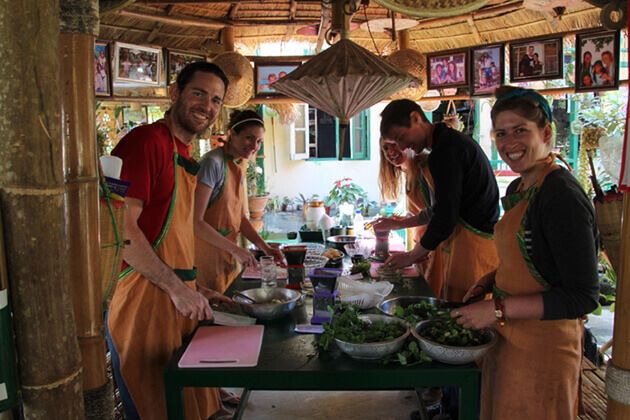 In the afternoon, visiting the Phaung Daw Oo Pagoda is the ideal destination mostly because it is the holiest religious site in southern Shan State. Students will be astonished by the local handicrafts, silk weaving, wooden handlooms, and traditional blacksmith methods along the way. Interestingly, students can take part in a cooking class to learn how to make a meal. Then, they can take a chance to visit Inle Lake where is not just about being on the water but also about discovering the Shan and Intha villages on the banks of the river. Students will come across the endless floating gardens, houses and monasteries built on stilts on the lake.

At the end of the day, the local restaurant serves students with a delicious dinner with excellent services.
Day 7: Visit Khaung Daing Hot Springs by Tuk Tuk – Fly to Bagan (B, L, D)
In the morning, we will pick up students from the hotel and drive to the north-south Khaung Dain. Then we take you down towards the hot springs with wooded hills, the well laid-out, and well-organized hot springs. Students should spend time to relax and transfer to hotel to bring baggage before we drop off at Heho airport for a flight to Bagan. On arrival, we will transfer to the hotel where we have an overnight stop.
Day 8: Bagan – Mt. Popa – Bagan (B, L, D)
After breakfast, we will begin a trip to Mount Popa (45 km drive), an extinct volcano with spectacular views, 4981 feet above sea level and 777 steps lead up to the Buddhist shrine place on the top of the Popa peak. On top of the mountain, you can see monasteries, pagoda, and shrines in different styles.
In the late afternoon, we will transfer students to the jetty where a private wooden river boat is waiting. Sitting under the shade or on the open-deck, students will be treated fabulous views as we cruise down the Irrawaddy River to Shwezigon Pagoda. Hopefully, a private boat tour on the river during sunset time will show students spectacular sunset. Let relax and enjoy the scenery!
Day 9: Bagan Bike Tour (B, L, D)
Today, we will kick off our day with a bike tour, which is definitely an amazing experience. Students can witness the vast landscape as they pass on their bicycle, dotted with thousands of temples. Exploring by bike, students will have ample opportunity to get closer to authentic local life that other modes of transport miss. It is not long before we are pedaling alongside ancient brick structures, pausing to visit some of the most famous monuments like Shwesandaw, Ananda, and Shwezigon as well as several hidden gems. When biking students will often be greeted by friendly farmers working in the fields next to our bike lanes and we will be sure to seek out an elevated temple to climb up for a different view of the Bagan Plain. Aside from temples, Bagan is still a buzzing little town and we will be sure to explore some of the traditions and lifestyles of its people. The village roads line with single-story bamboo houses standing adjacent to unique 1950s with brick warehouses. Most importantly, we feel like kids on a break from school, snack vendors, and a menagerie of pigs, cows, and the occasional horse greets us along the way. Interestingly, we will stop to see the production of local treats and pay a visit to the friendly neighbors.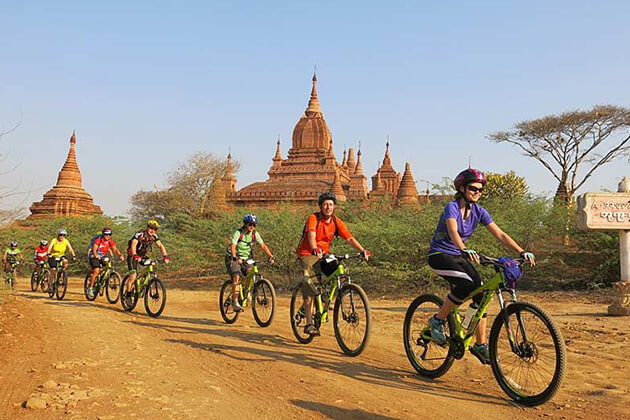 In the late afternoon climbing to the Sunset Hills for sunset views is a good idea. It is the time the sun slowly set behind the ancient Pagodas. Students only need to sit back and enjoy the beauty of Bagan. Students certainly have a blast time with spectacular sceneries.
Day 10: Free day in Bagan – Train to Yangon (B, L)
Students have a leisure day at the hotel before we transfer to the train station for the overnight train to Yangon (17.00 – 10.30). It is true that the train is a fantastic way to get around and experience the country at ground level. Thus, our journey is certainly an adventure experience.
Day 11: Yangon with Fare Ware Dinner (B, L, D)
Upon arrival at Yangon railway station, we will transfer to hotel for check-in and day leisure. In the evening, we will pay a visit to the majestic Karaweik Palace, which is a beautiful restaurant. More interestingly, students can enjoy fare ware dinner and a spectacular show of Myanmar cultural performances.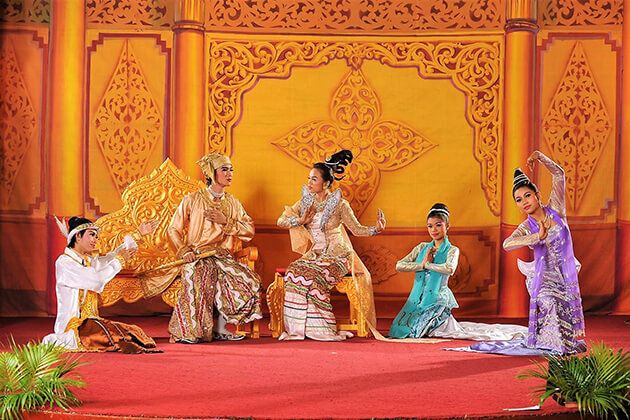 Day 12: Yangon – Departure (B)
We will transfer the visit to Charity Project before drop off at Yangon airport for an international flight. The Educational School Trip ends.
Hotel list
| | |
| --- | --- |
| City | 3-Star Hotels |
| Yangon | Holly Hotel – Deluxe room |
| Bagan | Bagan Umbra Hotel – Deluxe room |
| Inle Lake | Amazing Nyaung Shwe – Deluxe room |