General Trip Information
Tour Code:
Duration: 10 days/ 9 nights
Start/ End: Yangon/ Yangon
Tour Route: Yangon – Bagan – Sat-Sat Yo Village – Mount Popa – Heho – Pindaya – Kalaw (Tea Leaf Experience at Dahu Village House) – Green Hill Valley Elephant Camp – Inle – Indein – Thandwe – Ngapali
Tour Customizable: Absolutely! (Tell us your specific requirements in the inquiry form)
Tour Type: Sightseeing, Experience & Discovery, Nature, Landscape, In-depth Cultural
Brief Itinerary
Day 1: Arrival Yangon
Day 2: Yangon – Bagan Full-day City Tour
Day 3: Bagan Monastery & Cycling Tour
Day 4: Bagan – Sat-Sat Yo Village – Mount Popa
Day 5: Bagan – Heho – Pindaya – Kalaw (Tea Leaf Experience at Dahu Village House)
Day 6: Kalaw – Green Hill Valley Elephant Camp – Inle
Day 7: Inle Lake Exploration
Day 8: Inle Lake  – Thandwe – Ngapali
Day 9: Thandwe – Yangon (Circular Train)
Day 10: Yangon – Departure
Myanmar School Trip Detail Itinerary
Day 1: Yangon Arrival (L, D)
Say hello to Yangon. Upon arrival at Yangon International airport, teachers and students will be welcomed warmly by our tour guide and they will transfer students to the hotel for check-in. It is the time for students to enjoy a scrumptious meal, relax and refresh. Lunch and dinner will be served at the restaurant and students will stay overnight in Yangon.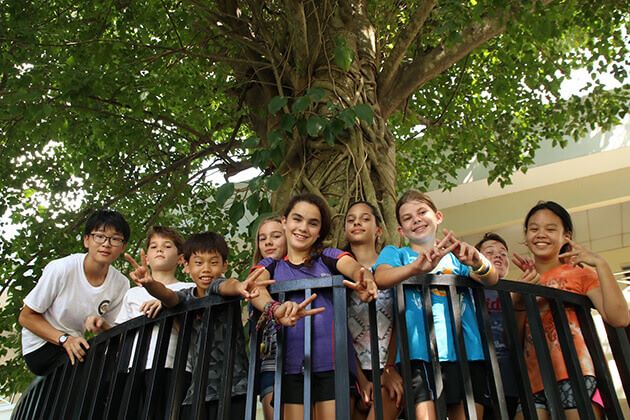 Day 2: Yangon – Bagan Full-day City Tour (B, L, D)
After having a refreshing breakfast in the early morning, students will have a chance to experience a full day's sightseeing tour around the city. We begin the tour with a visit to Shwedagon Pagoda, which is the most reputable pagoda in Bagan. Then, you can get a glimpse at the Ananda Temple to see architectural masterpieces and four standing giant Buddha Statues.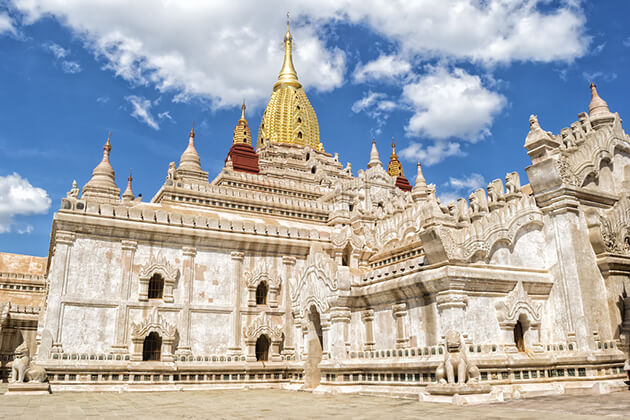 Highlight our afternoon sightseeing with a visit to the Chauk Htat Gyi Pagoda, which is home to the massive reclining Buddha image. The feet of the statue carved with special designs characterized the exquisite Burmese art. Students can get a deeper understanding of it as they listen to our guide. After that, students will be transferred to Karaweik Hall, which is the huge golden barge floating over Kandawgyi Lake. It is a great chance to take photos of students with their friends and teachers.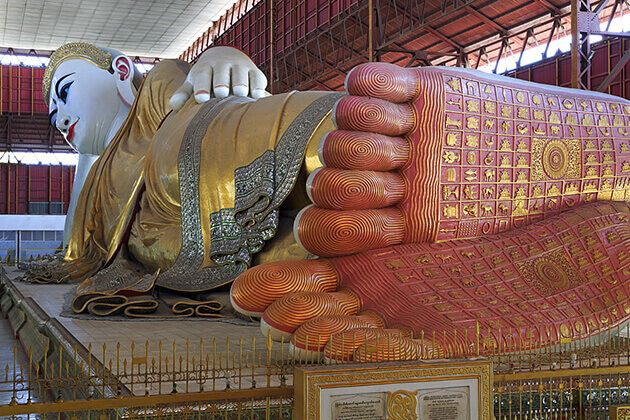 After that, we take students to Thatbyinnyu- the highest temple in Bagan, where they can have ample opportunity to learn the history and cultural significance of this pagoda. In the late afternoon, students can experience an unforgettable sunset over the plains from one of the sunset hill viewpoints in the Shwedagon pagoda. Return to the hotel in the evening and a group of students will be served a scrumptious dinner.
Day 3: Bagan Monastery & Cycling Tour (B, L, D)
On the second day in Bagan, after breakfast at the hotel, our guide and driver will take students to one of the monasteries in Bangan. It is a chance for them to know more about the culture and religion in Myanmar. Then, students will have a chance to enjoy special catered lunch at Monastery.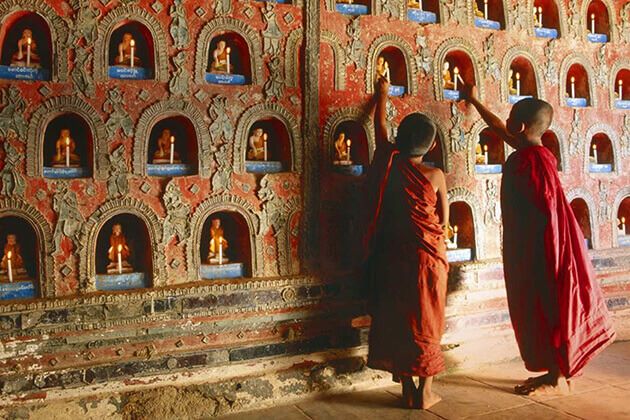 In the late afternoon, our bikes are ready to explore the nearby villages of Bagan. It is an amazing activity for students simply because cycling is a fantastic way to improve their fitness, enjoy breathtaking views and get an authentic experience. They will pass through the ancient temples along the way and en route stops walking around the local villages. Then, they will have an opportunity to socialize and interact with the local farmer's house. Students also have some traditional snacks with Burmese green tea. Interestingly, the balloon experience over Bagan promises to be a highlight of any trip to Myanmar. It is definitely a once-in-a-lifetime experience for students to experience the majestic landscapes of Bagan and witness stunning views as the sun begins to rise above the horizon. We always pay much attention to safety as students board the balloon, and all activities are followed by the guidance of our guides. Therefore, parents and teachers do not have to worry about that.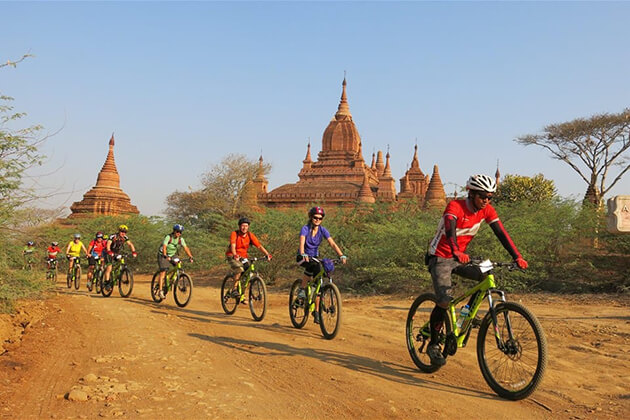 In the evening, our guide will drop students off at the hotel and serve them a delicious dinner.
Day 4: Bagan – Sat-Sat Yo Village – Mount Popa (B, L, D)
After having breakfast, students will pay a visit to Sat-Sat Yo village. It takes about a nearly one hour drive from Bagan to here. This village became a famous tourist site, where children wear an ancient hairstyle called "Sanyitwyne".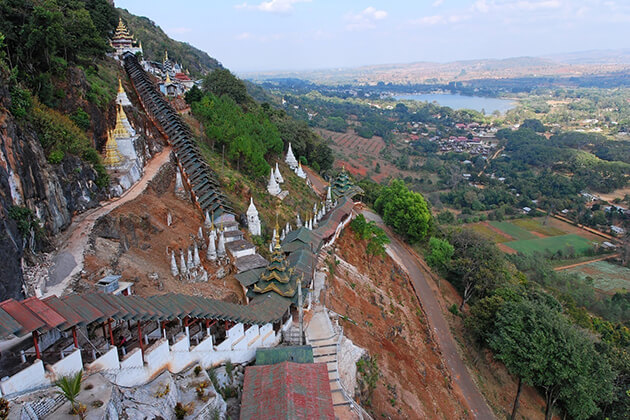 A delicious lunch will be served before our guide takes students to Mount Popa, which is a place of great importance to the Burmese and the home to ancient Burmese spirits. After that, we will drive back to Bagan. Along the way, we stop at a local village to watch demonstrations of toddy and jaggery (palm wine and palm sugar) production. Then, we will stop at one of the famous Palm production to enjoy the taste of the toddy juice with the sunset over the plain of Bagan. In the evening, we will transfer teachers and students to the hotel to enjoy dinner and stay overnight in Bagan.
Day 5: Bagan – Heho – Pindaya – Kalaw (Tea Leaf Experience at Dahu Village House) (L, D)
Complete amazing days in Bagan, today we will transfer students to Heho. Upon arrival, students will be served a refreshing breakfast before exploring the huge meandering maze made up of numerous caves in Pindaya Cave. After that, head to the nearby village to get the authentic experience and contact the locals to learn how they make bamboo hats, pottery, umbrella, and shan paper.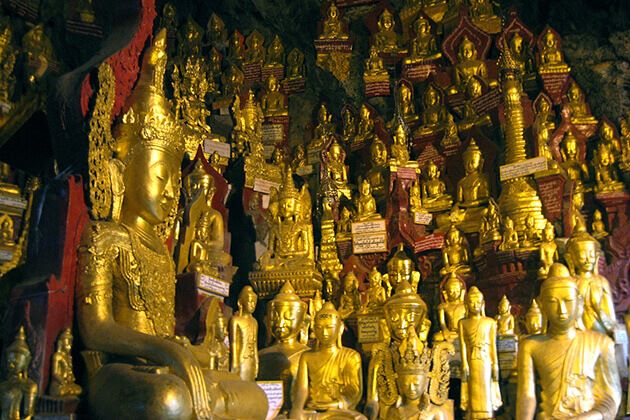 After having lunch, we will head to the Danu Village House from the downtown area by car. It is a great time for students can see how to make tea leaf salads by Danu lady and they also join to get the first-hand experience. In fact, Pindaya has acquired a reputation for having the best tea leaf salads and the best soy products in Myanmar. Students and teachers have a chance to try different styles of tea leaf salads in a simple style and in Danu style salad, fried soybeans, and other traditional snacks with Shan Tea.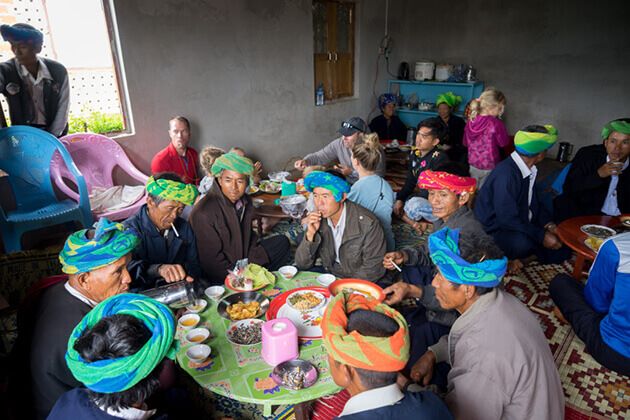 Most importantly, students can take a great chance to interact and socialize with the local family. They will explain about tea process and introduce students to tea plantations, how tea grows and how to pick tea leaves. As the sun begins to set, head back to Kalaw and we have dinner here.
Day 6: Kalaw – Green Hill Valley Elephant Camp – Inle (B, L)
Today, we will take students to Magway Elephant Camp to get a glimpse of the elephant trainer's lifestyle. Then, we will transfer to the river to get a deeper understanding of wide life in general and elephants in particular, and nature conservation. Interestingly, it is also a great opportunity for students to wash elephants like their own pets, and participate in planting the regional tree. These activities are absolutely an authentic experience for students.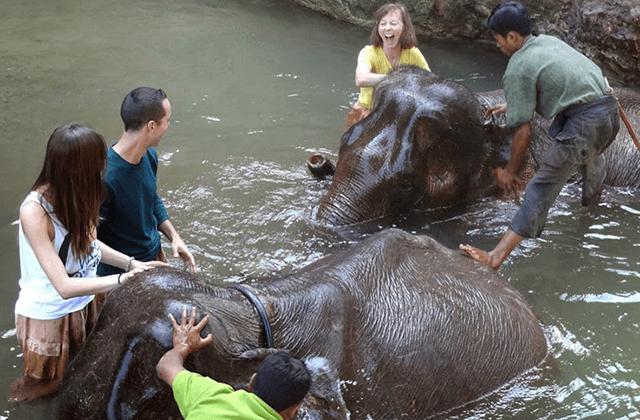 After that, we will return to the main camp to relax and enjoy dinner before transferring to the hotel for check-in.
Day 7: Inle Lake Exploration (B, L, D)
Today, students will be transferred to the poetic Inle Lake after breakfast. We stop at the traditional village on the lake to explore the beautiful lotus weaving, blacksmith production, handicrafts, and wooden handlooms. It is a great chance for students to learn about unique methods of creating floating gardens and houses.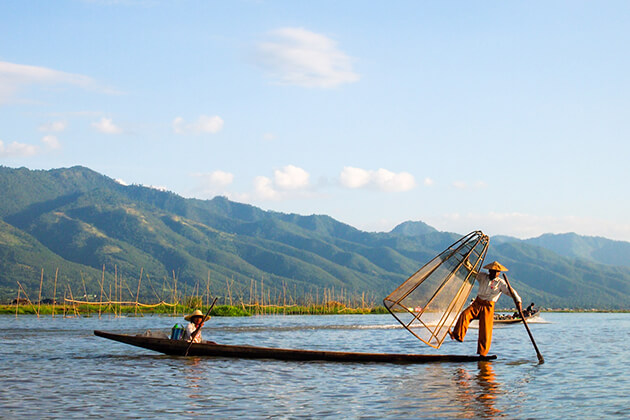 Afterward, we will take students to Nyaung Shwe to attend a cooking class. Students can visit the local market with local people to buy some ingredients to prepare for the class. Then, students can learn how to cook local cuisines with the guidance of cooking mentors. Students and teachers will enjoy lunch before transferring to Inle Lake to capture stunning landscapes. Moving to the lake, we will pass through villages to witness floating gardens and stilted houses, and then we will stop at Nam Pan village to observe the cheroot making factory and wooden boat making. In the late afternoon, students will have a chance to catch a beautiful sunset before transferring to the hotel. After that, students have a delicious dinner and stay overnight hotel in Inle Lake.
Day 8: Inle Lake  – Thandwe – Ngapali (B, L, D)
After having breakfast, we will transfer students to the Heho airport for a domestic flight to Thandwe. The first highlight to see in Thandwe is its town and market. It is a perfect chance for students to join the local authentic living atmosphere, spend time exploring various goods, take photos and interact with the Burmese merchants.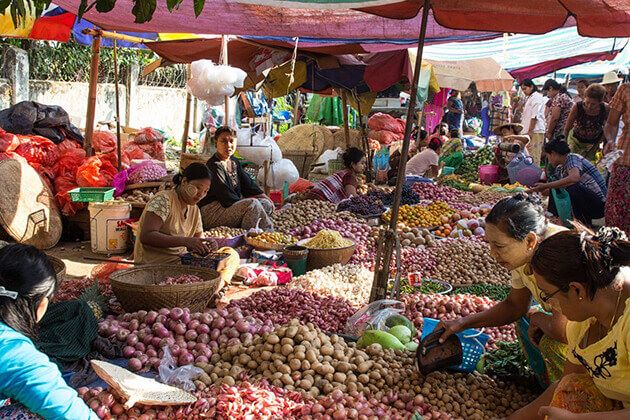 After lunch-time, the next destination for students is Ngapali, which is the most reputable and beautiful beach in Myanmar. Students will immerse themselves in crystal clear water and fresh breeze air to chill out and unwind. They certainly will be excited here. At the end of the day, students and teachers will have a scrumptious dinner and stay overnight at the hotel.
Day 9: Thandwe – Yangon (Circular Train) (B, D)
After breakfast, we transfer to Thandwe airport for a domestic flight to Yangon. Upon arrival, we spend the day visiting Yangon. We will take students to the Bogyoke Aungsan Market, where they get a closer insight into the daily exchange of Burmese people and observe a wide range of Myanmar souvenirs such as clothes, handicrafts, jewelry, and gemstone.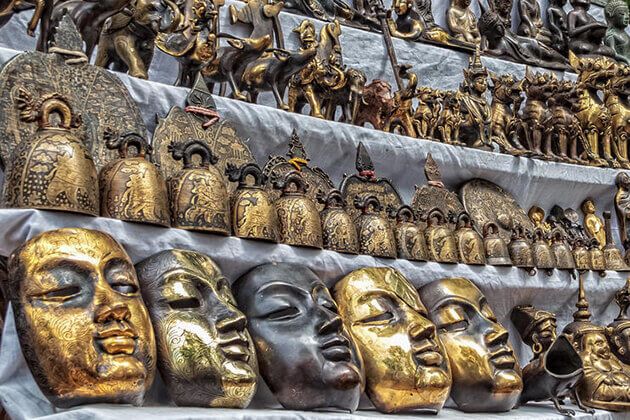 After that, we head to the central train station Pansodan, students will take a circular commuter train ride around Yangon city. We will stop at the St Mary's Cathedral before heading to the Sule Paya and Yangon Synagogue, where students will have a chance to meet the Trustee to learn about the Jewish Life in the Pagoda.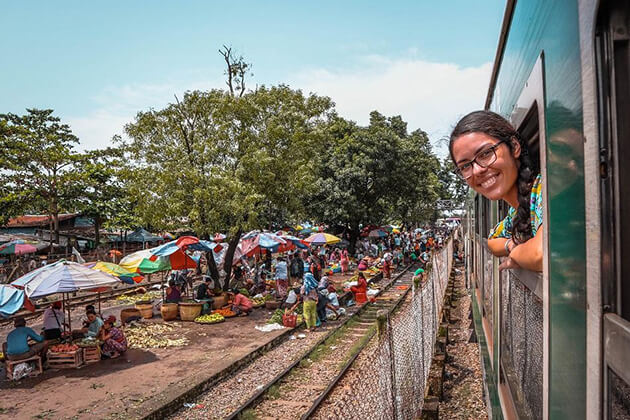 At the end of the day, we stop by Karaweik Hall – a royal lake with a unique barge on Kandawgyi for taking photos with their friends and teachers. Later, dinner will be served at a local restaurant and overnight stay in Yangon.
Day 10: Yangon Departure ( B)
The last day in the student tour, students can enjoy leisure time after their breakfast in the morning until the driver comes to pick students up to transfer them to the Yangon International Airport for a flight to our departure. Student trip ends. We hope students have had a memorable and meaningful trip to Myanmar!