General Information of Cambodia School Trip
Tour Code:
Duration: 12 Days
Start/End: Phnom Penh / Siem Reap
Tour Route: Phnom Penh –– Siem Reap
Tour Customizable: Absolutely! (Contact us)
Brief Itinerary
Day 1: Arrival at Phnom Penh & Team Welcome Dinner
Day 2: Phnom Penh Sightseeing & Market Shopping
Day 3: Phnom Penh Sightseeing
Day 4: Be a Keeper for the Day at Free The Bears
Day 5: Drive to Siem Reap, Stop Visit Spider Village
Day 6: Angkor Wat & Ta Prohm Temples, Zip Lining & Night Markets
Day 7: Half Day Cooking Class & Sightseeing
Day 8: Tonle Sap Floating Villages, Night Markets
Day 9-10: Community Project at Treak Community Centre
Day 11: Complete Service with Treak Community Centre
Day 12: Siem Reap Departure
Detailed Itinerary
Day 1: Arrival at Phnom Penh & Team Welcome Dinner (D)
On your arrival, you will be met by your local guide at the airport and transferred to your hotel in Phnom Penh town. After getting settled into the hotel, your guide will meet you at the hotel lobby for a trip briefing and then head out for a team welcome dinner. Overnight in at Cardamon Hotel in Phnom Penh.
Day 2: Phnom Penh Sightseeing & Market Shopping (B, L, D)
Your adventure will kick-off in Cambodia's bustling capital, Phnom Penh. After your breakfast, you will be greeted by a driver who will take you on a tour to the most remarkable sights of Phnom Penh in a Cyclo, which is a traditional means of transportation in Phnom Penh. First, head to the Royal Palace. This palace dates back to 1866 and houses the Silver Pagoda, named for the over 5000 heavy silver tiles that cover its floors. Its name means Temple of the Emerald Buddha. In this temple, you will view a collection of Buddhas in gold, silver, crystal, and bronze.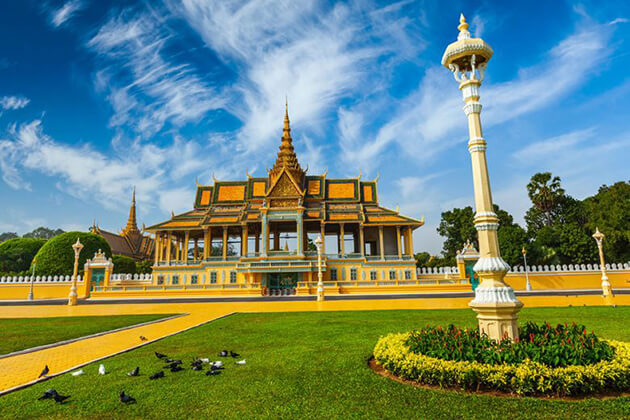 Have lunch at a local restaurant. We continue to visit the National Museum in the afternoon, built in traditional Khmer style. It is the world-scale home to the great collection of ancient Khmer artifacts from artistic to archaeological since the 4th century. The display is the reflection of the Kingdom's wealth. Scale the steps up this small hill to see Wat Phnom Temple, the birthplace of Phnom Penh.
Before the sun goes down, teachers and students will try the local cuisine at a restaurant. Then we spend our night shopping at the Toul Tom Pong Market (Russian Market) which is the city's best place to shop for art objects, including marble carvings, ritual objects, and old Indochinese coins. Overnight in at Cardamon Hotel in Phnom Penh.
Day 3: Phnom Penh Sightseeing (B, L, D)
In the morning, you have breakfast at the hotel. Today we pay a visit to the incredible Tuol Sleng Genocide Museum to explore Cambodia's dark history. Next, we embark on the itinerary of visiting the Killing Fields in Choeung Ek. After learning about some of Cambodia's tragic past it is time to put a smile back on your face and experience modern Khmer life.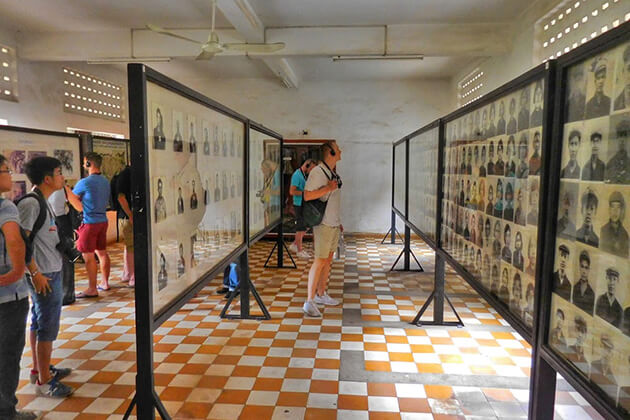 At lunchtime, we enjoy meals at a local restaurant. The activity for the rest of the day is to shop at the Central Market, where you can get a glimpse of the bustling life of local people. Get a taste of Cambodia's local significant food, while admiring the architecture styles of Phnom Penh's mix of Khmer & Colonial.
After the visit, you can either be dropped back at your hotel or the night market on the riverfront. Overnight in at Cardamon Hotel in Phnom Penh.
Day 4: Be a Keeper for the Day at Free The Bears (B, L, D)
After your breakfast, you will be transferred to the Phnom Tamao Wildlife Rescue Centre to spend a day assisting the animal keepers at the Free The Bears sanctuary which is Cambodia's premier zoological park and rehabilitation center. Phnom Tamao Wildlife Rescue Centre is very large and houses many species of animals. Today, students are volunteers and they will work with our expert groups to rescue Sun bears and Moon bears. After reaching the center you will get the introduction and welcome.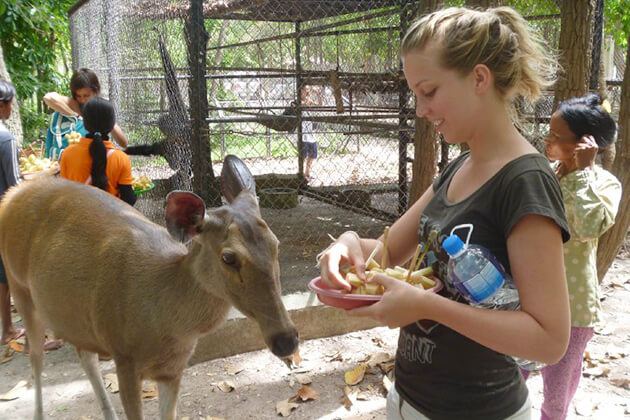 Lunch arranged at Phnom Tamao. After that, we travel to the bear sanctuary and learn some basic knowledge about them. On the tour of other animals at the center, we will support keepers to feed bears. The center currently has over 120 ones.
Leave center and return to Phnom Penh by the evening. We have dinner at the hotel.
Day 5: Drive to Siem Reap, Stop Visit Spider Village (B, L, D)
This morning, we will head overland to Siem Reap. It is the base for exploring the fabled temples of Angkor, the ancient capital of the Khmer empire. En route, stop in the town of Skuon to see their most famous specialty being sold: deep-fried tarantula, a favorite snack of many Cambodians. You may have seen this on Hamish and Andy's gap year show on TV.
Your lunch boxes will be delivered. After a quick stop, we continue to Siem Reap, the appealing gateway to the famous Temples of Angkor.
Head to the hotel for check-in. Settle in and enjoy some time at leisure and perhaps cool down in the swimming pool. Your dinner will be served at the hotel.
Day 6: Angkor Wat & Ta Prohm Temples, Zip Lining & Night Markets (B, L, D)
After your early breakfast, explore Angkor Wat. This amazing architecture was built in the early 12th century. The style of Angkor Wat is followed by the model of the temple mountain – the home of the gods. Nowadays, Angkor Wat is seen on Cambodia's national flag because the temple is the symbol of the Khmer people's soul. From here, continue to visit Ta Prohm Temple, a photogenic and atmospheric scene with jungle surroundings.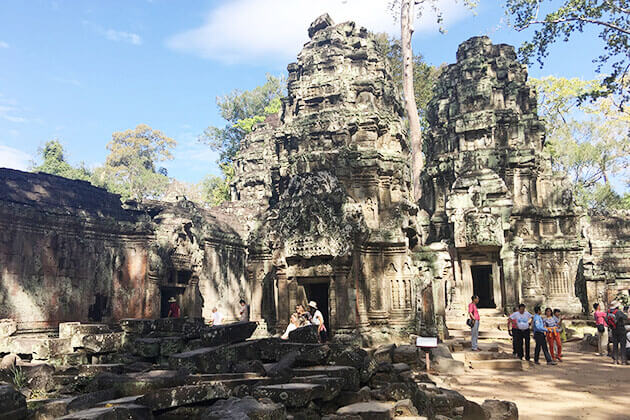 In this afternoon, we enjoy lunch at a local restaurant, will participate in a zipline eco-canopy tour inside the UNESCO World Heritage designated Angkor Archeological Park. The zipline eco-tour experience offers a safety briefing and all equipment.
Tonight, we have a food tour and for those who are interested, they can enjoy some shopping at a night market where you could purchase some gifts or souvenirs…
Day 7: Half Day Cooking Class & Sightseeing (B, L, D)
This morning, have breakfast then you'll have a chance to learn some of the secrets of Cambodian Cuisine at Kompheim/Treak Village Cooking Class (Private arrangement by Beyond Unique Escapes). There will be a demonstration to introduce you to some local ingredients and techniques and you'll also have the chance to prepare your dishes. From here, we will visit an Angkor Silk Farm to learn about how they produce Khmer silk by traditional methods.
After lunch, on the way back, stop to visit the War Museum. This unique museum is the only War Museum in Cambodia and offers visitors a unique and insightful view of the perils that Cambodia faced during the last 3 decades of the 20th century.
Before it gets dark, return to the hotel and enjoy dinner.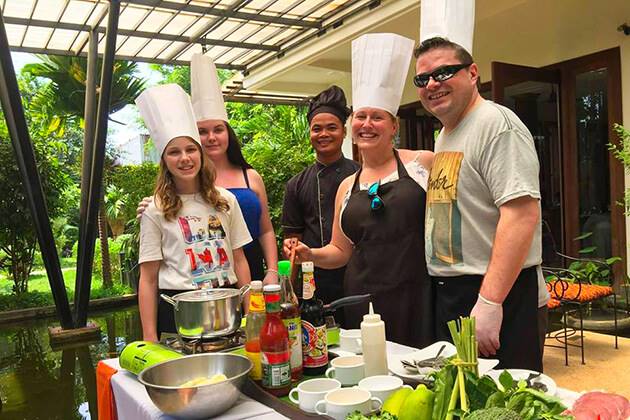 Day 8: Tonle Sap Floating Villages, Night Markets (B, L, D)
Get up early and have breakfast, you will head out to the beautiful Cambodian countryside, as you will drive to the quiet Beng Mealea, around 65 km from Siem Reap. Unspoiled for centuries, Beng Mealea recently has been made possible for tourism. Teachers and students will have the chances to climb through it.
After lunch, we depart on an interesting boat trip on the Tonlé Sap Lake, where you will have the opportunity to learn about life on the lake. Tonlé Sap is South East Asia's largest freshwater lake with its size varying greatly depending on the season, as it is swelling to about four times its size during the wet season. Board a local boat and visit the village of Kampong Kleang, where only a few tourists venture. Enjoy the fascinating scenery of Southeast Asia's largest freshwater lake.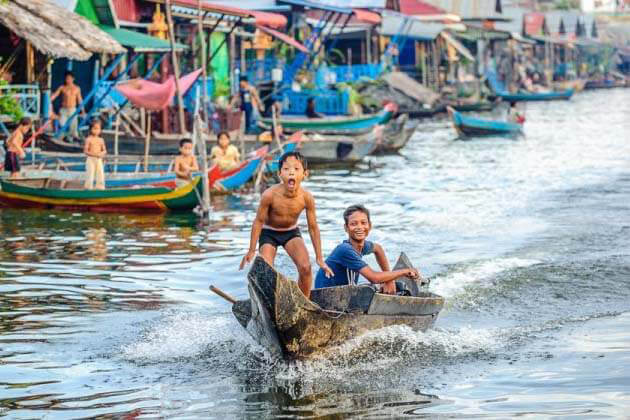 Dinner at the hotel. Tonight, those who are interested can enjoy some shopping at a night market where you could purchase some gifts or souvenirs…
Day 9-10: Community Project at Treak Community Centre (B, L, D)
After breakfast, we drive to Treak village where you will be assisting Treak Community Centre with their day to day efforts to improve educational outcomes and the standard of living for the members of the community. What teachers and students will be doing during the time with Treak Community Centre is to support the teaching staff at the school, assisting with English, Mathematics, Craft, Sport classes – Assist with developing a new library system at the school
Have lunchtime with other members from the projects. And continue your work in the afternoon.
After your day at Treak Village, you will return to the hotel. Have dinner and spend time taking a break and perhaps cool down in the swimming pool.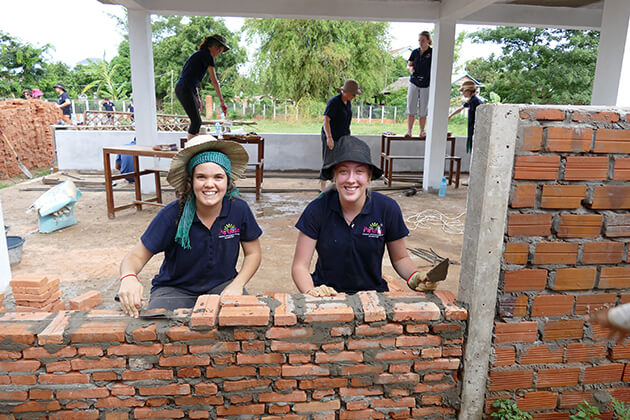 Day 11: Complete Service with Treak Community Centre (B, L, D)
This morning, have breakfast then complete service projects with Treak Community Centre.
A lunch box or lunch at a local restaurant will be provided today. As it's a special day, there will be a farewell ceremony in the evening and an opportunity to take numerous group photos and exchange some gifts before saying farewell one last time. Return to the hotel and relax
Day 12: Siem Reap Departure (B)
After having breakfast, take the time to say farewell to new friends. The guide and driver will transfer you to the airport for the flight. Have a nice journey!